I am not sure how many of you will be familiar with migliaccio di Carnevale, but I can assure you that a great many Italians get very excited when the Carnival season approaches because it means it is time to make some pretty scrumptious recipes. Migliaccio is one of these…
Tender, light and moist, with a subtle hint of lemon and orange. This is how I would describe migliaccio: a traditional recipe from Campania, the region where Naples is located.
I could compare it to a cheesecake, but it is not just a pile of cheese and cream, so instead I would say it is unique in its texture and combination of flavours.
Oh and there is a certain amount of limoncello. Ah! Now I guess that I have sold it to the Brits among you. Aheeee! Just trying to be funny here; though I'm not sure I am succeeding…
There is something exciting about baking for your friends and family, but even more so when you make something that people have never tried or even heard of. That is how I felt the other day when I brought a migliaccio di Carnevale to the office: a mix of excitement and something like fear, as you never know how people will react when they try flavours and textures unknown to them. The fact that these are the flavours I grew up with – although I recognise that tastes are personal – means I just love certain dishes so much I want everyone to love them as much as I do! Weird me.
Since I moved to London we have not been celebrating Carnival in February; it is all about Halloween in November instead. I have really missed all the excitement around the approach of Carnival: not to dress up, but to eat lasagne and chiacchiere, and to get together with friends and family! So often my mum will call me up and say: well, it is Carnival, when are you making lasagne (traditionally eaten during this period)?
I have very fond memories of the days when relatives and friends would come home during the festivities and there would be big platters of chiacchiere and always a portion of migliaccio. I used to watch my mum as she made these mysterious cakes, different in shape and texture to the usual, but I never really attempted to make them myself. I somehow felt intimated.
This year, with the launch of the blog and plans for the book I decided there would be a fair amount of Carnival-related cooking, so I opted for migliaccio and chiacchiere. Needless to say my husband was delighted by both – we actually fought over a slice of migliaccio. Oh dear!
Migliaccio is made with very simple ingredients. The origin of the name is from "miglio" (millet), with which it used to be made. Nowadays this has been replaced by semolina.
Let's pause for a second. Now I know that many of you have some kind of repulsion for this ingredient as it is often associated with stodgy food. But if I hadn't told you this was one of the ingredients, you would never have guessed that there is semolina in this cake.
You should talk to my colleague Anna, who seemed to fall in love with migliaccio pretty much immediately! If not Anna, I recommend asking Mark and Jon what they thought about it…
Ingredients for migliaccio
Serves 6
For the filling
350ml milk
25g unsalted butter
1 pinch of salt
65g semolina
250g ricotta
2 medium-sized eggs
150g caster sugar
Rind of 1 medium-sized lemon
Rind of 1 medium-sized orange
2 tablespoons limoncello
1 teaspoon of vanilla essence
Extra
icing sugar to dust
extra butter to line the pan
a tablespoon of flour to line the pan
Method
Line a round baking pan of 22cm diameter. A smaller one will be okay, but a bigger one will result in a migliaccio that is not deep enough.
Preheat the oven at 200˚C (static) or 180˚C (fan).
Zest the lemon and orange and set aside.
In a medium-sized saucepan add the milk, butter and a pinch of salt. On medium heat bring the milk to simmer.
Pour the semolina gradually. Stir well and incorporate to the mill. Do not add more semolina if the previous amount hasn't been incorporated properly.
Keep stirring until the mixture becomes solid and the semolina and milk mixture comes off the walls of the pan easily.
Take off the heat. Transfer to a glass bowl and let cool for about 15 minutes.
Add the ricotta straight from the fridge. Mix well with a whisk (or an electric mixer). You need to obtain a lump-free mixture.
In another bowl whisk the eggs with the sugar until they are well combined. If you use an electric mixer, make sure the mixture is still runny and that the consistency doesn't change to creamy and pale. That's not what we're looking for with this recipe!
Add the eggs and sugar mixture to the semolina and ricotta mixture.
Add the lemon and orange rind, limoncello and vanilla essence.
Whisk everything energetically until you obtain a smooth mixture.
Pour into the round baking pan you previously lined.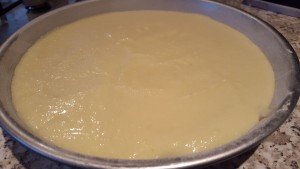 Place in the oven at 200˚C (180˚C fan) for about 60 minutes, or until set and golden in places. Depending on the strength of your oven (ovens are all different) it might only take 45 minutes – or it could be longer than 60. Just make sure you check every now and then.
When ready, take out of the oven and let it cool down.
Migliaccio is best when served cold or at room temperature.
Only sprinkle the icing sugar just before serving, as it will be easily absorbed by the cake and make it too sweet.
The cake will open slightly on the surface during the process; as far as I know it is to be expected and takes nothing away from the flavour and texture. So don't worry about it!
Migliaccio is certainly a Carnival cake by tradition, but I see no reason why you should not make it on other occasions as a dessert for a dinner party.
And if you are thinking of adding some raspberry sauce or any other sauce as you would do for a cheesecake, naturally I would say no because of course I like to stay true to the tradition (a big thing when it comes to food for Italians). But that doesn't mean that you cannot do it 😛
Enjoy with NO moderation and share the love!