It's when I want to be forgiven or when I am desperate to tell George how much I like him that I prepare these biscotti alla Nutella. Although you may argue that it is a commercial product, Nutella is an institution in Italy. It is there for you the night before your uni exams, when you are still revising and you desperately need some food cuddles. And it was always there when I was a child and I would persuade my mum to make a nice crostata with Nutella.
She would say: "Fancy a nice crostata con la marmellata [marmalade]?" And I would invariably answer: "Well, crostata would be great, but with Nutella, pretty please!" My mum would not always agree to my requests, but often she would oblige. And during my teenage years, when I was at home doing my homework, I would be very naughty and prepare some pancarré (sliced bread) with Nutella.
I guess you get the picture. Nutella for ever. But only a few years ago a friend of mine told me about these biscuits that her mum was often making. Then, the other day, I had something to be forgiven for (nope, I am not going to say what, but I am rather naughty so it is no big deal. George is used to me being cheeky) and I had a big pot of Nutella. So I thought: this is the night. I am going to make sure he lets me get away with it and kindly forgives me.
Yes, yes and yes. The way to a man's heart is through his stomach (gli uomini vanno presi per la gola)… Needless to say this is my guiding principle with George. 🙂 I guess this is how I managed to get a wonderful man like him. Cooking amazing food, cooking, cooking and more cooking!
Biscotti alla nutella require only three ingredients; less than five minutes to make the dough; and no longer than 10 minutes to bake. And they are fun to make with your little ones. What's not to love?
Delicious, easy, quick – get baking!
Ingredients for biscotti alla Nutella
Makes 10 biscotti
180g of Nutella (or any other good-quality chocolate-hazelnut spread)
1 medium-sized egg
150g of all-purpose flour
Extra
10 whole hazelnuts
About 3 full tablespoons of Nutella to decorate
Method
Preheat the oven to 170°C (150°C fan).
If the Nutella is too hard, place it in a heatproof bowl. Prepare a small saucepan with some hot water inside. Place the plate with nutella on top and warm it up on medium heat for 2 or 3 minutes or until you see it is starting to soften. Take off the hob.
In a large bowl add the Nutella and the egg. Mix well with a fork.
Add the flour a bit at a time and incorporate it into the Nutella mix with a fork. Towards the end, if it gets more difficult, use your hands. You will obtain a compact, smooth dough.
Take about 35g of dough and make it into a ball shape. Repeat until the dough is finished.
Line a baking dish with non-stick baking paper.
Place each ball on the dish, leaving some distance between them as they will grow during the cooking. With your finger or with the end of a wooden ladle, press down in the middle so as to create a small space for the Nutella filling, to be added later on.
Bake for no longer than 10 minutes, or until the surface no longer looks raw.
Take out of the oven. Place on a rack to cool down.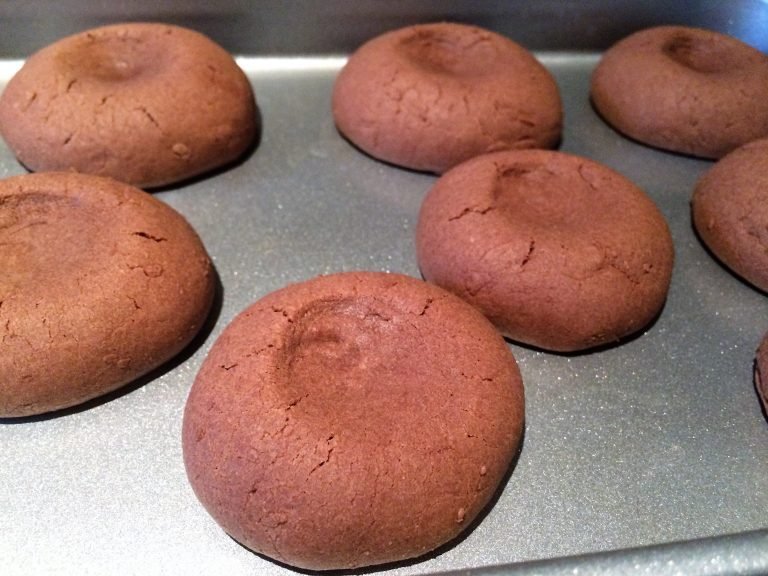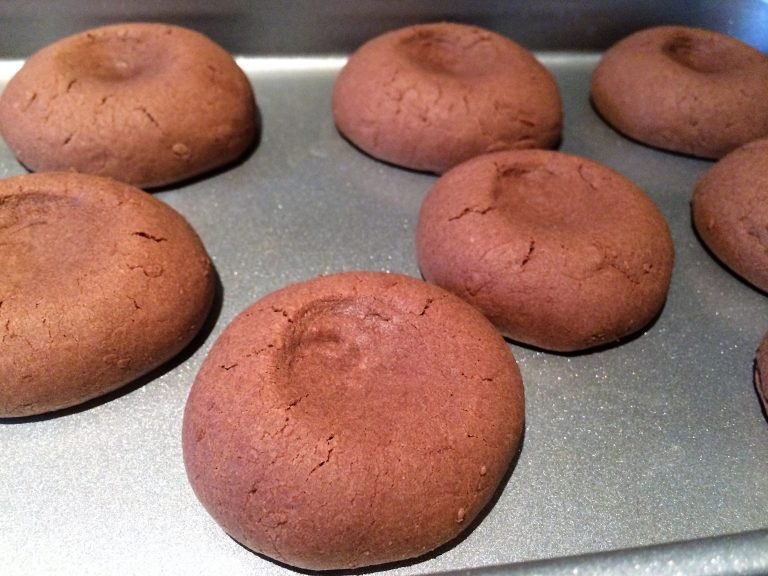 Pour the Nutella into a piping syringe. Use a nozzle with a curly top. Squeeze out a little bit of Nutella, starting in the centre and then moving out and in a circular direction in order to create a round.
Decorate with a hazelnut for each biscuit.
There is no end to goodness with biscotti alla nutella!