Frittatine di pasta: if you have never come across these, the fact that there is pasta in the name of the recipe should already be a guarantee of goodness…
Frittatine di pasta are a very traditional Neapolitan street and comfort food that I used to have often during my university days – for lunch, when rushing from one lecture to another and the thought of having another slice of pizza was just too much. Hard to believe, I know! Er, I guess I am reinforcing the cliché about Italians and pasta and pizza here… ahem…
There is a place in Naples that possibly makes the best frittatine di pasta you will ever have (apart from those made by my mum and mine of course…): Di Matteo. Yes, the frittatine di pasta here are simply epic. If you visit Naples, I highly recommend you go there for a pizza, or just for a frittatina di pasta "al volo" (on the go) – but be ready to queue…!
Traditionally, families would make frittatine di pasta to use up left-over pasta, but I love them so much that I don't need the excuse of recycling food to make them 😀
It is a labour of love to make them, but the expressions of happiness and gratification I saw on my husband's face when I first tested my mum's recipe was more than enough recompense for the time I spent making them. And to be fair, we made them together, as he always helps me hugely when I cook.
I have fond memories of these frittatine as they are one of the first recipes I tested for the recipe book and I made them not long after George's transplant. At that point, going out was a no-no, and spoiling the two of us with some really good home-made food, full of flavour and sustenance, was the best way to crown a relaxing evening in, watching a film and sipping a glass of wine, er, Coke. Not sure superstar consultant Dr Klammer would approve of the wine!
If you feel a bit hesitant about making this dish because they are deep-fried, then think of how many chips you might have in a month at the pub, where you don't necessarily know what oil was used… These, in comparison, are much healthier!
Right, are you ready for this? Grab a glass of wine and make these for your Italian Sunday brunch, for example (you cannot always have eggs Benedict and French toast, after all!), or as a starter before your Sunday roast.
You can prepare these little beauties the day before, store them in the fridge and fry them a few minutes before having lunch. You will simply adore them and want more and more and more…
Ingredients for frittatine di pasta
Serves 5, makes 10 frittatine, size 7cm diameter x 2cm high
For the filling
250g bucatini pasta
2 tablespoons of extra-virgin olive oil
Half a small onion

100g cooked ham, diced

100g fresh or frozen peas

1 tablespoon of white wine
A pinch of salt and pepper

150g scamorza (or mozzarella)

 

40g parmesan, 40g pecorino
500ml béchamel
For the béchamel
500ml full-fat milk (semi-skimmed is okay, too)
50g salted butter
50g all-purpose flour
1 teaspoon of salt (adjust to your taste)
1 teaspoon of nutmeg
For the Coating
2 egg whites
150g breadcrumbs
For the frying
1l peanut oil, recommended, otherwise sunflower oil (about 500ml for the first round of frying and 500ml for the next one, as it is good to change oil). Peanut oil is the recommended oil for deep frying because it has the highest smoke point among oils (220˚C), which means the fats within it start decomposing over this temperature.
Method
Make the béchamel first.
In a large saucepan, warm up the milk slightly (don't let it reach a simmer) and set aside.
In another saucepan, melt the butter on a very low heat.
Take the saucepan away from the heat and incorporate all the flour in one go, with a whisk, until you obtain a smooth, yellow, lump-free paste.
Bring back to a low heat and cook further to make sure the flour is no longer "raw" (this is what the French call "roux blanc").
Add the warmed milk, 1 teaspoon of freshly ground nutmeg and 1 teaspoon of salt (you will be able later to check the béchamel when it is ready and, according to your taste, add extra salt, or if it is too salty, add some extra milk).
Stir well with the whisk to incorporate the roux with the milk. Over a medium-low heat, keep stirring gently with a wooden spoon to make sure the sauce doesn't stick to the bottom of the pan.
After a few minutes you will see that the consistency is changing from liquid to slightly – and increasingly – thicker. Increase the heat, and when the sauce starts simmering, keep stirring and then let it boil for 5 seconds.
When you see bubbles appearing, the sauce is ready. Take away from the hob. Taste and season according to your preference. Cover the saucepan with cling film to prevent the creation of a thick layer on the surface. Let it rest.
In a frying pan, add 2 tablespoons of oil and half the onion (not sliced) and cook slowly for a few seconds, before adding the peas and a pinch of salt. Add the wine, stir, increase the heat and let it evaporate.
Add the ham, mix with the peas and cook until the peas are ready and any juice/liquid has been absorbed. Take the onion out and set aside.
Break the bucatini  into pieces around 9/10 cm long. Add water to a large saucepan, bring to the boil, add some salt, add the pasta and cook it al dente.
When the pasta is cooked, drain it and put it back in the saucepan.
Add the béchamel and incorporate it well with the pasta, and the pecorino, parmesan, scamorza, pepper, and peas and ham. Ideally the scamorza, peas and ham would be evenly distributed through the mixture.
Move the pasta to a tray (about 20x20cm) and spread it evenly across with your hands, pushing the content to make it as flat as possible. Let it cool, cover in cling film and then let it rest in the fridge for at least 30 minutes. It could stay there overnight if you are planning to cook the frittatine the next day.
Prepare two plates: one with the egg whites, mixed well with a whisk; the other with some of the breadcrumbs. It is easier to add some extra to the plate each time we coat a frittatina.
Cut out rounds (7cm diameter) from the pasta mixture using a glass or any other pastry cutter. Cut out as many as possible. Use the scraps of pasta to make another layer (it will be small of course) and make more rounds. Nothing should be wasted!
One at a time, dip each pasta round first in the egg white mix and then into the breadcrumbs, making sure that all surfaces are coated. The sides are the most challenging to cover.
Proceed until all pasta rounds are coated. Let them rest in the fridge for at least 30 minutes, covered in cling film.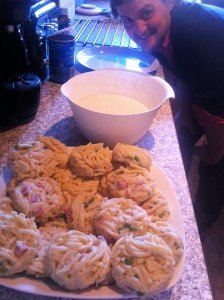 Prepare a large plate and line it with kitchen paper.
Fill a small and deep saucepan with the oil and warm it up until hot. One at a time, dip each frittatina, ensuring it is fully immersed in the oil.
Move it only once, to turn it over onto the other side. When it is gold, take it out. It is important to pay close attention to the cooking, as they turn very easily from gold to burnt!
Transfer to the plate lined with kitchen paper. They are nice hot, but also cold. Ideal as a starter, presented on a bed of peas and pancetta, or rocket and cherry tomatoes.
These can be kept in the fridge, prior to being cooked, for up to 3 days, but they can also be frozen. I highly recommend making double the quantity and storing half in the freezer. There is something sublime about finding yourself exhausted at the weekend, not really wanting to go out, and realising that there they are, waiting to save the weekend for you!