There is often, but not always, a reason why I share a certain recipe at a given moment: it might be linked to an Italian festivity, as with migliaccio di Carnevale, or to an event. White lasagne is definitely linked to the latter… and an exciting one!
Yesterday I played chef at the Auriol Kensington Rowing Club, where my friend Marianna invited me to cook for 40 people. Forty!!! Although this may have been standard practice for my mum or my grannies, it was a biggie for me: the largest number of people for which I had cooked previously being 15 (for George's 30th dinner party).
Despite the logistical challenges of cooking for so many people, in a new professional kitchen, I had a brilliant time, pushing myself and making the most of the opportunity to learn a lot.
Nope, I did not do it all by myself! It would have not been possible without my precious sous-chef husband, our dear friend Tom Kalber and the amazing Aoife, one of the club's rowers, who volunteered to help in the kitchen with this and that and much more.
Yes, it was manic; yes, we cooked for 6 hours in a row (I don't remember ever taking a break to go to the ladies); yes, our legs were falling apart; and yes, I looked exhausted by the end of it; BUT we had a great time!
And, surprisingly, I managed not to shout at anyone… Shocking! I kept my chill all the time and when anything went at all wrong, it was fine, because when you make things with love, they can only turn out well in the end! Well, I keep telling myself that!
The beautiful photos you will see on this post are mainly from Tom, who not only was a huge support in the kitchen, but also caught some really special moments with his camera on what was a memorable day for me.
What can I say? It might be because the guests were starving after having done some pretty hardcore rowing, or might be that they actually enjoyed the food we made with so much love and commitment, but there was not much left over! Fortunately, though, we managed to sample some of the food ourselves before it all disappeared 😛
White lasagne is definitely one of my favourite dishes and I was very keen to share this recipe. It is especially for all those friends who enjoy pulling my leg saying that all Italian food is pretty much based on basil and tomatoes… Seriously? Here it is: a plain white dish for you 😀
Ingredients for white lasagne
Serves 6
For the béchamel
2l milk (full fat or semi-skimmed)
120g butter
120g flour
1 tablespoon of salt (or more, to your taste)
Nutmeg: half a teaspoon or more (to your taste)
Extra
200g scamorza or provola affumicata (smoked cheese). Alternatively, mozzarella or any other cheese that is good when melted. Cheddar could be an option, but it would take away the Italian authenticity of the dish 😛
150g wafer-thin cured ham, Parmacotto (Wiltshire cured ham is a good alternative)
100g parmesan: or enough to sprinkle 3 layers
3/4 spoons breadcrumbs
Fresh ground pepper
3 tablespoons of breadcrumbs (just enough to cover the surface with a very thin layer)
For the mushrooms
250g chestnut mushrooms, cleaned, dried and sliced thinly
2 garlic cloves
4 tablespoons of extra virgin olive oil
Salt
Method
Make the béchamel first.
In a large saucepan, warm up the milk slightly (don't let it reach a simmer) and set aside.
In another saucepan, melt the butter on a very low heat. Make sure it does not burn.
When it is all melted, incorporate all the flour in one go and mix with a whisk, until you obtain a smooth, yellow, lump-free paste.
Still on a low heat, cook further to make sure the flour is no longer "raw" (this is what the French call "roux blanc").
Add all the warmed milk in one go (you could add it gradually to make sure the milk and the roux get incorporated properly, which will give you a very smooth sauce), one teaspoon of freshly ground nutmeg and one teaspoon of salt (later you will be able to check the béchamel when it is ready and, according to your taste, add extra salt, or if it is too salty, add some extra milk).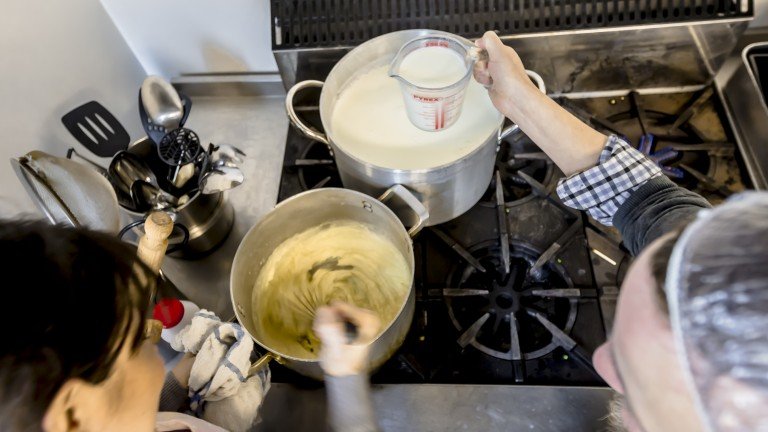 Stir well with the whisk to incorporate the roux with the milk. Over a medium-low heat, keep stirring to make sure the sauce doesn't stick to the bottom of the pan.
After a few minutes you will see the consistency is changing from liquid to slightly – and increasingly – thicker. Increase the heat, and when the sauce starts simmering, keep stirring and then let it boil for 5 seconds.
When you see little bubbles appearing, the sauce is ready. Take away from the hob. Taste and season according to your preference. Cover the saucepan with cling film to prevent the creation of a thick layer on the surface. Let it rest.
Prepare the mushrooms. In a large frying pan add the oil and the garlic cloves. Sauté the garlic on low/medium heat. Add the mushrooms. Add some salt and pepper, stir and cook for a few minutes until they get slightly tender. Increase the heat and let the juices dry. If there are some left, just drain the liquids through a colander. Set aside.
In a large oven dish (I use the largest Le Creuset size, 32cm diameter), add:
– a layer of béchamel;
– a layer of lasagne sheets to cover the whole surface;
– a layer of ham, mushrooms, cheese;
– a sprinkling of more béchamel sauce on top, and an even sprinkle of parmesan and pepper;
– another layer of lasagne sheets to cover.
Repeat the same operation for the second layer.
– The third and final layer of lasagne sheets will be only covered by bechamel, parmesan and pepper. To end, sprinkle breadcrumbs on top.
Heat the oven to 220˚C (fan 200˚C), cook in the middle of the oven for 30/40 minutes (it will depend on the oven and type of lasagne sheets) or until a fork gets through the layers with no resistance, the edges are crisp and the top browned.
White lasagne, as any other lasagne, needs some rest to settle. At least 30 minutes before serving. An hour even better. The next day it will be even better!