When comfort is all you crave and need then there is only one pasta dish that will do the job: penne con panna e zucchine. And note that I say cream before courgettes for good reason, because the cream is pretty prominent – and rightly so.
It's a simple fact that on occasion, when it feels as though everything is going in the wrong direction in your life, or you feel a bit lost or fed up with the universe, you can indulge and have as much cream as you fancy. Or so I claim.
At the same time you also get an extra layer of comfort by the thought that you had a healthy meal because courgettes are vegetables and vegetables are good for you. Right?
I made this pasta dish the other day when both George and I were working from home. We were both feeling a bit down and overwhelmed by life, in general. A cold day and a cold house (there is no way we are going to switch the heating on so soon!) called for a good pasta dish.
I checked what was in the fridge and there they were: 3 pretty courgettes lying lonely in the vegetable drawer, clearly feeling cold, too; almost in need of comfort themselves. And up on the shelf above, a pot of single cream, already opened, but only recently.
My brain screamed: penne con panna e zucchine, penne con panna e zucchine! Alright then!
My heart was set on this pasta dish. That's when fear assaulted me. I lifted the lid of the cream pot with my eyes barely daring to open, in search of mould or something worse. With no cream, my plan would have to be aborted and the thought nearly killed me.
But no, the stars and universe all aligned favourably. Penne con panna e zucchine was going to happen after all. A sigh of relief!
The rest is history. We both sat at the table and ate each penna solemnly. The cream mixed and entangled with the fried zucchine had become one delicious and perfect mouthful. I looked at George and saw pure delight and relief on his face. He was happy. And that made me happy, too. Then the time came to tell him about my uni days… The usual scenario!
This dish always reminds me of my friend Simone, who used to make penne con panna e zucchine for me when we would get together to revise for our imminent uni exams. Comfort and goodness were guaranteed. And yes, perhaps we felt a bit heavy afterwards, which probably reduced our motivation to revise. But somehow we would still feel much more motivated overall, having shared such a yummy meal. Pasta with great condiments brings delight, that's all.
The fact that it is also an easy and quick pasta dish to put together makes it even more appealing. Pasta lovers: this is for you and for anyone in your life who needs a bit of cuddling.
If zucchine are not your cup of vegetables, then try pasta con crema di peperoni, another wonderfully tasty pasta dish. In all shapes and forms, pasta will always bring happiness to your table or lap – and most importantly your tummy!
Ingredients for penne con crema e zucchine
Serves 2
200g penne (or any other short pasta such as fusilli, rigatoni, possibly farfalle)
8-10 tablespoons extra virgin olive oil (don't worry about the quantity, it is to allow the courgettes to cook properly, then you will get rid of the excess oil)
a small onion, chopped finely
3 small-medium courgettes (about 450-500g)
10 tablespoons of single cream (or double for a richer taste)
40g scamorza affumicata (smoked cheese), chopped roughly in cubes
Extra
Salt for boiling water
Grated parmesan to sprinkle on individual portions (to taste)
Method
Wash and dry the courgettes. Place your courgettes on a chopping board.
Use a sharp knife to take off the top and tail of each courgette. Cut them in half (lengthways) and then half again. Slice the courgette across to a thickness of half a centimeter, trying to obtain a pile of courgette slices that are pretty much the same size and depth. This will ensure the courgettes are cooked evenly.
In a large frying pan add the oil and the chopped onions. Add a pinch of salt on the onions. This will help them soften and not get burnt. On low-medium heat cook the onions gently until they lose their body and become soft. It may take you a few minutes. Stir often.
Increase the heat and add the chopped courgettes. The heat needs to be high because otherwise the courgettes will absorb too much oil. Basically we are kind of deep-frying the courgettes.
Add a pinch of salt over the courgettes and stir. Cook until they reduce their size by half (stir frequently) and they are kind of golden and no longer white. See picture below, top right.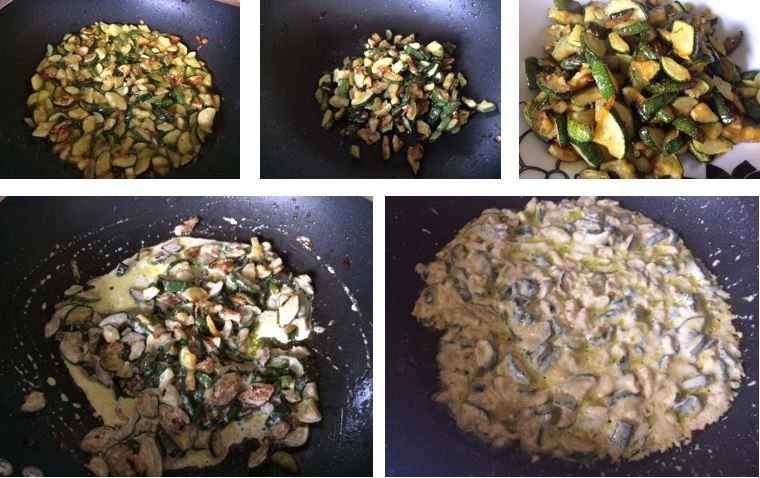 When the courgettes are ready, transfer them with a perforated ladle to a plate.
You will be left with a discreet amount of cooking oil. Transfer it to a glass and set aside. Do not clean the pan for now.
Transfer the courgettes back to the frying pan and add the cream. Add a pinch of salt and stir well until the cream is well incorporated with the courgettes.
Cook the courgettes and cream on medium heat for a few minutes until the liquid cream thickens and you get a creamy texture. See picture above (the pics at the bottom). Cover with a lid and set aside.
Cooking the pasta
In a medium-sized saucepan add plenty of boiling water. (Pasta needs plenty of water to cook properly.) Bring to the boil. Add some salt (to your taste, start with a little salt and then taste the pasta while it is cooking. Add more if required).
Add the pasta to the pan when the water is boiling, stir frequently and cook al dente (follow the instructions on the packet for the cooking time).
To season the pasta
Drain the pasta in a colander and transfer to the pan where the courgette sauce is. On low heat stir the pasta and make sure all of it is coated with the cream. At this point you can see whether a little more cream is required. If so, add it and stir well. Add the chopped cheese and stir well until it gets soft and melty.
Sprinkle some parmesan… or A LOT. Transfer to each plate and serve immediately.
There will be a period of silence after the first mouthful. Then smiles. Job done!
Penne con crema e zucchine is a great pasta dish that you can serve during the week for a casual meal with your friends and family or as a really good main if you are hosting a Sunday lunch, for example.
Simplicity is key and the yummiest dishes don't need to be over-complicated or take ages to prepare. Italian rule: abolish pretentious food and embrace the beauty of dishes made with few and basic ingredients. And penne con crema e zucchine is just that.