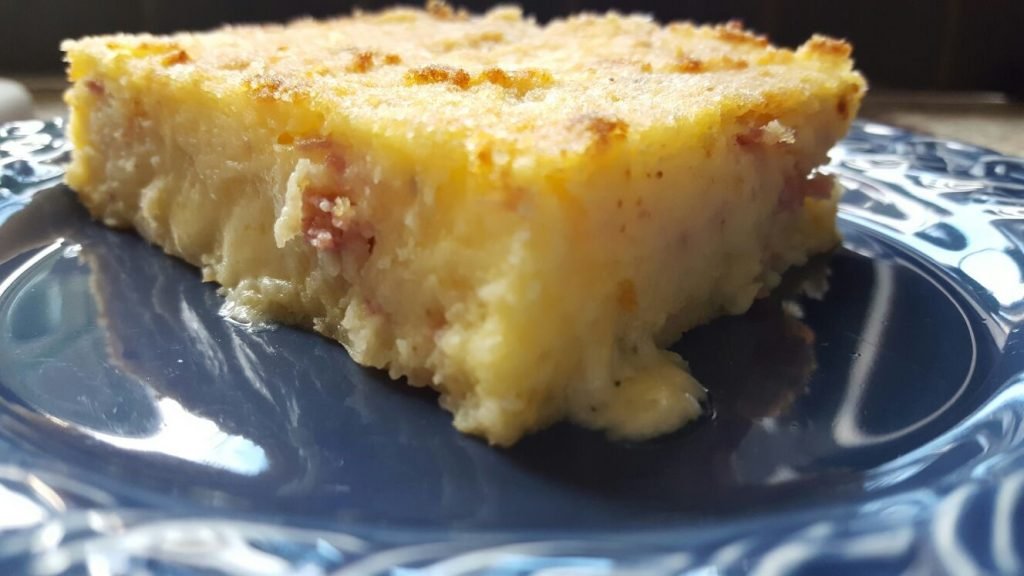 There is no better time than this to tell you about the recipe for gattò di patate. Why? Well, let's just say that it is the end of April and two days ago it was snowing here in London. Okay, okay, not really snowing; it was just a hailstorm, but still!
The heating is back on and when back from work on such chilly days, there is NOTHING better than this hearty dish that my mum always used to make – and, to be fair, still does for her little grandchildren: my gorgeous nephews Salvatore and Samuele.
Gattò di patate is a simple dish: basically a "cake" made of mashed potatoes, enriched with eggs, butter and grated cheese. Is that it, then? Nope. It also has a filling to die for: mozzarella and scamorza, salame and ham. And it is because of its amazing ingredients (I love potatoes!) and its simplicity that I see it as one of my favourite dishes (yep, add this to the long list of my fave this and that).
When George was recovering from his transplant, I used to make this a lot because it is full of nutrients and he really, really has a soft spot for potatoes. Between us, he is actually the expert on mashed potato. He has the patience to make it very smooth and fluffy. I am not so patient sometimes… Anyway, this dish is a winner on so many levels: I really recommend it!
When you mix potatoes with mozzarella and salami the meal can only end with a big smile on your face. Even the belly smiles. Unbelievable. It really does.
Why the name gattò? For those of you who are a bit familiar with the Italian language, you might think of the word cat in Italian: gatto. But I can assure you that there is no cat involvement whatsoever. The official name is indeed gateau di patate. How Neapolitans managed to get from gateau to gatto is a mystery. But most importantly, why on earth is a French word used to describe a Neapolitan dish?
There is always (well, often) an explanation, and in this case it is a bit of history… To cut a long story short (hurry up Mariacristina, I want to make and eat gatto di patate!), the Bourbon dynasty ruled Naples from 1734 to 1861 and this meant that the Neapolitan chefs – at the time called monzu (a Neapolitan corruption of the French "monsieur", still used to refer to a small number of master chefs in Southern Italy) – adapted the dictates of the sophisticated French cuisine to the local ingredients and taste.
So that's it. Pain over. It was not so awful, was it?! 😛
Leaving the history behind, and the why and the how, I am sure we will all agree that this dish will make your day – especially if it was long and exhausting. You can release some stress when mashing the potatoes with the potato ricer, then relax and go into "life is good" mode when mixing all the ingredients. Chopping apart, it can be a fun thing to do with your children. They get to play with the potato mash and add the eggs, cheese and meats and mix them all together. Yes, it is that easy to make gattò di patate.
Ingredients for gattò di patate
Serves 4-6
1kg potatoes
50g grated parmesan
300ml milk
2 eggs
Salt
Pepper
70g salted butter, softened (optional)
A pinch of nutmeg
200g scamorza affumicata (alternative: edam type of cheese)
100g mozzarella, well drained and chopped in bits
50g ham, roughly chopped in strips
100g salame Napoli, chopped in slices
Extra
Breadcrumbs and butter to line the baking dish
Method
Wash the potatoes well. Add them unpeeled (so they do not absorb too much water) to a large saucepan of cold salted water.
Bring to boil and wait until potatoes are soft enough for a fork to go through the middle with no resistance. It will take at least 40 minutes.
When the potatoes are ready, and still hot, peel them and chop them roughly. Mash them with a potato ricer.
Let it cool. Add two eggs, an abundant pinch of salt, pepper, a pinch of freshly ground nutmeg, softened butter and grated parmesan.
Start mixing with a fork or your hands until everything is well incorporated. Add the milk and mix until this gets incorporated, too.
Add the cheese, ham and salami to the mashed potatoes and mix very well until all ingredients are evenly distributed.
Preheat the oven to 220°C (200°C).
Line a round baking dish (I used Lecreuset flan dish 25cm) with butter and add a couple of spoons of breadcrumbs: with your hands make sure the whole surface is well oiled/greased, and once the breadcrumbs are in the tray, shake it all around so the crumbs are distributed evenly.
Pour the potato mix in and flatten it with a spoon. Scatter more breadcrumbs over the whole surface. Add little flakes of butter all over. Put in the oven for 20-30 minutes. It will be ready when the top is golden and crispy. Serve hot.
This dish is usually served as a piatto unico (main dish not accompanied by a side) as it is very nutritious. You could serve it as a starter, cut into small squares. It is good when served hot, but great when served at room temperature. You can store it in the fridge for one day and you will be amazed at how much tastier it is the next day… Don't think twice about making gattò di patate, as – apart from boiling the potatoes – it is easy and quick: a very popular option for grown-ups and children. Frankly, what's not to love about it?