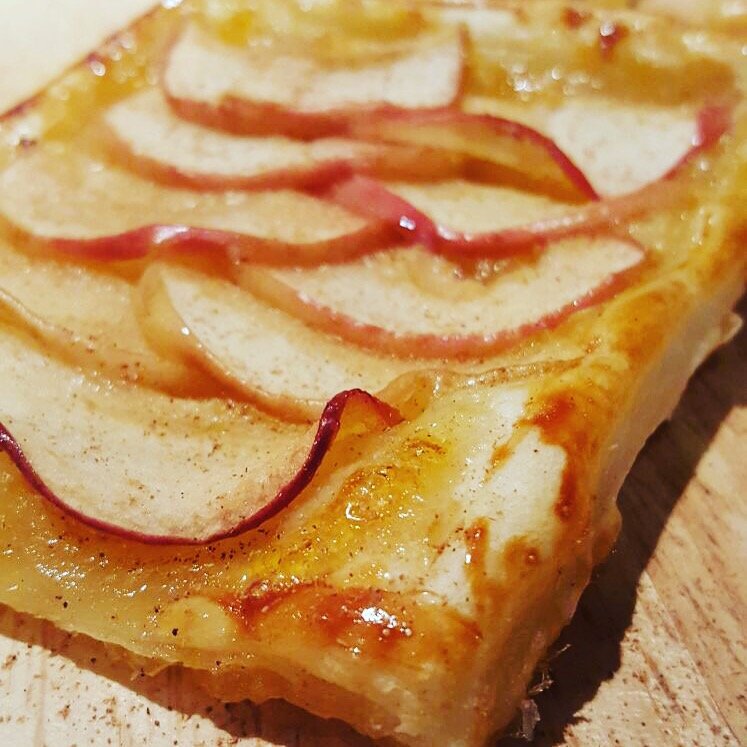 You know when you are craving something sweet but you feel like you are going 4,565 miles a second and there is no way on earth you are going to bake? We all have moments like this in our everyday life, but there are recipes – such as this one for sfogliatine alle mele e cannella – that exist for this very purpose. They are scrumptious, healthy and very quick to make. Once you've chopped the apples, your children could have a lot of fun completing the recipe.
A base of puff pastry (which I am not asking you to make, of course!), covered with a layer of apricot glaze, thin apple slices, cinnamon and icing sugar: impossible not to like…
There is something special about puddings made with apples. They often prompt memories of the apple cakes we all grew up with, made by our grannies or mothers.
Although my mum decided to stop working when I was born, there were still often moments when things at home were too hectic to find time to make a ciambellone or a crostata. But she always wanted to make sure there was something sweet and home-made that my brother and I could have for breakfast or as a snack if we fancied something sweet. And these sfogliatine are what she would make when things were not so easy, such as when my granny was unwell and she was looking after her.
And although at the time I just thought it normal for her to keep preparing delicious things for us, even during the toughest times, I now understand the love behind making these simple sfogliatine alle mele a cannella.
Ingredients for sfogliatine alle mele e cannella
Serves  6 
2 medium-sized red apples
2 tablespoons of caster sugar
Half a small lemon
1 teaspoon of cinnamon
2 full tablespoons of apricot glaze
1 yolk from a medium-sized egg
1 tablespoon of milk
1 sheet of pre-rolled puff pastry
Extra
Extra cinnamon for sprinkling
icing sugar for dusting (optional)
Method
Preheat the oven to 220˚C (200˚C fan) – or follow the instruction that come with the puff pastry.
Wash the apples and dry them well. Cut them in halves. Take the stalks off and remove the seeds in the middle. Chop them into thin slices (about 5mm wide), transferring them to a bowl as you go. As you move the apple slices to the bowl, sprinkle some lemon on them (so they won't turn dark). Once all the slices are in the bowl, add the sugar and the cinnamon. Mix well.
Unroll the puff pastry, leaving the oven sheet underneath. Place it on a baking tray.
Cut out 6 squares or rectangles. You should get at least 6 out of a rectangular sheet of puff pastry.
On each square/rectangle draw with the knife another square to mark the area in which you are going to place the sliced apples, leaving a border of less than 1cm.
Place the apricot glaze in a bowl, add a tablespoon of water and mix well until smooth.
With a brush (or a teaspoon) distribute the apricot glaze all over the internal square/rectangle you previously drew.
In a small bowl mix the yolk and the milk well. With a brush cover the border (outside the filling area now covered with apricot glaze).
Finally, add the apple slices to cover the surface, one next to each other, overlapping slightly.
Place in the oven (lower shelf) for 20 minutes (or 30 – you will need to check), or until the pastry is golden on the edges and the bottom is well cooked (does not look white and soggy).
Take the dish out. Let it cool a bit. Transfer to a serving plate and sprinkle with extra cinnamon or icing sugar. Or both!:-D
Have one slice or two. Or three. But then share the other ones with your family…:–P