After such a long silence (sorry readers, it couldn't be helped!), I could only come back with a massive bang and in style with a timeless classic: a favourite in the Norton-Lubrano hood and more generally in Naples. Meet the majestic millefoglie alle fragole!:-)
This cake is a definite crowd-pleaser with its crispy puff pastry layers and a yummy filling made from creme patissiere and juicy summer strawberries. It shouts: "Summer has arrived, let's have a blast" and, as a bonus, is relatively quick to make. It's just one of those cakes that captures the hearts of all those lucky enough to be offered a slice.
For me it is an iconic cake. It's the cake I made for George's birthday celebrations when I moved to London back in 2009, as part of my wicked plan to conquer his heart for good… (Ssshhh, please don't tell him!)
He loved it so much that he kept asking for it. That's how it just became a thing for us. Our thing.
But times change, and for a while tiramisù replaced millefoglie alle fragole, somehow. But you know what they say about first love… you can never forget it.
So when we organised a party to celebrate George's surviving his first year after his bone marrow transplant – officially his new birthday on 26th March – I thought we should go back to the origins and bring back his old favourite, but with a small difference in terms of shape…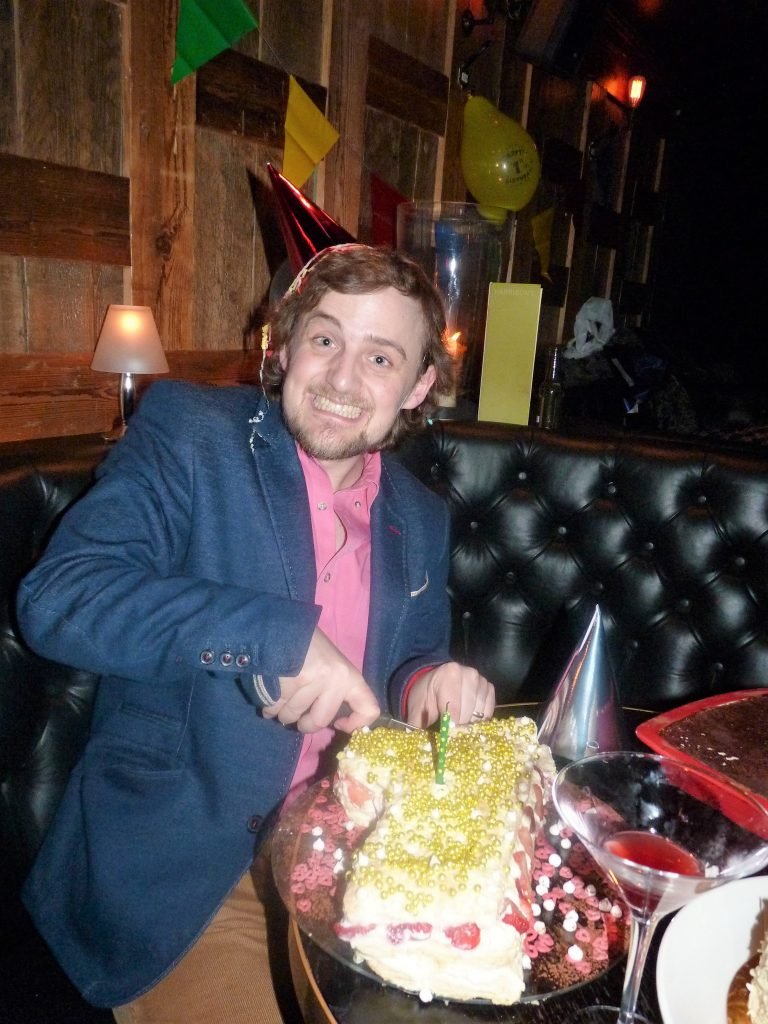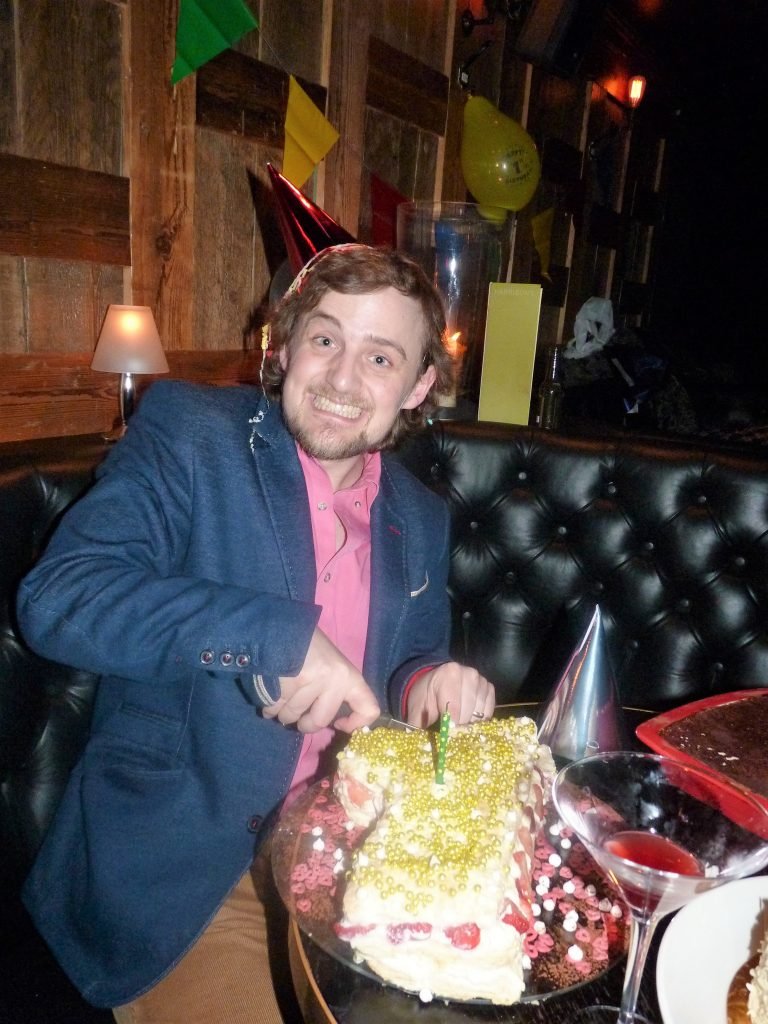 And once again, time passes, more things happen. Some things are tough to digest and challenge our lives – but also some new milestones are reached and it is time to celebrate again…
Suddenly we're approaching George's 35th birthday. BOOM! Thirty-five is an interesting one. It's not the big 40, but it's right in the middle between 30 and 40. So I thought: "This deserves to be celebrated with a real BANG. HELL YEAH!"
Besides, I'm all for celebrating any occasion that can let you throw a party, prepare a big feast, put on your best frock, blow balloons and toast with your besties, sharing those hugs that can say more than any letter or card will ever say.
Also, to be honest, as much as it hurts me to say, there were so many times when I thought George would never be able to celebrate his 35th – or even his 34th or 33rd, for that matter. What we went through has taught us so much and made us as strong as oxen, but it left scars that will never go away.
For all the above and much more, including making the most of the great moments in life, 35 sounds simply marvellous. This is why we're planning a really good party in a cool café, with a proper band and a buffet made by me, of course!
And guess what? Millefoglie alle fragole will be at least one of the cakes I am going to make. I just can't wait. With a month to go, I have already written down the menu and soon I will move to the shopping list!
I simply and utterly adore millefoglie alle fragole, as it combines some of the most beautiful textures and flavours this life has granted us (did that sound a bit hippy?). I love all things with puff pastry, and crema pasticceria is the cream of Italian creams (admittedly it is French, but Italians adopted it as the main cream to use to garnish cakes). In addition, I don't think there are enough words to describe the goodness of strawberries. I feel that this cake was meant to be for George because of the perfection it represents in terms of yumminess. It was love at first bite for him.
The other day, when I made millefoglie in order to get a couple of good pictures for this blog post (the things food bloggers have to go through!), it ended in tears. There was a small square slice left and there was the silent assumption and agreement that it belonged to George (having taken half of the cake to work to share with my team).
However, the next evening, while George was away, I got a bit upset by an email I had received and my instinct was to find comfort from the lonely slice in the fridge. I thought: "Just a bite – that should be enough to cheer me up a bit".
But the more I had, the more I wanted. I knew he would be upset, but I hoped he would just forget about it. But that did not go according to my plan and there was a very disappointed George… Yes, people, this millefoglie alle fragole is that good!
One of the reasons I love millefoglie alle fragole is its versatility. You can choose the shape of your cake: square, rectangular, or go crazy and opt for round. This may shock you, but I like my pastry baked without the addition of icing sugar. Simply plain, as I'm crazy for the contrasts between the neutral taste of the puff pastry, the sweetness of the crema pasticceria and the acidity of the strawberries.
I also like to make some additions to this basic formula: I usually add some morello cherries to the strawberries and sprinkle grated dark chocolate on top of the cake.
And finally: you can decorate it as you wish. I like to get creative with whipped cream and strawberries. But as far as I am concerned, anything is allowed.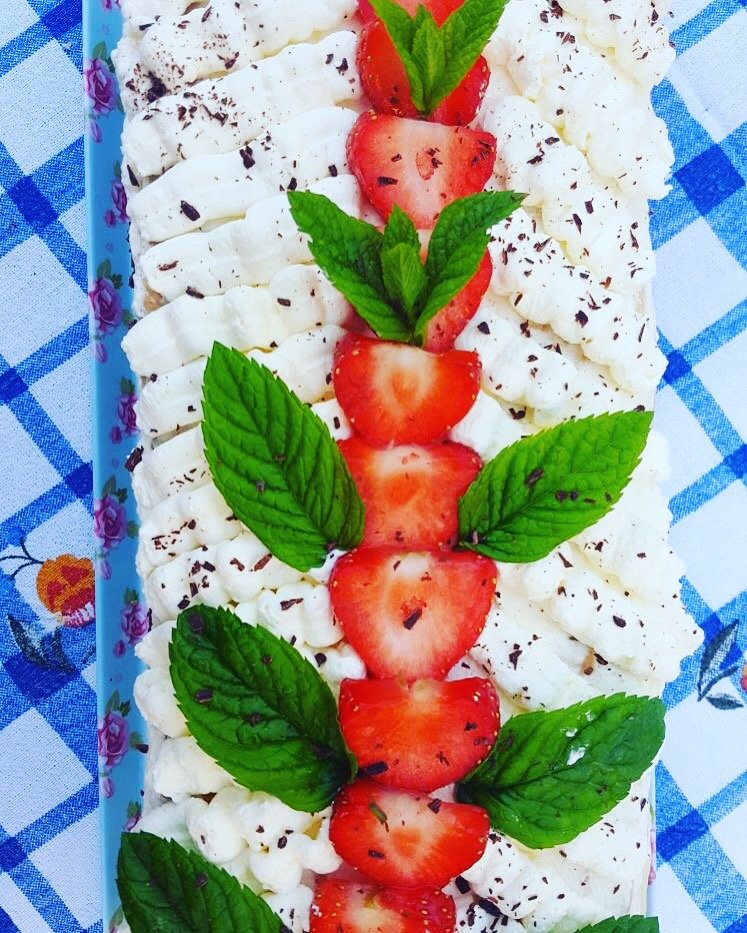 Now, though, it's time to get started. Follow me….
Ingredients for millefoglie alle fragole
Serves 8-10
For the pastry
2 pre-rolled puff pastry sheets
500-700g strawberries (wash under tap water in a colander/sieve just moments before you need to use them. Remove the stem only after having rinsed them)
500-700ml whipping cream

 (less if you are not decorating the top creatively)

50g dark chocolate shaved in curls (optional)
High-quality black cherries in syrup (highly recommended: Fabbri) (optional)
For the crema pasticcera
1l milk
300g sugar
5-6 yolks (from medium-sized eggs)
90g plain flour, sifted
Peeled skin of one lemon
Half a vanilla pod or a teaspoon of vanilla essence
Extra
Mint leaves to decorate, washed and dried
Method
To prepare the crema pasticcera
Start making the creme patissiere as it will need to be completely cool before it can be used.
The quantity I suggested will give you more cream than you need. But some people like to have thicker layers of cream so having more makes sense. Also, going through the effort of making crema pasticcera, you may as well use it the following days to go with some fruit or prepare some mini fruit tartlets.

If you are using the vanilla pod instead of vanilla essence, cut the pod along its length and scrap the seeds out with the knife.
Into a medium-sized saucepan pour the milk, add the vanilla seeds and the lemon peel, and cook gently on low heat until the milk is hot but not yet simmering. Take off the hob, take the lemon out and set aside.
In another saucepan add the sugar and the egg yolks. Mix them well with a whisk until they are compact and smooth. I usually use a hand whisk but to speed things up, you could use an electric mixer at low speed.
Add the flour gradually and incorporate it into the sugar and egg mixture until it is all well blended. Pour the milk in and stir well with a whisk until the egg, flour and sugar mix is incorporated well with the milk (below, bottom left). Add the vanilla extract if you opted for it instead of the pod.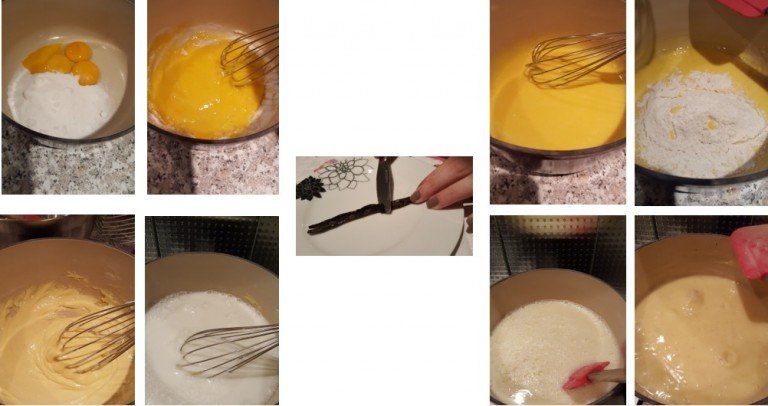 Move the pan to the hob and cook gently on a low heat, stirring constantly with a spatula or wooden spoon, until it reaches a simmer and thickens into a custard. Take away from the hob, take the lemon skin out and transfer to a glass jug and let cool down.
While the crema is cooling down, start preheating the oven.
Unroll both puff pastry sheets gently over two large baking dishes.
Cut each sheet in half across its length. Once you did the first, you can overlap the second pastry sheet to see exactly where you made the cut, unless you go all geometric and start measuring with a tape.
You just need to make sure that all 4 rectangulars you are obtaining are the same width and length as they will be the overlapping layers of the cake and they need to match. 
With a fork pinch the surface of all four rectangulars without reaching the bottom of the pastry.
Place the baking sheets over a large flat baking try (use two if they don't both fit in one) in the oven and bake for the recommend time or until each rectangular is all golden and puffed up. (There are some technique people use to keep the pastry down but I like my pastry puffed up, even if it is not even. It does not really matter as it all gets flattened down with the cream and strawberry and the further layers). 
Take the dishes out of the oven and let cool down.
Meanwhile grate the chocolate with a vegetable peeler to obtain twirls or thin pieces of chocolate. Place in the fridge until you need to add them to the millefoglie.
When millefoglie and crema pasticcera are completely cooled down, you can start washing and chopping the strawberries and then assembling the cake.
Place the strawberries in a sieve and wash well under the tap. Take the stem off.  Keep aside about 10 for the top decoration. Chop the other ones in 2 or 4 pieces, depending on how big your strawberries are. The pieces should not be too big as it may be tricky to keep them in a slice when you eventually cut the millefoglie.
Use a pretty tray where you can present the cake. You can clean up the mess with a tablecloth at the end. Transfer the whole cake might be too risky so your choice eventually. 
Place the first sheet and if you want to be precise, add the crema pasticcera in a sac a posh to distribute an even layer of crema. (otherwise a tablespoon will do just fine. Distribute the crema evenly with the back of a kniefe) Spread some strawberries and optionally some grated chocolate.
Add a second layer on top and repeat the same operation. Cover with the third puff pastry sheet and add some more cream and strawberries and finally cover with the final sheet. Coast the top and the side of the cake with the left over crema pasticcera.
Whipping the cream
Take the cream out of the fridge, transfer to a large bowl and use an electric mixer to whip the cream until it is well firm.
Decorating your millefoglie alle fragole
You can be as creative as you wish. Cut the 10 strawberries you set aside in half and add them in the middle of the cake. Then with the whipped cream added to a sac à poche, you can create stripes or circles on both sides. Or you can have one diagonal stripe of strawberry alternating with one of swirls of whipped cream.
As for the sides, you can carry on with the swirls of whipped cream, or just gently lay more chocolate swirls or even ground nuts. You get the picture: decoration is your call. It can be as simple or as eye-catching as you wish. It will probably depend on the time you have and whether this is a cake for a special occasion, a present or just pudding for your Sunday meal.
Either way, it's all about what's inside, and millefoglie alle fragole – with its strawberry and crema pasticceria filling – is simply heavenly!