Hold your breath…and…ta da! It is about time to introduce what is both a staple and one of the signature dishes of Neapolitan cuisine: the wonderful and unique and amazing and outstanding and delicious and divine and heavenly spaghetti con le vongole! I know: how could I keep this Neapolitan masterpiece hidden from you all for so long? Do they not say that good things come to those who wait, though? Sure, right? Ahem…
I have several reasons to be excited about sharing the recipe for spaghetti con le vongole. It is not only very, very tasty (when you use fresh vongole veraci); it is also the favourite dish of some friends of mine who are so very close to my heart; and, most importantly, it's one of the two dishes my daddy used to make regularly.
My dad was, in fact, the specialist when it came to cooking seafood in our family. He was the one who took me with him to the fish market every Sunday to find the freshest fish. He is the one who shared with me the determination to always source only the freshest ingredients.
Going shopping and bringing back the best ingredients was his way to love us children. I have been spoilt, truly spoilt to have been fed so much outstanding food, always cooked with so much love, both by my dad and my mummy.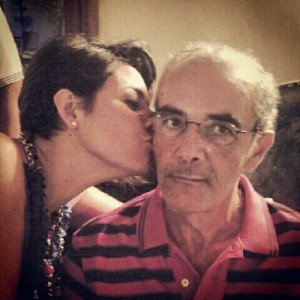 This passion and love for cooking using great, healthy ingredients is definitely one of the most precious things I inherited from my dad. And I am lucky enough to keep learning about the importance of making good food from my mum.
She always says: "Quello che metti nel piatto, quello trovi (you will find in the dish you make whatever you put into it)," to highlight the fact that when you use poor-quality ingredients no amount of magic in the pan or in the oven will transform those ingredients into something tasty. You get what you put into it – as simple as that.
When you grow up near the sea, as I did, you know that at the weekend, especially during the summer, a pasta dish with shellfish will be the queen on the family table. Imagine your Sunday roast and the delight and joy it brings to thousands of people, at home and at the pub, every Sunday. Are you all focused on this thought?
Well, teletransport yourself to Naples and Sunday roast becomes spaghetti con le vongole (or cozze). And although I recognise that 99% of you readers will choose a Sunday roast a thousand times over a pasta dish as your main Sunday dish, I can assure you that in Naples, lo spaghetto (note the use of the singular) con le vongole is, quite simply, holy.
It might seem an exaggeration, but either way, very few people will be able to resist this simple but divine pasta dish.
Spaghetti con le vongole has become known internationally and loved all over the world. Together with lasagne, it is adored by pretty much everyone (with a few obvious exceptions) who has spent some time in Italy, who will rave about the happy marriage of the wonderful flavour of the fish sauce with some good al dente spaghetti or linguine.
Spaghetti con le vongole is a very basic pasta dish, but you still need to have a genuine passion and put lots of love into making it. And my dad was the master of this. I often observed him while he added the tomatoes and stirred, and then added the juice from the clams: the love and happiness shone out.
My dad was so happy when he cooked a good seafood meal for us all. Whether it was just for the four of us or for a big group of friends visiting our beach cottage, you could see so much joy in his eyes when eventually he would triumphantly bring in the big pan full of so much goodness.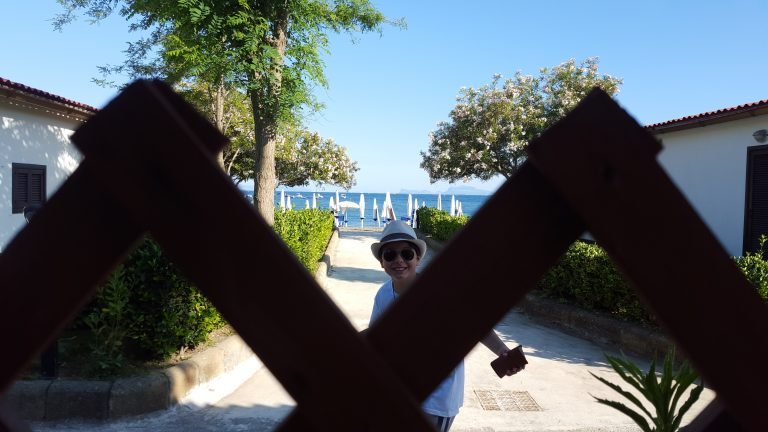 And then there would be a big round of clapping hands followed by a respectful silence for the first forchettata. Spaghetti con le vongole is a classic that wins everyone's heart.
His enthusiasm was contagious. I am always very proud to say that George never used to be a big fan of seafood. But my dad introduced him to some wonderful seafood dishes, including octopus, which George would previously never even have tried. And now his face lights up when I mention that I am going to make spaghetti con le vongole, or prepare l'impepata di cozze.
It's a happy day whenever there is a bowl of spaghetti con le vongole on the table.
They say:
"Si cucina sempre pensando a qualcuno, altrimenti stai solo preparando da mangiare."
"You always cook with someone specific in mind; otherwise you are simply making food."
I think you know who is on my mind when I make this dish. Right. Time to get started… Let's go and make a wonderful spaghetto con con le vongole!:-D
Ingredients for spaghetti con le vongole
Serves 5

500g pasta
1kg clams
100g cherry tomatoes (optional if you prefer the "white" version)
100ml of white wine
 120g extra-virgin olive oil
Two big cloves of garlic, peeled and crushed
Chilli (according to your taste, but this dish should not be too spicy as this will kill the taste of the vongole)
Extra
Salt for boiling water
Extra fresh parsley to garnish
Method
If you don't know whether the clams you bought have been purged or not, you need to purge them of sand. Sand in one clam can ruin the whole dish.
How to purge clams
Add 1l of water to a large tupperware-style container. Dissolve 35 grams of sea salt in the water. You'll need enough to submerge your clams.
Wash every clam under cold tap water to remove mud or grit on the outside of the shell.
Place the clams into the container.
Put the clams in the fridge, at room temperature or in a cool place. Leave for at least an hour, and up to 20 hours (depending on how dirty they are).
Check on them now and then. You will see a lot of icky stuff all over the bottom of the container. You can repeat this process for really muddy clams.
When they are ready, rinse the clams again.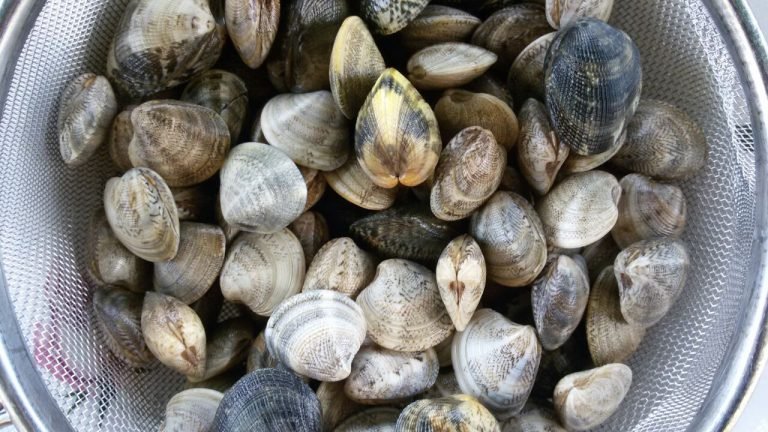 Prepare the sauce
In a large frying pan, add 3 tablespoons of water. Add all the clams and set the heat on medium/high and cover with a lid. The clams should open up in 5-8 minutes. Stir as you go to move the ones at the top to the bottom so they all get even exposure to the heat. Do not cook for longer as they might dry up.
When ready, transfer the juices from the frying pan to a glass (so all the dirt and impurities will be collected at the bottom of the glass) and move the clams to a bowl. Cover to keep warm.
Leave the glass with the juices cool down. When you see that any dirty bit is at the bottom, take another glass. Place a sieve on top. Line the sieve with some kitchen paper. Pour the juices from the first glass to the second one, slowly. Wait for all the juices to be trasnferred. You will see that any dirty bits will all be collected on the kitchen paper.
In the same frying pan, add 120ml of extra-virgin olive oil, the garlic and the chilli. On medium heat let the garlic get gold but take it out before it burns. Now add the chopped tomatoes (optional) and a pinch of salt.
Cover with a lid for a couple of minutes, which should be enough time for the tomatoes to soften (appassire).
Now add the clams, half of the parsley and, gradually, some of the juices you kept from the previously cooked clams. Stir well.
Finally, add the wine, and on high heat let it evaporate. The sauce is ready.
Move half of the clams to a bowl to allow enough room to stir the pasta in with the sauce (once the pasta is cooked).
Cooking the pasta
In a large saucepan add about 2l of water. Bring to boil. Add at least a tablespoon of salt. Pour the pasta and cook al dente. (Regarding salt for the pasta, it is a matter of taste, but traditionally it is good practice to add a fair amount of salt. Start with a little and then taste the pasta while it is cooking. Add more if required.)
Drain the pasta and move it to the pan where the clam sauce is. On low heat stir the pasta well for a minute to make sure the sauce covers all the pasta.
Transfer the pasta to a serving bowl. Add the rest of the parsley and the other clams. Serve immediately with a nice glass of cold dry white wine. Isn't this just beautiful, like poetry?