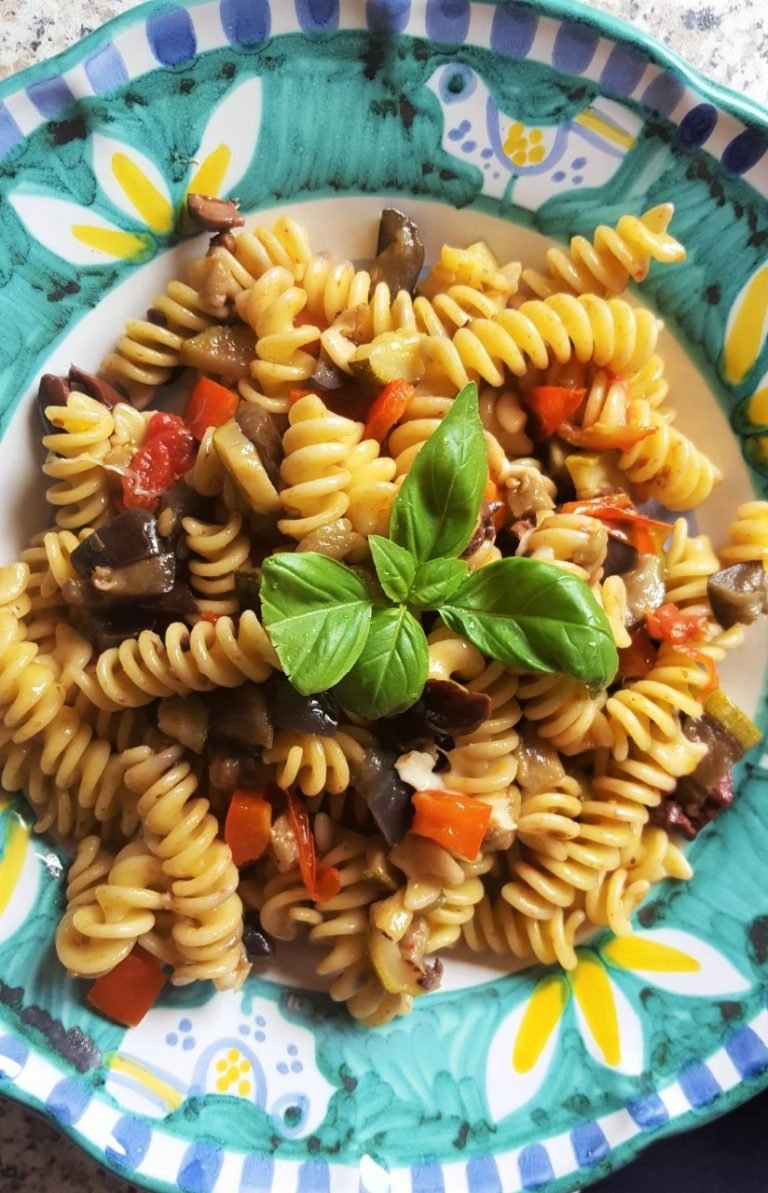 Pasta all'ortolana is definitely among my favourite summer pasta dishes. In a season during which vegetables such as aubergines, courgettes and peppers are at their best in terms of flavour and freshness (living in London they are available all year round), I always try to make the most of them and cook them in every way possible.
Parmigiana di melanzane, timballo di pasta con melanzane, involtini di peperoni ripieni and pasta con crema di peperoni are just few of many recipes I make to enjoy summer vegetables at their best.
But obviously, being a pasta addict, my favourite way will be the one that unites these wonderful vegetables with pasta. They say you cannot have your cake and eat it, or you cannot have the best of both worlds and all that, but hey: that is not always true.
Pasta all'ortolana does just that: combines harmoniously two of the most wonderful things on earth: pasta and vegetables, and does it in a way to enhance the taste of both. And, I would add: thank God for that! Too many times I was served pasta cooked with vegetables that tasted of nothing – or just no longer tasted of vegetables. Either too raw or overcooked. Either bland in terms of flavour or over-spiced.
Guess what? This recipe strikes that balance. Give it a go and let me know what you think.
This pasta dish was a regular during all the summers we used to spend as a family in our beach cottage in Pozzuoli. There were always lots of friends and cousins for lunch and I remember a big long table made up of many smaller tables, and chairs borrowed from nearby cottages. It was chaos – but it was great to sit around the table and wait for your portion of pasta all'ortolana as you drooled at the gorgeous smell of slowly cooked vegetables coming from the kitchen.
And then… silence for a bit. So much goodness and flavour in a very simple dish to prepare. When you make it for four people it is a little bit easier, as the amount of vegetables to chop is minimal. These days I always feel lucky as I chop the one aubergine, two small courgettes and pepper required for this recipe: it's nothing compared to the kilos of vegetables my mum would have to start chopping early in the morning!
This dish shouts summer, lightness and goodness. There is still plenty of time to make pasta all'ortolana, so do give it a go while the vegetables are in season. Make this dish once and it will become a regular.
Ingredients for pasta all'ortolana
Serves 4

400g fusilli (alternatively you can use penne or short rigatoni)
250g aubergines, washed and chopped into small cubes
4 tablespoons extra-virgin olive oil
1 clove of garlic, peeled and crushed
pinch of salt
250 courgettes, washed and chopped into small cubes (best to use small ones)
1 red pepper, washed, seeds, innards and white filaments taken out, chopped into small cubes
6 tablespoons of extra-virgin olive oil (in addition to the earlier 4 tablespoons)
2 big cloves of garlic
15 black olives (take stones out with gentle pressure)
2 tablespoons of capers, rinsed of their salt
15 cherry tomatoes, washed and chopped in half
pinch of salt
big bunch of basil leaves (over 10)
Extra
Salt for boiling water
50g smoked cheese, chopped into cubes
Extra basil leaves to garnish
Method
In a large frying pan, add 2 tablespoons of extra-virgin olive oil. Add the garlic and cook on low heat for a couple of minutes or until the garlic starts getting some colour and becomes gold-ish.
Add the chopped aubergines and a pinch of salt. Stir well and keep cooking on medium heat for about 10 minutes, or until they turn golden and reduce to half their size.
Take off the heat. Take the garlic out, transfer to a plate and set aside.
In the same frying pan add 6 tablespoons of extra-virgin olive oil (you can reduce this to 4 if you wish to make this dish even lighter). Add the garlic cloves and cook on low heat for a couple of minutes, or until the garlic starts getting some gold-ish colour.
Add the capers and black olives. Stir well. Add the cherry tomatoes and the basil. Add a pinch of salt and stir well. Cook on medium heat for a couple of minutes until the tomatoes soften a bit.
Now add the chopped courgettes and peppers. Add a pinch of salt and stir well. On medium-high heat stir well to make sure both the courgettes and peppers are well coated in the condiment. Lower the heat and cook for 10-15 minutes, until vegetables are cooked enough but retain part of their structure and crunchiness.
Add the aubergines you cooked previously and stir well. Incorporate well with the rest of the ingredients. Add some extra basil leaves and keep cooking for one more minute. Taste and season with more salt accordingly.
Take off the hob and set aside.
Cooking the pasta
In a large saucepan add about 2l of water. Bring to the boil. Add at least a tablespoon of salt. Pour the pasta and cook al dente. (Take it out 1 minute before the recommended time on the packet). Regarding salt for the pasta, it is a matter of taste, but traditionally it is good practice to add a fair amount of salt. Start with a little and then taste the pasta while it is cooking. Add more if required.
Drain the pasta and move it to the pan where the vegetables are. On low heat stir the pasta well for a minute to make sure the sauce covers all the pasta. During this stage you could add some chopped cheese.
Transfer the pasta to a serving bowl. Decorate with basil leaves. Pasta all'ortolana can be served as a salad, too. Let it cool for a few hours and eat in the evening or store in the fridge and enjoy it the next day.
Personally I prefer it the next day, as all the flavours combine even better and you can enjoy even more the taste of vegetables mixed with the flavours of black olives and capers. Yum. It is a light meal and full of goodness and it really is a wonderful way to encourage your children/grandchildren and nieces and nephews to eat vegetables!