When the summer comes and the heat is overwhelming, some people stop baking and switch to ice cream mode. Despite having grown up in a place where summer can be really hot, though, even with temperatures as high as 40°C, it was still not enough to forget gorgeous cakes – especially those with the potential to be simply perfect for the hot season, such as quadrotti al limone.
I have been unwell recently and came back to Pozzuoli for surgery and my mum tried to spoil me by making something nice I could eat.
With all the lemons we have in the garden there was no doubt mamma Mariolina was going to make quadrotti a limone. I had them often for breakfast and sometimes in the afternoon. Slightly addictive with their lemon scent and their moistness. Not only they were delightful and so refreshing; they also cheered me up!
I am often the one who bakes and cooks to take care of the people I love so it's been so good to feel the love of my mum in this way, too, on top of all the support, patience, understanding and encouragement she's given me over the past weeks.
When things are difficult a slice of cake baked by someone who wants to help you out can make all the difference. This is partly why I always try to bake something as opposed to bringing shop-bought chocolate or biscuits when I visit a friend who is in need of a hug. Don't get me wrong, though: I appreciate all the lovely treats I get when people come and visit. We are not all keen bakers and that is obviously absolutely fine!
Although ice cream is often on my mind, there is no reason to give up baking and just scoff ice cream instead.
I quadrotti al limone are delicious lemon squares cut from a cake that takes less than 5 minutes to put together and are so refreshing: a real summer treat to keep in the fridge and have for breakfast or for your tea break. Yes. Iced tea break😅
The method is straightforward and the result will blow your mind. The other day I felt a bit better and I could not resist the temptation to bake. Yes, even when unwell, I won't stay away from the kitchen…
My super friend Sonia was going to visit me before the surgery and I wanted to treat her to something really good. She is a big fan of lighter, fruity cakes and I knew this would be the perfect fit.
And I was right. She absolutely loved it and everyone was happy, including this gorgeous bundle of love.
She loved it so much that I offered her to take some quadrotti with her to share with her husband. And the reply I got? "No way; these are my treat for tomorrow lunch!" But it turns out she did not find the squares in the her fridge the next day as someone had sneakily eaten them all! Good grounds for a civil war😅😅😅
Not to mention my husband's George disappointment when he heard that I made quadrotti al limone while he was away. Oh men, men, what shall we do with you?!
That says a lot about the goodness of this cake…!
Ingredients for quadrotti al limone
Serves  6
230g caster sugar
3 medium-sized eggs (or 150g without shells)
Juice from 1 big lemon
Rind from 2 big unwaxed lemons
1 teaspoon vanilla essence or vanilla powder
250g Greek yoghurt
250g ricotta cheese, well drained
120g all-purpose flour
8g baking powder
Extra
Icing sugar for dusting
Two slices of lemon for decoration
Some mint leaves for decoration
Some butter and flour to line the baking dish
Method
Preheat the oven to 180°C (160°C fan)
Line a baking tray (30x20cm) with butter and flour.
In a bowl add the caster sugar and the eggs. With an electric mixer whip them until they double in size and you obtain a smooth and lump-free mixture.
Add the lemon juice, lemon rind and vanilla essence/powder and stir well.
Add the ricotta and yoghurt and incorporate well into the mixture until smooth.
Sift the flour and the baking powder. Add them both to the mixture and incorporate well using the electric mixer.
Pour the content into the lined tray.
Place in the oven for 25 – 30 minutes.
Keep an eye on it as ovens vary. Take it out when pale gold on the surface and when a stick comes out clean.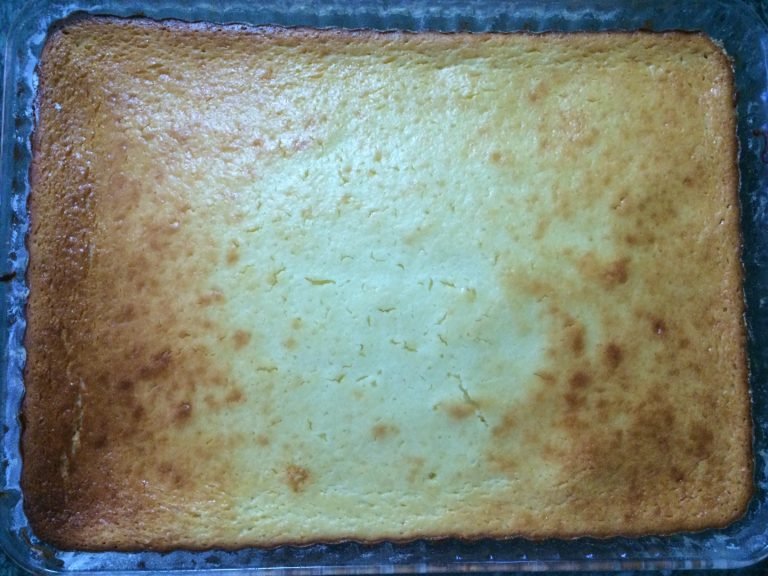 Let it cool down. Turn upside down. Transfer to a serving plate, cut the cake into squares and store in the fridge.
Once it has cooled down, you can of course eat the quadrotti at room temperature. But if you feel like having a refreshing dessert, leave the slices in the fridge for a couple of hours.
Sprinkle some icing sugar just before serving; otherwise all the sugar will be absorbed before serving.
Decorate with some slices of lemon and mint. It's impossible not to like quadrotti al limone!
If you love lemons as much as I do, I recommend that you try ciambellone al limone and biscotti ricotta e limone. As easy and tasty! Try them and let me know how you liked them:-)