Frittata di maccheroni is one of those typical Neapolitan dishes that proves Neapolitans know their stuff when it comes to comfort food.
It's a pasta-based dish and that already accounts for a big percentage of comfort. But we can't stop there. We decided that pasta alone was not enough and wrapped it in a mixture of eggs, parmesan and cheese to obtain a majestic frittata (omelette). There you have it: an explosion of flavours, comfort, nutrition and goodness, all in one slice.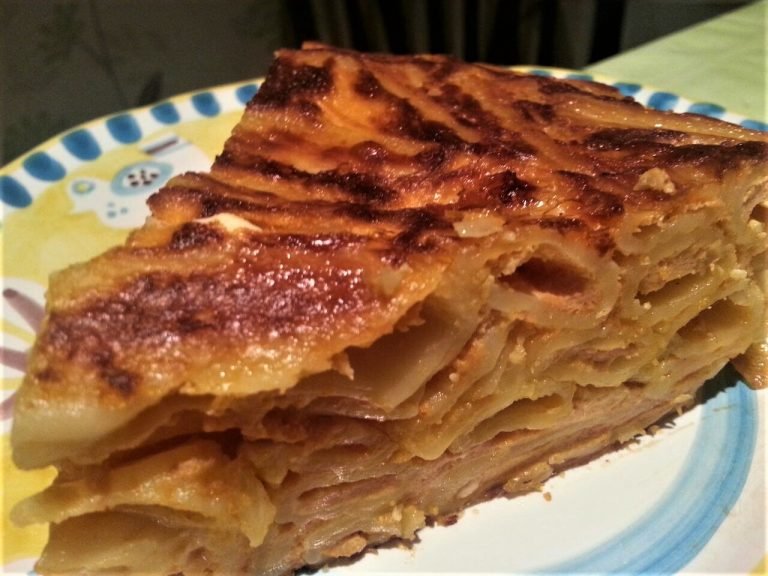 We are all accustomed to the famous French omelettes and Spanish tortillas. But how many of you would contemplate the idea of having pasta in an egg omelette?! I introduced you to the idea a while ago when I told you about frittatine di pasta, but those are slightly different: they have a breadcrumb coating and are generally made in a different way.
If you haven't come across this dish yet, it's time to make it and enjoy it. But let me tell you a few things first about Neapolitans' beloved frittata di maccheroni.
Frittata di maccheroni has really old roots. I have sometimes mentioned how Neapolitan recipes come from both the ancient local aristocratic cuisine – which included elaborate dishes such as sartù di riso – and from the popular traditions, which were characterised by poorer recipes – made from simple nutritious and healthy ingredients – such as pasta e fagioli or pasta e patate.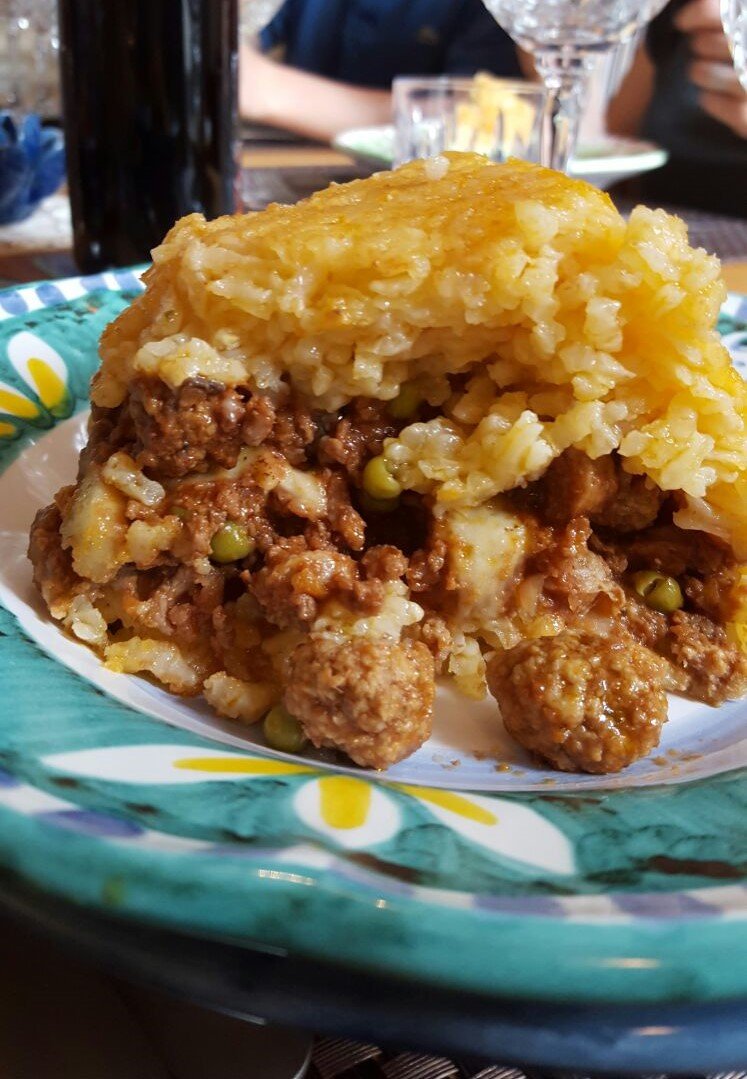 Maccheroni refers to a type of long pasta that used to be eaten directly with your hands from stalls that belonged to the so called maccheronari. These street "chefs" cooked maccheroni in big saucepans and served them with grated cheese and pepper. It was the precursor of street food.
Years later this dish was turned in what we now know as frittata di maccheroni, as families sought not to waste any food. What better way to use leftover pasta than to make a scrumptious frittata with the mere addition of eggs and cheese?
Frittata di maccheroni is traditionally a piatto degli avanzi (dish from leftovers), but I can assure you that nowadays it is often made from scratch because it is so scrumptious that it's too hard to wait for leftover pasta.
It is a dish traditionally made with spaghetti or bucatini or vermicelli, but any type of pasta is allowed. I prefer the version made with rigatoni, which you can see at the top of the page.
There are different versions, too: with tomato sauce or without. Everyone has his or her own preference, but no matter how you make it, frittata di maccheroni drives everyone mad. I mean, look at my colleague Phil, tasting it for the first time in his life… His eyes say it all!
I know what you may be thinking… What about George? Are you not supposed to feed him?! Well, you may forgive me on this occasion as two years ago I cooked for my colleagues and provided lunch for 6 weeks to raise funds for the charity I work for.
George spent late nights helping me out to cook for over 16 people at times (orders were out of control!) but I assure you a slice was always kept aside for him:-D.
You see, you can create a whole world of goodness with good, home-made food: raise funds for charities close to your heart; help someone you love to build up their strength after a long period of illness; or cuddle a friend after a bad day at work.
The list goes on, but I wish we all stopped being so self-focused and started thinking more about how we can take care of those around us.
Those detoxing diets, slimming regimes, healthy regimes, and all that: yes, fine, if that is what makes you feel good – but do not underestimate the power that a good comforting dish could have for someone who is a bit low on morale.
Because frankly, between you and me, no matter how much you love me… If you invite me over for supper and make me eat tofu or serve a pasta dish without parmesan, you will kill me deep inside, and I am not sure I will feel very comforted…
So vegans and vegetarians: if you are invited to someone's house and they make a vegan/vegetarian dish especially for you, don't you think you could do the same when you host non-vegans/vegetarians at your place?
I think that people should meditate on fairness when it comes to human relationships, based on respect for other people's tastes and choices. You should not impose your own personal choices on others. It works both ways…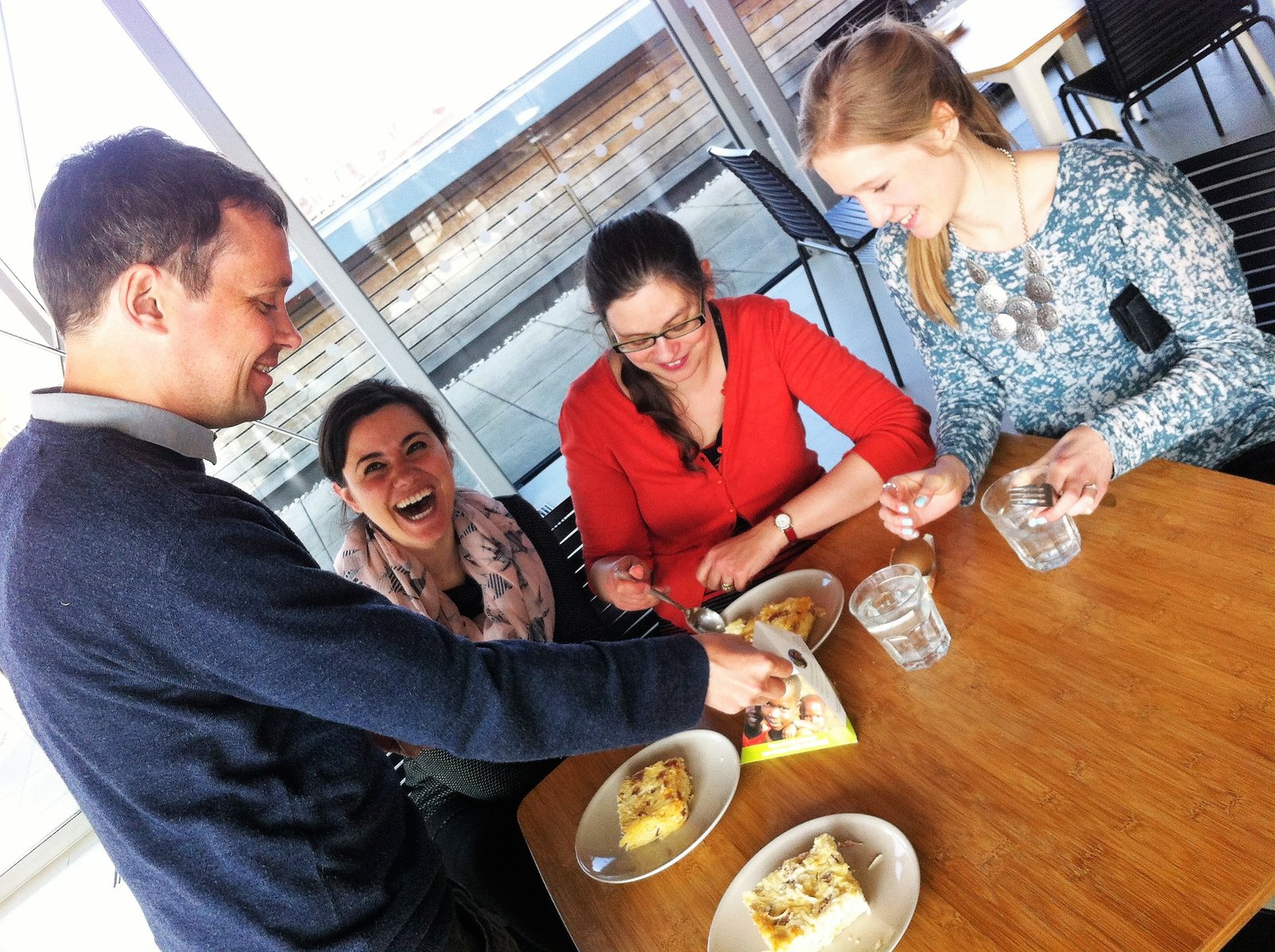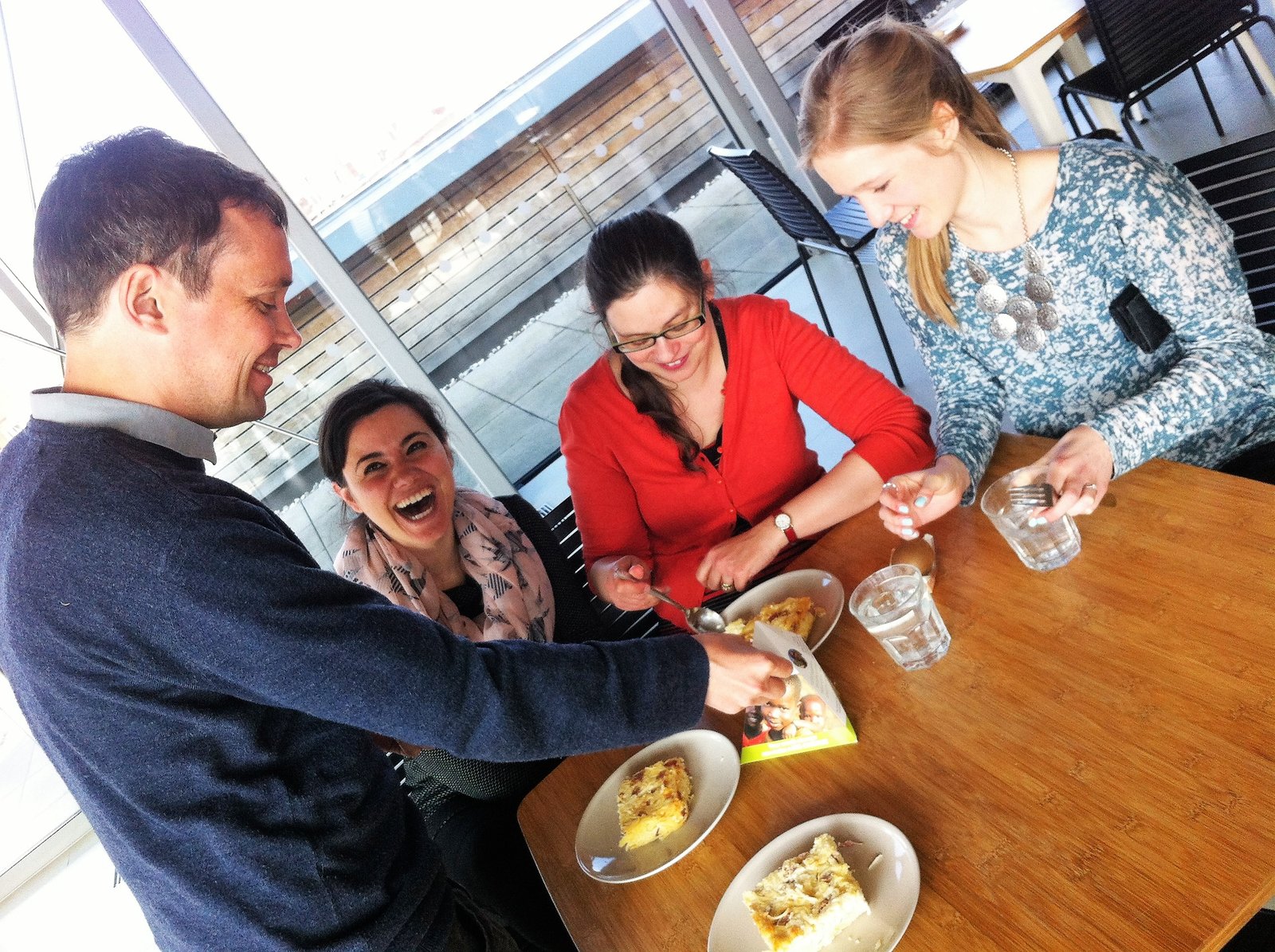 Ahem… Moving back to a dish that can be either vegetarian or not (but certainly not vegan!), frittata di maccheroni is a dish that can be eaten hot or at room temperature.
Traditionally it is the merenda (snack) to take when going to the beach ("the beach?! What about a light salad, fruit or ice cream instead?!" someone from the North of Italy would shout).
Yes, I have super-fond memories of the frittata di spaghetti that my mum used to make for me and my brother when we went for a day trip to Ischia or Procida with our friends.
You can still see people unwrapping their slice of frittata under the parasol and while they are about to take the first bite, you'll notice the envious looks of unhappy people eating their sad salad, salivating as they probably think: "I would give anything for a bite of that!"
Frittata di maccheroni is also perfect for picnics or gite fuori porta (trips out). You make it the night before and it keeps well until the next day. And God knows how tasty it is. It is going to be amazing!
Pasta lovers: this is for you. Let's share the love for frittata di maccheroni and spread the word about it with those close to our heart. It is an act of love. Trust me, I'm a doctor!
Although it is an easy dish to make, there are some complexities around the flipping of frittata. No matter how many times I had seen my mum do it, I still managed to destroy a few frittate in the past… But that taught me that it is a matter of strength, technique, calm, focus and patience.
It all happens in a matter of a few seconds and the only enemy is uncertainty. You have to be super-decisive when you go for it:-D! It might sound like I'm joking, and I recognise that it can be a bit comic – but it does hurt (my pride, especially) when it doesn't go to plan.
Let's go and make this frittata together and do our best…
Ingredients for frittata di maccheroni
Serves 6

For the filling
9 medium-sized eggs
Salt and pepper
150g cheese such as well-drained mozzarella, chopped into cubes
100g Parmesan, grated
For the tomato sauce
3 tablespoons of extra-virgin olive oil
2 garlic cloves, peeled
1 bottle of passata, 700g
Salt, as required, depending on your taste
A bunch of fresh basil leaves
Extra
Salt for boiling water
6 tablespoons of extra virgin olive oil to fry the frittata
Method
Prepare the tomato sauce
In a medium-sized saucepan, add 3 tablespoons of extra-virgin olive oil and the garlic cloves. On low heat, sauté the garlic, until it is a pale golden colour.
Add the passata and an abundant pinch of salt, and stir well (you will need to taste it – what is sweet for one person can be quite salty for someone else!) and a bunch of basil leaves.
Let it simmer with the lid on for 20-30 minutes. Check every now and then and stir.
Towards the end, increase the heat until the sauce becomes thicker and you can no longer see any watery content on the surface.
Taste and season with extra salt if required. And no: no other spices are needed. There will be parmesan and mozzarella added to the filling, which provide plenty of flavour. :-D. Switch the heat off and set aside.
You can always prepare the sauce the day before as it will keep well stored in the fridge well sealed in a glass tub.
Cooking and seasoning the pasta
In a large saucepan pour a large amount of boiling water, bring to a good boil (a simmer is not enough!), add salt to your taste, and then add the pasta. Cook it al dente, following the timing instructions on the packet.
When the pasta is ready, drain it in a colander.  Move it back to a large bowl and add all the tomato sauce. Mix well and make sure all the pasta is evenly covered by the sauce. Add about 30g of the parmesan and mix.
In a bowl break the the eggs, add a pinch of salt to each of them, and some pepper, and mix well. Add the rest of the parmesan, stir well and eventually add the chopped cheese and incorporate.
Pour the egg mix over the pasta and mix well until all the pasta is well covered with eggs and the cheese is distributed evenly.
Frying the frittata
This is a tricky step. I have broken many frittate, regardless of the times I watched my mum doing it. But with a bit of care, patience and attention, disasters can be avoided. Practise the movement with an empty frying pan so you know how to move when the moment comes.
Add the extra-virgin olive oil in a large frying pan (28cm diameter) and heat the oil on low-medium heat.  When it is hot enough, pour in the pasta and distribute it evenly across the pan with a wooden spoon.
Cook on medium heat for about 10-15 minutes, or until the bottom is evenly cooked, firm and golden. You can check with a flat ladle, by slightly lifting part of the bottom.
It is time to flip it. This is the tricky bit.  Cover the pan with a lid big enough to cover all the frittata and remove from the heat.
Take the frying pan to the sink, and – holding the lid in place – with a quick and decisive movement turn the frying pan upside down so that the frittata moves from the pan to the lid.
Now carefully transfer the frittata from the lid back to the frying pan, with the cooked side on top and the uncooked one on the bottom.
Back on the hob, keep cooking the frittata for a further 10-15 minutes, or until it looks well compacted and firm, and all the edges are sealed properly.
Line a large plate with some kitchen paper. Transfer the frittata to the plate sp that it absorbs the extra oil.
Transfer to a serving plate, cut the first slice and enjoy seconds of utter bliss.
This frittata can be served as finger food for your special parties: cut it into small squares, add little wooden forks and see the serving dish emptying in a matter of seconds!