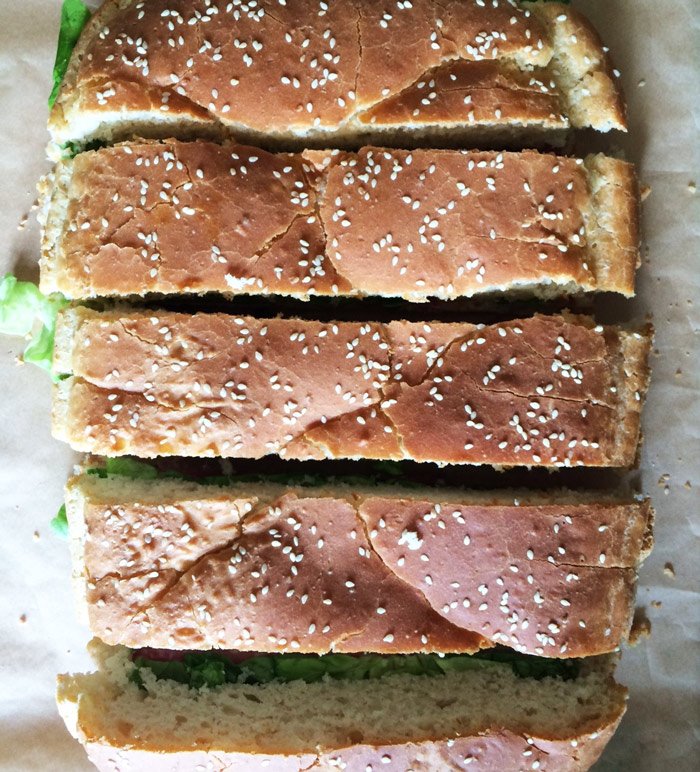 There are foods that belong to your childhood that you simply cannot forget. What's yours? Tramezzini tricolore (a type of focaccia style sandwiches) is definitely one of those for me.
They used to appear regularly at birthday parties. The filling was always the same: mayonnaise, salame milano and, on occasions, lettuce. Nothing simpler than that. But damn, they were good!
But then when I grew up, stopped going to such fun parties and moved to London I lost touch with these little beauties. Until, that is, George's glorious 35th celebration party happened in July and during the prep I thought: "It's time to revive them, to bring them back. They will definitely be included in the buffet menu."
It was a selfish act as it was just me who wanted them. They are not an especially popular item; nor are they one of George's particular favourites.
What looked like random sandwiches among the epic food spread I prepared, actually meant so much to me as it was a proper piece of happy childhood on that table.
But not just that. They may have also looked like nothing special because no one knew the bread was home-made. I regret not presenting them better (they were rather neglected as they did not have the wow factor the other 377,484 dishes had, which only took a week of cooking after all) and telling our friends they should really try them.
What people also won't have known is that it took a couple of minutes to prepare the mixture and only an hour for it to rise. Easy peasy lemon squeezy. A soft and yummy type of focaccia that doesn't really take much to make. That said, let's not call it focaccia because it really is not. 👀
The beauty is that everything is done in one bowl and there is no kneading involved. It doesn't get better than that, does it?
And this type of bread freezes wonderfully. Make a couple of batches and store them for when you are caught out and you desperately need some scrumptious bread.
Choose your filling and enjoy. You can cut it into squares, triangles or any other practically possible shape.
If you have children or nephews, they can help you make it. Or, let's be frank: they could easily make it on their own!
Ingredients for focaccia-style sandwiches
Serves 8-10
For the dough
500g flour (could be 50% normal and 50% strong flour)
500ml milk
70ml groundnut oil (or sunflower oil will do, too)
8g fine salt
1 teaspoon caster sugar
20g fresh yeast or 6g active dried yeast
For the filling: whatever you fancy. However the traditional filling is:
Mayonnaise (a layer; thickness is up to you)
100g salame milano
A few leaves of lettuce or rocket
Pinch of salt
Drizzle of oil
Extra
Oil to coat the surface of the dough
1 tablesoon of sesame seeds
Method
In a large bowl add the milk, oil, sugar, yeast and mix with a whisk.
NB: if you are using the active dried yeast, you need to activate it first with a little water and sugar.
Get a small glass and add 50ml of warm water, add the yeast and sugar and stir until everything is dissolved. Leave to rest for 10 minutes.
This means that you will use the teaspoon of sugar to activate it instead of adding it to the mix separately.
Add the flour and the salt and mix well with a whisk (you can use an electric whisk if you prefer) until you obtain a smooth but liquidy texture.
DONE.
Line a baking tray with oil and flour (about 20×30 cm) and pour the mixture. Make it even with a knife.
Cover with cling film and wrap in a warm tea towel. Let it rest in a warm, dry place. It needs to double in size. It may take between 1 and 2 hours. This will depend on the season of the year. On warmer summer days, it will be faster.
As you wait for the dough to be ready, start pre-heating the oven to 180˚C (static).
When ready, brush the dough with a bit of oil and sprinkle the sesame seeds evenly.
Place the tray in the oven and bake for 30 minutes or until the surface is golden and the bottom of the bread is well baked. It if looks white and too soft, it may need extra time in the oven.
When it's ready, take out of the oven, let cool and then transfer to a cooling rack.
When it is no longer warm, place the bread on a chopping board and cut it crossways into two layers.
Add the layer of mayonnaise, (you can add a drizzle of oil if you prefer instead), the lettuce leaves and the salame. Cover with the top layer and cut into square slices or any other shape you fancy.
It really takes more time to describe the process than to actually make these wonderful tramezzini tricolore/focaccia-style sandwiches.
They may not be a showstopper, but there is something really cool about claiming that those cute sandwiches over there, in the corner of the table or the ones you are having for lunch at work, are actually home-made. The taste and the texture shout goodness and taste, nothing like the bread rolls you get in a shop or even bakery!