This dolce al cioccolato is a guarantee for a decadent cuddle when your body is shouting and begging for comfort and pure pleasure. It's a very rich cake, which means that a slice will definitely satisfy your chocolate cravings, however big or small they may be. It has an intense chocolate flavour but the amount of sugar is not over the top at all, if you compare it to that for brownies, for example.
The good news is that once you have melted the butter and the chocolate, it's just a matter of adding beaten eggs and sugar and flour. It keeps moist for 3-4 days if stored well and when you use a pretty fluted cake tin, it is an impressive pudding to serve at your dinner parties, accompanied by a nice dollop of gelato or cream.
It's simple but luxurious in a very simple and understated way. Sometimes less is more, isn't it?
This one is a recipe my family adopted over 15 years ago. I was in France when someone I made friends with at the time baked this dolce al cioccolato for me. It was love at first bite.
I had to share it with my mum right there and then, obviously, and that's how it joined the Lubrano family.
Recently I decided to experiment with altering the quantities to adjust it to my taste – and it's been a hit since.
I am sharing the recipe for this dolce al cioccolato today because on a grey and rainy day like this, I wanted to offer something comforting to all of you, in case you need it as much as I do.
There is nothing that a good chocolate cake cannot fix, after all. Right?
I have been struggling a lot since my heart surgery. I went back to work less than a week after being discharged. Perhaps that was a bit early.
To make things worse, as I left the hospital, something sad happened. It basically meant that as my heart had been just mended by the surgeon, it was shortly after broken into pieces by a person close to my heart. Sometimes the people we love the most are those who end up being the most ruthless.
But that could not be all, obviously. The mother of one of my best friends got a cancer diagnosis that same week. She fought for her life after a surgery that should have been a simple investigation but ended up compromising her health even more. I honestly felt crushed by life and rather lonely in my pain.
I guess I had a Bridget Jones week. Imagine hours spent with depressing music or films in the background, tears and an overdose of biscuits. But we all have weeks like this, sometimes – thankfully only sometimes, I would add – and that is okay, isn't it? The important thing is to stand up and carry on as before, if not even better as we become stronger. And what doesn't kill you…
In the end, because there is no point in chasing someone who doesn't care enough to hang in there and be there for us, and there was no way I could make things better for my friend's mother, I dried my tears, picked myself up and started cooking as soon as I felt fit to do so. And that was good because it helped me hugely.
This dolce al cioccolato is the very first thing I decided to bake during the week of my recovery. I knew that only something so decadent could cheer me up. And it did a good job. When people let us down, there is always that slice of cake under a glass dome waiting for us. And that I find endlessly heart-warming and wonderful.
Thankfully a short visit to Naples helped me, too. I had a wonderful time with my mum, who celebrated her birthday with a special meal with me and George. A really happy day. We may have eaten too much – but that's what happens when you have a meal at wonderful Abraxas, which I cannot rate highly enough.
Anyway, all's well that ends well…
I guess the time has come to share this recipe. Let's go!
Ingredients for dolce al cioccolato
Serves 10-12
200g baking dark chocolate
140g butter, chopped roughly
3 medium-sized eggs
100g caster sugar
2 tablespoons flour, sifted
2 tablespoons cocoa powder, sifted
1 teaspoon of rum (optional)
3-4 tablespoons of sliced almonds to place at the bottom of the cake tin (optional)
Extra
Method
Line round fluted ring cake tin (diameter across the bottom of 19cm) with butter and flour. If you don't have one, go for a round one of 19-20cm diameter.
Break the chocolate into smaller pieces (unless you are using chocolate chips). Chop the butter roughly.
In a small saucepan, add some boiling water. Cover it with a heatproof bowl. Place the chocolate and butter in the bowl.
On low heat start gently cooking the chocolate and the butter. Stir occasionally to combine them well. When they are both melted and you obtained a smooth mix, turn the heat off and, wearing oven gloves, carefully move the bowl away from the pan.
Gradually add the cocoa powder and stir well until it gets completely incorporated and you get a smooth, lump-free mixture.
Add the rum and stir well. Let rest to cool down.
Preheat the oven to 180°C (160°C fan).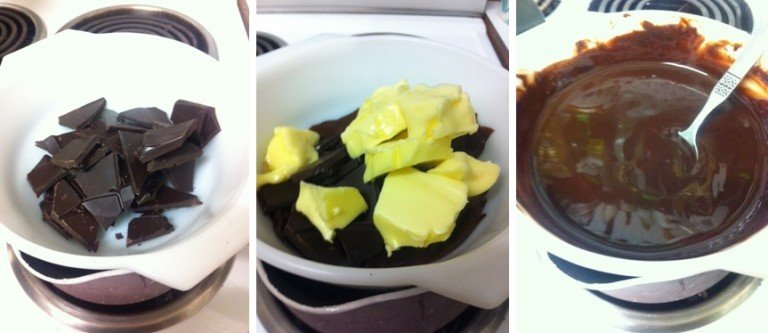 In a large bowl add the eggs and the sugar. Use a mixer (start with low speed and gradually increase to the maximum) to whip them until the mixture is smooth and pale yellow, and has increased in volume. This might take at least 5 minutes.
Add the chocolate, cocoa powder and butter mixture to the eggs and sugar mix and mix everything well, to incorporate all ingredients, until you obtain a smooth batter.
Sift the flour and add to the mixture. Incorporate well and make sure there are no lumps.
If you decided to go for the wow factor, sprinkle the sliced almond evenly across the bottom of the lined mould.
Pour the mixture and with a spatula distribute evenly.
Place in the oven and bake for about 20-40 minutes – until the chocolate smell is taking over your house, the surface is starting to crack up a bit and when you insert a skewer it comes out clean.
That said, all ovens are different and I find that the baking times changes every time. It is a matter of knowing your oven and understand how powerful or weak it is. This will have an impact on the timing.
When it's ready, take it out and let it cool down before taking it out of the tin. Turn it upside down, and if you have added the almonds, you will see this impressive strip of almonds over the top. It's a just a nice touch.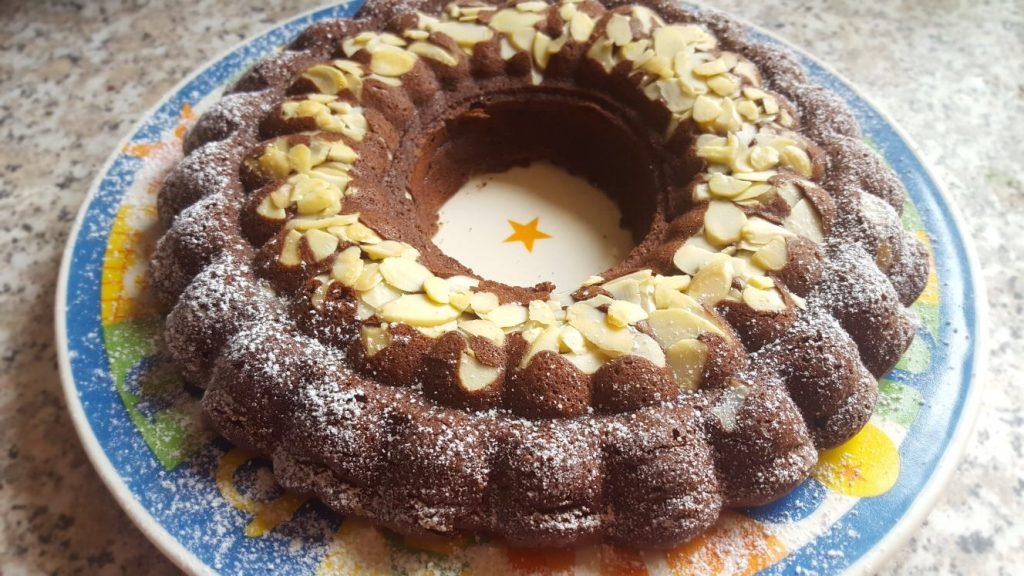 I am sometimes naughty and cut myself a slice when it is still warm. I love a warmish chocolate cake… Ideally, though, you should be patient and wait before sprinkling icing sugar on top.
Serve as it is or accompanied by single cream or ice cream, depending on how much you want to indulge….
This dolce al cioccolato keeps well for 3 or 4 days if stored properly under a dome. You will see that after you've made it for the first time, you will start making it more and more often and it will be your simple "go to" dessert when you have guests over!