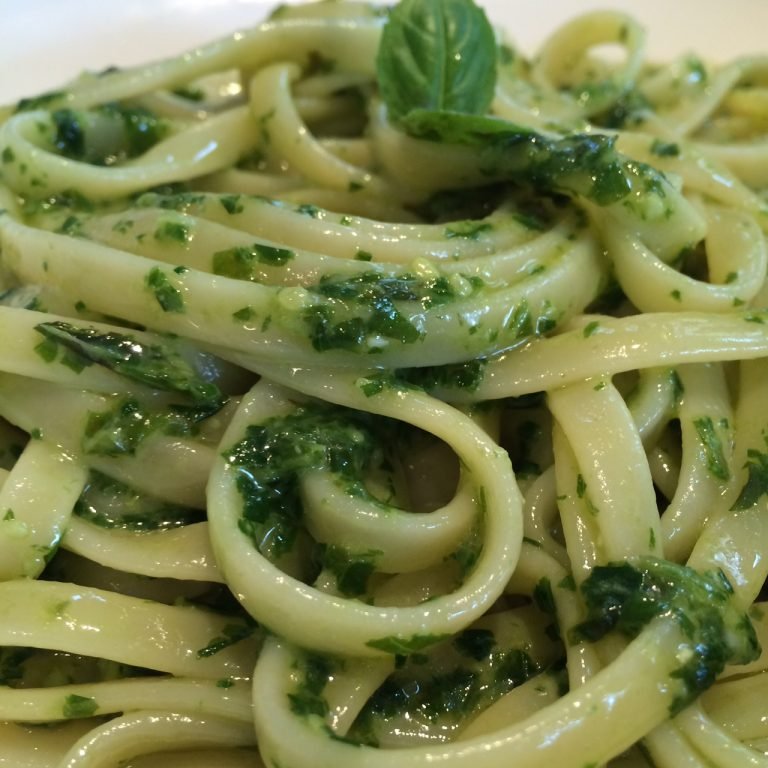 I know, I know. No need to say: "But… but pesto genovese is from Genoa!" And no, by posting this recipe on Coochinando I'm not claiming it is a southern Italian recipe. But I do not recollect a day of my life in Naples when pesto was not mentioned, made on a regular basis during the summer season, frozen and used during the winter to season minestrone or, together with breadcrumbs, coat swordfish. Pesto is definitely one of those recipes that have conquered the hearts of all Italians, from the north, south and centre. It may come from Genoa but it really belongs to everyone. What a wonderful invention.
It is officially summer – well, in some countries at least. The UK is too cool to go with the flow, after all! Here it's more like winter, what with constant rain and low temperatures. But I am rather stubborn – and if summer does not come my way, I will go ahead and have a summer anyway. And this starts with making plenty of pesto, just as I remember many summer days back in Naples when pasta con il pesto freshly made by mamma Mariolina was the highlight of many meals.
Back home – wait, my husband will take it badly as he argues that home is London now… As I was saying, back in Pozzuoli my parents have always had a big allotment, where you could see huge patches of green basil leaves. Big and green and so appealing. I would always help my mum pick them and gather them delicately in big trays. And then we would make pesto together. How much pesto I made with my mum…? Too much to count!
The method I am sharing today to make pesto might make people from Genoa feel sick even thinking about it. But I decided not to use the traditional pestle and mortar method as it requires a fair bit of time. Making pesto in the traditional way certainly guarantees a better final result in terms of taste and texture. But the pesto you make with an electric mixer is good enough to tempt you to save time and leave the mortar in the cupboard.
Most importantly, I want to make sure that anybody who reads this post feels empowered and motivated to stop buying, once and for all, that green product sold in supermarkets… Please please please, don't do that to yourself and to those you love! I find it rather cruel:-P.
Joking apart, the money you spend and the terrible taste the green stuff leaves in your mouth are not worth the pain, because in just 10 minutes you can make your own gorgeous, beautiful, amazing pesto at home. The taste is to die for and once you taste the difference (nope, I am not advertising for Sainsbury), you simply won't, cannot and must not go back to those shop-bought jars. I am seriously determined here! I am relaxed about many things, but not with pesto bought in a shop – not even Waitrose. No. I will take no prisoners.
So just follow this quick and easy recipe. Count to 10 and it is pretty much done. You wash and dry the basil leaves. You grate the parmesan, chop the garlic and toast the pine nuts. And all in the mixer. DONE .
Be careful, though: basil leaves are very delicate and need to be handled gently. To make a good pesto there are 4 top tips you need to follow.
Because oxidation is the number one enemy of pesto, make sure that you place the mixer's bowl and blades in the fridge a couple of hours before beginning. (this avoids overheating the leaves)
If you have a choice, use a mixer with plastic blades.
Mix the ingredients in short pulses until you have a rough paste. Don't over-process. Overmixing will traumatise the basil leaves if you mix for longer than 5 seconds at a time.
As soon as it is ready, pour the pesto over the pasta you have cooked, or put it in a plastic pot and freeze immediately. Alternatively, cover it with a layer of extra-virgin olive oil and place in the fridge for no longer than a day.
Ingredients for pesto genovese
Makes about 250g pesto (suitable for about 500g pasta)
100g basil leaves
1 medium garlic clove, peeled and chopped finely
30g pine nuts
150g extra-virgin olive oil
3g fine salt
50g grated parmesan
30g grated pecorino (if not available replace with another 30g of parmesan)
Method
You can watch the video below for a quick summary of each step.

If the video is not enough and feel you need more support, here are all the steps.
Place the mixer bowl and blades in the fridge two hours in advance. If you do not have enough time, place them for 5 minutes in the freezer.
Wash the basil leaves under tap water.
Drain them delicately and transfer to a large clean tea towel. Gently dry them with another tea towel or with kitchen paper.
Meanwhile, chop the garlic finely. Grate the parmesan and pecorino.
The next step is optional: you don't have to toast the pine nuts, but if you want a stronger flavour, this is recommended. In a frying pan on low heat add the pine nuts and toast them for a few minutes or until they start turning slightly brown. Take off the hob and transfer to a bowl.
Take the mixer bowl out of the fridge/freezer and add the garlic, half of the basil leaves and the salt. Pulse once, pulse a second time and then a third time. Short pulses!
Add a bit of oil, more leaves and the pine nuts. Pulse until nearly smooth.
Add more basil leaves, and the pecorino and parmesan. Pulse just enough to blend the cheese into the mixture, add the rest of the olive oil and pulse again, repeating until you have the consistency that you want. Pesto should be thick, but just barely 'pourable'.
Cook your pasta al dente (500g of trofie or linguine or spaghetti. Take your pick!) and add the pesto. Mix well.
Because there is plenty of cheese, this is one of those pasta dishes that may not require any extra parmesan sprinkled on top. I know, how crazy?! But it is perfect that way. Hard to believe even for me! Garnish with a basil leaf and enjoy one of the most wonderful "sauces" ever invented in the whole history of the world. Me: OTT? Naaaah…