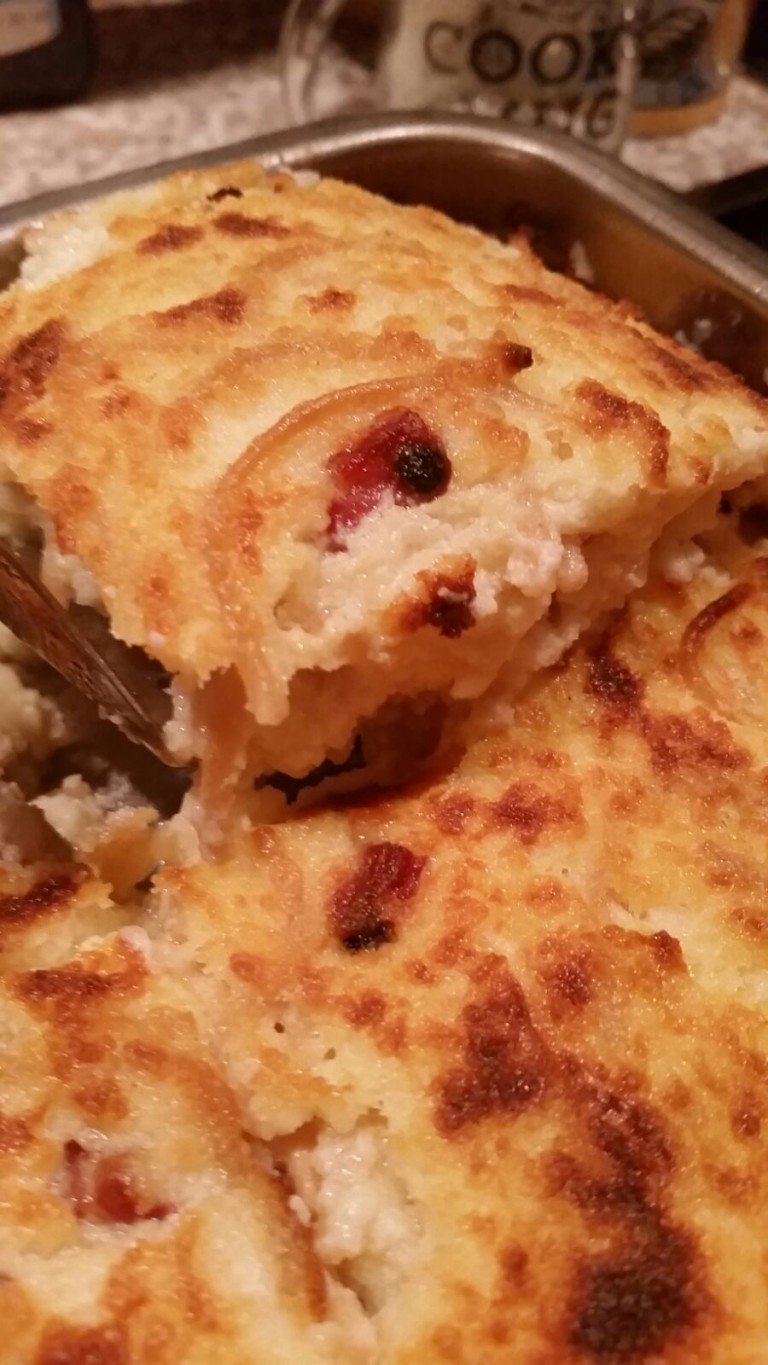 I have a feeling migliaccio salato, or tatiello, might ring a bell for some of you loyal readers of Coochinando. Please meet the savoury sibling of migliaccio di carnevale! If you think that migliaccio di carnevale looked awesome, then you will fall for this dish in ways you cannot imagine.
A dear friend and colleague of mine, Anna, asked me to post the recipe a few days ago, having tried my migliaccio salato last year… and that should say it all. A year later she is still raving about it!
The story is that last Lent I cooked a Neapolitan dish once a week to raise funds for the charity for which I work. Admittedly, it was a wild and crazy thing to do, but totally worth the sleepless nights and the early mornings as I managed to raise £200, which was match-funded, too, so a glorious sum of £400 went towards supporting communities who live in poverty around the world.
You see what I mean when I say that cooking is life. There is so much love in it and there are so many things you can make better with your cooking. From spoiling and taking care of your loved ones to raising funds for a cause in which you believe.
I feel a strong connection to this recipe because it is a traditional dish from Pozzuoli, the town in which I grew up. My husband George wrote a great blog about its beauty :-). I am very proud of my roots and I will always treasure the special connection that my daddy had with it, and the attachment my brother shares to it.
A few months ago we went to drinks at our friends' place and I spoke to Pierre, our friend Ellie's husband. He is Lebanese and was explaining how important food can be in carrying on the tradition and roots of your own culture. It is even more so for others who may never have had the chance to learn the language of their family origins. There will still be that strong family culinary tradition that will go on.
I guess I feel the same about this. I now live in London; certainly I can speak my native language, but my family recipes are a way to keep my roots and my family traditions alive.
The recipe I am sharing today comes from a woman I admire a lot: strong, brave and hugely knowledgeable about a number of subjects, in addition to being an English teacher. She was often a source of wisdom to talk to for me. Luisa saw me growing up, and even now she is a bit like family to me, even if we don't get to see each other much.
When I told her I was going to write a recipe book last year, she was excited and I asked whether she had any special recipe I could include. So she gave me the recipe of migliaccio salato that she got from her mum, and I am grateful to her for sharing it with me.
Migliaccio salato is one of the dishes that belongs to the "poor" tradition, made with simple and cheap ingredients: spaghetti, semolina and cheese. In the past it was made out of leftovers: pieces of cheese, meat, pasta and semolina. Hmmmmm… I guess I am really not selling it to you – but once again, you will need to trust me, because this dish is very tasty and makes a great family meal, possibly perfect for these cold days!
Make it in the evening and the next day take a slice to work and have it for lunch. Does it need a salad, you may ask? I  say no :-). Italians don't mix a main dish of pasta with salad. I cannot even contemplate the idea.
Give it a go and then let's talk about it… 😛
Ingredients for white migliaccio salato
Serves 6
1l water
Salt
50g butter
200g spaghetti
100g semolina
250g ricotta
3 medium-sized eggs
150g chopped Neapolitan salami (if you have slices, chop them into smaller pieces)
150g chopped cheese (scamorza affumicata/provolone dolce; an alternative is very well drained mozzarella cheese)
100g grated parmesan
Pepper
Extra
1 tablespoon extra-virgin olive oil to line the oven dish
1 tablespoon extra-virgin olive oil to sprinkle on top
Method
Preheat the oven at 180˚C (160˚C fan)
In a large saucepan add the boiling water, a teaspoon (at least, to your taste) of salt and the butter, and bring to boil.
Break the spaghetti roughly. Add to the water and cook for half the time it would take to cook fully (check the time on the packet).
Gradually pour in the semolina and stir the content with a whisk – add a bit at a time until it's all in. Keep stirring constantly until you obtain a creamy, lump-free mixture. If you don't stir constantly, it will get lumpy and that's game over…
Take off the hob and transfer the content to a bowl. Let rest for a few minutes.
Whisk the eggs briefly in a separate bowl.
Add the ricotta to the semolina and pasta mixture. Mix well.
Add the eggs and stir. Add the cheese, salami and parmesan and mix well to incorporate all the ingredients.
Line an oven dish (28x20cm) with the oil. Pour the mixture into the dish and level it evenly with a spoon.
Sprinkle some oil on top and distribute it evenly on the surface with a spoon.
Place in the oven and cook for 50-60 minutes, or until it is golden and crispy on top.
Take out of the oven and let it rest for a few minutes. Migliaccio salato is best served warm, but it can be served at room temperature, too.
Buon appetito!