Christmas may feel like a distant memory now and New Year's resolutions may prevail over scrumptious food temptations, but for me it's not too late to tell you about struffoli – one of the most iconic Neapolitan desserts – and remind everyone that a bit of sweetness and food cuddles should never be denied, even when your resolution is to lose weight or "get fit". Good home-made food can do wonders for both your mind and body and that matters more than any cool pair of jeans or stretchy top you may be able to wear with that 1 kilo less. Well, that works for me, at least!
I'll be honest, though, and admit that I had planned to share the recipe for struffoli – yummy honey-covered pastry balls made during the Christmas holidays – back in December. But I couldn't bring myself to write the blog.
Both my mind and body were set on family mode and stealing time from my mum and extended family, whom I don't see often enough, felt plain wrong. Excuses? Yes, but I hope you'll forgive me for going a bit quiet for a few days.
But I am back now and I feel full of energy and excitement – and I have so much to tell you!
2017 started with a bang: Coochinando was announced as one of the 8 finalists for the UK Blog Awards (food and drink category). My heart was about to explode when the results were announced two days ago. I just felt so touched by all the votes and support that you all gave us. Quite amazing.
My hope is that through this process more people will get to learn about George's experience and our journey, and be inspired both to get cooking good food for the people they love and to sign up to the registers. A win-win:-D
Since my article published in the HuffPost was shared by many, we heard about an increasing number of friends of friends and strangers who had felt inspired to register as donors after reading about our story.
This clearly means that when people get to learn about the story of an outstanding and fine man like Tim who gave George and me a second chance at life and they can see the impact that such an act of generosity had on us, they feel the urge to want to help out, too. And this means the world to us.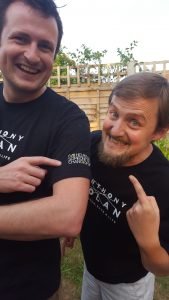 And this also is why I am so keen for more and more people to get to know Coochinando. It is the flagship of love, generosity, passion and selflessness: all things you need when you cook a good meal for the people you love and – most importantly – also when you donate your stem cells to a complete stranger.
The UK Blog Awards is that among other things: a chance to bring more attention to a cause that is so close to my heart. So wish me good luck for February, when the panel of judges will get together to make their decisions.
In April there will be a big ceremony attended by all the finalists, where the winners will be announced. I am so very excited. I think it is important to dream and think big. It makes you feel strong and positive and empowered.
Whether dreams come true or not, it doesn't matter. Dreaming is an attitude to life that can only be good for you if you can still keep your feet solid to the ground.
Speaking of dreams, I need to tell you about another big event that happened recently: Coochinando's first supper club! What a success, and what a night.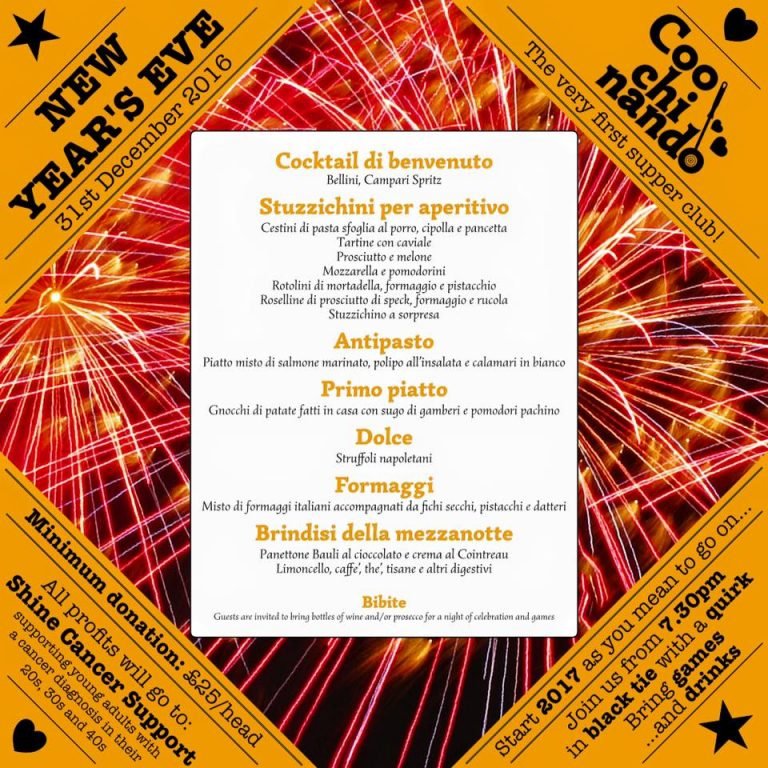 We had a fabulous time with wonderful people and got to raise some money for a great charity that supports young adults in their 20s, 30s and 40s who have had a diagnosis of cancer. If you know anyone in this age bracket who has been struggling because they feel alone in their situation, please do mention Shine Cancer Support.
About struffoli
After one of the longest tangents I have ever taken (but how could I not?!), I am going back to these wonderful struffoli that just cannot be missing from the tables of Neapolitan families during Christmas festivities.
That said, I see no reason not to make them during the rest of the year. They are beautifully impressive and their crunchiness paired with the sweetness of the coating honey are to die for.
Different families make struffoli in different ways: some will be obsessively strict about making the mini balls really, seriously small, all the same size, tiny… Others will prefer a more sizeable ball.
I believe in a size in between and so does my mum. (All this talk about sizes of balls is making me a bit uncomfortable – but no double entendre intended, I promise!) And you will make that call when you make your own struffoli: whatever you choose, smaller or slightly bigger, they will taste great.
I have eaten struffoli for years, pretty much every year of my life since I developed the capacity to bite food. Christmas means struffoli and struffoli means Christmas for Neapolitans.
Every year relatives and friends will make many portions of struffoli and give them as gifts. Every year my mum makes croccante di mandorle and she will receive a big tray of scrumptious struffoli from her neighbours. And so starts the crazy game of struffoli exchange. And you know what? No matter how many you give away and how many you get, they are never enough!
After having witnessed years of struffoli trafficking, I eventually decided, this Christmas, to dare to attempt for the first time (with some fear) to make them.
My mum asked me the question: "Are you sure? Are you really ready for this?", which quite honestly scared me even more. No matter how confident a cook you are, you always feel a bit hesitant when trying a brand new recipe.
It must be, in my case, the expectations of family and people who have been eating and making those same struffoli with that same recipe for generations. It's that responsibility of honouring a recipe that made so many people happy for so many years.
It turned out – to my great relief – that there is nothing difficult in making struffoli: you simply need some time and patience to make long and thin cords of dough and make small balls/squares out of them.
The more you make them, the easier it gets. So three days before Christmas my mum and I made the dough.
We then borrowed George's arms, too, and that's how our training started. We spent a great evening, laughing at each other about our failures to get the size as small as my mum suggested.
The thing is that these mini bits of dough will rise when deep-fried. So no matter how small you think they are, they will get bigger.
By the time the dough was finished, we felt pretty satisfied about our first batch of struffoli – and my mum approved, which pretty much means that they were really good.
I love the way she keeps encouraging me as I keep learning her recipes and new techniques. She has been through a lot since my dad's passing away but this never stopped her from supporting me and George.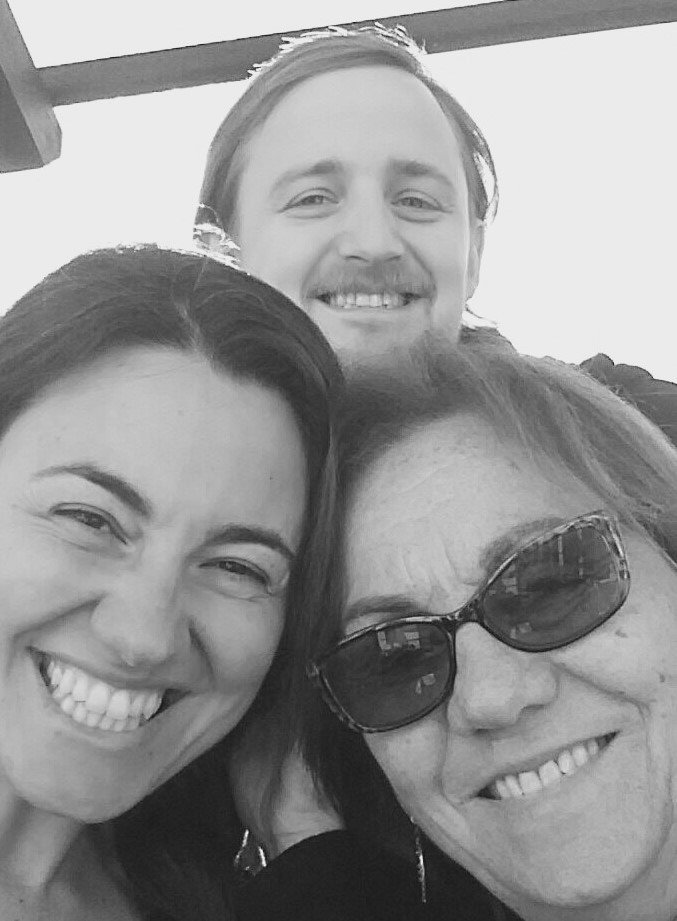 She is always taking the time to answer my questions, no matter the time of the day or night, when I am panicking before a dinner party, or am stuck with a tricky passage of her recipe. She's been there for me, solidly, and that made all the difference to me.
The recipe I am using today is the one that my daddy's mum used to use and the one my mum inherited. I decided to share half the quantities of the original recipe for a smaller amount of dough, because otherwise you will find yourself spending hours to make the mini balls.
With this quantity, you will obtain a good amount. However, if you feel super keen and have time on your hands to relax and share the task of rolling and chopping with your partner or your friends, double all the doses.
Keep in mind that struffoli keep well for a few days. It is best to make them two or three days before you intend to serve them, as they are tastier once all the flavours have sunk in.
Ingredients for struffoli
Serves 6
For the dough
200g all-purpose flour
25g caster sugar
2 medium-sized eggs
25g unsalted butter, softened and chopped into very small cubes
Pinch of salt (about 2g)
Half a sachet of vanillina (or a pinch of vanillin sugar)
Rind of half a lemon
Rind of half an orange
1 tablespoon of Anise/Brandy/ Vermouth/Rum (your choice)
For the coating
250g honey
"Diavolilli"/"Confettini" or multicoloured sugar sprinkles ("hundreds and thousands")
Extra
Candied orange peel (optional)
400ml of peanut oil or sunflower oil to deep fry
Method
Sift the flour. Pour it into a large bowl and create a well ("fontana"). In the middle add the sugar, eggs, butter, salt, vanillina, alcohol and citrus rind.
Start mixing all the ingredients in the middle of the flour well. You can start with a fork or use your fingertips. When the content seems to have come together, start incorporating the flour.
Knead the mixture rapidly to bring everything together into a smooth dough. It may take you up to 5 minutes.
Wrap in cling film and let rest in a cool place for at least 30 minutes. The longer it rests, the crunchier the struffoli will be (which is what you want). If you have time, let the dough rest for even 2 hours.
Sprinkle flour on a wide surface, where you will be making your struffoli.
After the dough has rested, take a handful of it at a time and roll it out into 'cords' – a bit like when you make gnocchi. The thickness of the cord should be that of your little finger, or even less thick (this will depend on how small or big you want your struffoli to be).
Then dip a knife in some flour (to prevent the dough from sticking to the knife) and cut the cords into short lengths to obtain small squares of dough. They will look like squares but don't worry as when you deep fry them, they will acquire a more rounded shape.
However, if you want to obtain perfect mini balls, you need to shape the small bits of dough between your fingers to give them the right shape. If you are finding this exercise relaxing and have a bit of time on your hands, go for it!
Carry on until you end up with quite a large number of dough balls.
To deep fry
Line a large dish with some kitchen paper and place it next to the hobs.
Put a medium-sized frying pan on the hob and add the oil. Heat on medium heat until it gets hot (about 180˚C).
You will need to deep fry in batches as this will guarantee you a better result. This quantity could be done in 3-4 goes. The balls should lay comfortably in the pan, which should not get too crowded.
Plunge the dough balls into the oil a handful at a time. The oil will immediately bubble up. Not to worry.
The balls will start doubling in size, and from this moment on they will start browning relatively quickly. The best plan is to keep flipping them constantly with a slotted large ladle until they get a nice golden colour. It should not take longer than 3 minutes for each batch, and possibly less.
They will be ready once they all puffed up and become golden. With the slotted ladle transfer to the kitchen paper as you go.
When you are done with the deep frying, let the struffoli rest and get started with the coating.
In a pan that will be big enough to contain all the struffoli, pour the honey. Place it on the hob and on low heat start melting the honey. When it reaches the simmering stage, take off the hob and pour in all the struffoli.
Stir with a wooden spoon, making sure all the struffoli are well coated. Transfer to the serving dish of your choice as soon as you can, as the honey will start consolidating and you won't be able to give the struffoli the shape you want.
At this point you have different options: the two most popular ones are to go for the "Vesuvio" shape, a little mountain, or for the ring shape, as you can see in the pictures. The latter is slightly trickier as you need to make sure an even, round space is left in the middle.
Otherwise you can simply arrange them in any other dish of your choosing (a star, tree-shaped, for example).
Sprinkle the "diavolilli" ("hundreds and thousands") all over the top. Let it rest for a few hours, or for a day, before starting to develop an addiction.
But how do you serve them, or eat them, even? Well, after a few hours of rest, they will have become all compact, so you can cut a slice. If not, just take spoonfuls and serve on the plate.
There is also the thief style, a very common behaviour at Christmas: pick one by one as though they were cherries and pretend no one is giving you bad looks!