Since I moved to London we have not been celebrating Carnival in February; it is all about Halloween in November instead. But I miss the Italian atmosphere so badly that I always try to bring a piece of Carnevale to London by making chiacchiere: thin and crispy, sugar-dusted twisted ribbons of fried dough, made at this time of the year.
Chiacchiere means Carnevale and Carnevale means chiacchiere, pretty much. "But what does the word chiacchiere actually mean?" I hear you say. Well: 'chats'! It is in fact the perfect dessert for chatterboxes like me…
In Italy, Carnival is a big deal. It is a huge winter festival that precedes the beginning of Lent and is celebrated with parades, masquerade balls and parties organised across the whole country. You may be familiar with the renowned Carnevali di Venezia and di Viareggio, just to mention a couple.
People dress up and get up to a lot of innocent mischief… from which comes the saying:
"A Carnevale ogni scherzo vale (At Carnival any tricks are allowed)"
In Naples, for example, children would spray white foam on people's hair with bombolette (spray cans) and lots of scugnizzi would even throw whole eggs at people.
As a young little girl, I remember being petrified every time I walked back home from school as anyone on the street was an easy target. It would be quite common to see people on the street rushing home with egg dribbling down their hair…
If it's any consolation, I never threw any eggs myself – but I certainly enjoyed dressing up and spraying foam on schoolfriends' and cousins' hair. Ha ha!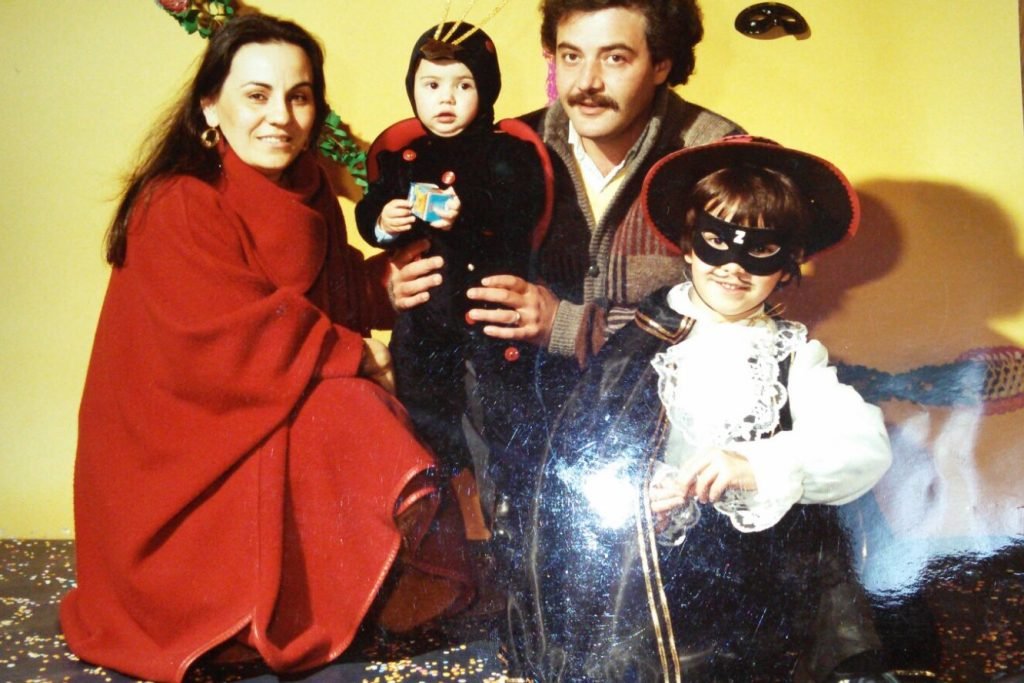 Although dressing up was always so very exciting (from a very early age!), eating traditional food made during Carnival was always the main highlight, and I reckon it still is for many, many Italians.
Today I am only sharing the recipe of chiacchiere di Carnevale, but traditionally lasagna is also made during this period, followed by migliaccio (an orange and lemon ricotta cake) and sanguinaccio (a chocolate dip originally made partly with pig's blood), which accompanies chiacchiere.
I know… It sounds off-putting, but apparently it was totally scrumptious. And nope, people who loved the original version are not vampires. I promise! Rest assured that these days sanguinaccio is only made with chocolate, though, so don't be put off by it if you are offered some when in Italy.
I can always tell that Carnevale is approaching when my mum starts asking the question: "Quando prepari la lasagna?" (When are you going to make lasagna?)
And when it's time for chiacchiere, I'll be on the phone to my mum for the tricks to get good thin and crispy chiacchiere that will puff up when deep fried and feel like soft clouds that melt in your mouth.
I have very fond memories of the days when relatives and friends would come home during the festivities and there would be big platters of chiacchiere and always a portion of migliaccio.
I used to watch my mum as she made these mysterious bows, different in shape and texture to the usual, but I never really attempted to make them myself. I somehow felt intimidated, as I did by many other recipes.
Only recently I realised that chiacchiere are well known in the US, too – possibly brought there by the huge exodus of Italian immigrants back in the day. They are called angel wings there. I bet they are made in other countries across Europe, too, but they must be known under different names.
However, I know for sure that in some Italian regions they are called frappe, or bugie, cenci, crostoli… and the list goes on. It is the most popular dish during this period, after all.
I really want to tell you a bit more about the origin of this recipe: it's so much more enjoyable to eat food whose historical origins are known. It really helps you to understand the dish better, appreciate it even more and get its original purpose. I am absolutely in love with dishes that have a history and this is possibly why I feel so lucky to have been brought up with Neapolitan food, which has really ancient roots.
History of chiacchiere

Chiacchiere date back to ancient Rome, when citizens of the urbe (city) used to celebrate Saturnalia (an ancient Roman festival in honour of the god Saturn) by making frictilia (cakes made with flour and eggs and fried in pig fat) to be distributed to people on the streets taking part in the celebrations.

Fast forward to the Renaissance and we can track these little beauties again – specifically during the week preceding Ash Wednesday, which was characterised by banquets of rich dishes and huge quantities of fried sweets.

It was a way to get ready before the beginning of a much more modest diet during Lent. The reason why chiacchiere were so popular also came from the need to be able to prepare desserts that would be tasty but also quick, easy and cheap to make as the crowds to feed were large.
Chiacchiere are indeed made with very few, simple ingredients. With a small quantity, you can make many, many ribbons. However, sometimes – no matter how many they are – they go so quickly, because they're so moreish, that you wish you had prepared more dough.
As a proof, our beloved friends Geoff and Rae, who came to keep us company while George was recovering from a nasty flu, ate all their chiacchiere in a matter of seconds. Yes, they are THAT good.
We had a massively fun baking session in the afternoon and because it got quite late, we only managed to prepare the dough for chiacchiere.
We shared the dough before they left and we agreed we would fry them the next day. The result?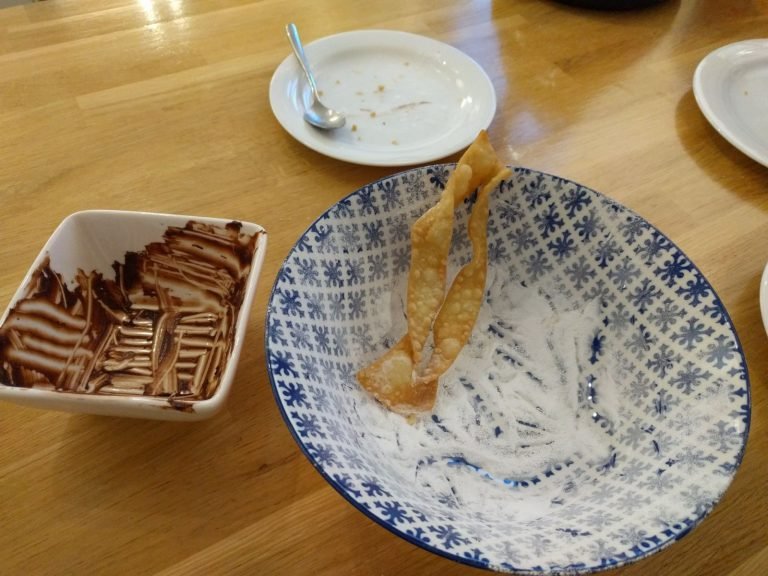 But most importantly… Chiacchiere put a big smile on the face of my angel husband who has been under the weather recently. I realised, once again, how good home-made food can cheer you up when you are not feeling great or feeling down.
Ingredients for chiacchiere
Serves 8
For the dough
250g flour
30ml milk
25ml rum
40g caster sugar
1 medium-sized egg
40ml sunflower oil
pinch of salt
Rind of 1 medium-sized lemon
Extra
Plenty of icing sugar to dust
About 300-400ml peanut oil (or sunflour oil) to deep fry
Method
In a large bowl sift the flour and create a well. In the middle add all the other ingredients. Start mixing these until they are all well incorporated and then start adding the flour and mixing all ingredients until you form a smooth, lump-free and elastic ball of dough.

Wrap it in cling film and let it rest for at least 1 hour in a cool place – but not in the fridge.
When it's ready, sprinkle some flour on a large surface. Cut the dough in half and use the rolling pin (it's best to have some flour on this, too, as the dough can be sticky) to roll out the dough to as thin as possible, like when you you make lasagne sheets. You could use a pasta machine: it might be a bit quicker.
The thickness of the dough when laid out should be about 2mm. This is key for thin, puffy and crispy chiacchiere.
Time to decide what shape you want your chiacchiere to be! I make different ones: long bows (strips of about 2x10cm) and rectangles of about 5x10cm.
If you opt for rectangles, cut the shape out of the dough with a a simple knife or a pastry cutter wheel and make two short parallel cuts in the middle.
If you go for the strips, make a cut in the middle and then twist one end into the cut and pull it from below to make a bow. With a longer strip, you can twist both ends.
Prepare a large plate and line it with kitchen paper. This will be handy to drain any excess oil.
Once your shapes are all ready, prepare a medium-sized frying pan and fill it with the oil. I recommend using the smallest of your hobs. You need to heat the oil to a temperature between 170˚C and 180˚C. Any lower and the chiacchiere will be soggy; higher and they will be burnt.
Dip no more than 2 or 3 chiacchiere at a time. It will take a matter of seconds for them to be ready. Flip them with two forks constantly so they don't get burnt. As soon as they start puffing up and become pale golden, they are ready to be taken out.
Transfer to the plate and let cool down. Move to a serving plate and sprinkle with plenty of icing sugar (as though it were raining) on both sides!
Chiacchiere will keep well for up to 3 days if stored under a glass dome or in a paper bag. They will get soggy and lose their crispiness if kept in a plastic hub. But with the quantities used for this recipes, I cannot see this issue of storage coming up. Chiacchiere are so more-ish that they always go far too quickly…