Farfalle al salmone is a scrumptious pasta dish that is simple in the way it's made and the ingredients used. However, it is also an elegant dish that carries so much luxury and goodness within it you genuinely wonder how on earth something so simple can be so tasty.
I will never, ever stop claiming that the simplest dishes are the best. You just need to think about the huge number of Italian dishes that are renowned worldwide: amatriciana; carbonara; spaghetti aglio, olio e peperoncino; pasta e fagioli; and many, many more. They all have one thing in common: their taste is beyond belief but they are made with no more than three ingredients, give or take.
It is the principle of genuine Italian cooking: a few simple, fresh ingredients. This is partly why I always roll my eyes when I see recipes that contain endless lists of ingredients. So why this long tangent, again, Mariacristina? "What's your point?" I hear you cry in desperation.
Well, it's just to say that the goodness of farfalle al salmone comes mainly from two ingredients. And I genuinely stare at the dish in disbelief every time after the first forchettata (forkful) and wonder: "How… how? How can you be so damn good? How can you make me feel so happy?"
Farfalle al salmone is the traditional main dish for New Year's Day in my family.
Everyone has a different pasta dish for the occasion, and this is the one I remember always being served to celebrate the beginning of the new year. The divine quality of smoked salmon and cream… BOOM! This is the other thing I like about Italian cooking: it is not pretentious. We can be happy with very little.
And this is also why I feel hurt when a pasta dish is treated as some kind of rubbish to make in a rush for your kids in the evening, or – even worse – to be served as a side. A side??? Some badly cooked pasta with a sauce from a jar… I mean, seriously.
My heart breaks into a thousand pieces (excuse my drama queen moment) when I see and I hear stories of pasta abuse. Haha! I shall create an emergency number to denounce these crimes!
For me, farfalle al salmone will always be a celebration dish: the one that will always remind me of my dad coming through the door with the biggest smoked salmon on earth.
I used to look at it with some reverence, and every time I opened the fridge to see it taking over the whole shelf, my heart would skip a beat.
The excitement for farfalle al salmone would take over and I would start counting the hours until we would all sit down and start eating it.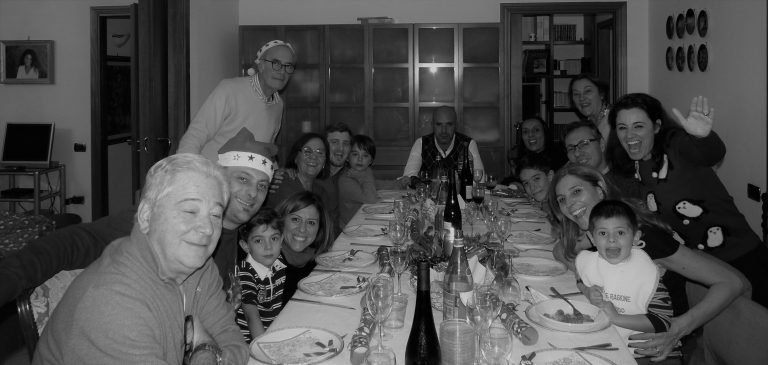 It must be why I hardly make it during the rest of the year. That said, the other day I developed this massive craving and, knowing I had a big portion of salmon in the freezer, I gave in and made it.
Also, I thought it was about time to blog about a pasta dish – and this being one of my top 10, it had to be included without further delay. So here it is, wonderfully comforting and fit to satisfy royalty.
Well, if it makes my bundle of gorgeousness husby and super brother-in-law happy and puts big grins on their faces, then that's enough for me!
Do you see any resemblance? I mean, between George and Fred, not between farfalle and George's face.
Right, enough faffing about. Ready for pasta? "We were born ready," I hear you say…
Ingredients for farfalle al salmone
Serves 4

400g farfalle pasta
40 salted butter
1 tablespoon of extra-virgin olive oil
1 small shallot
250-300g smoked salmon
A splash of white wine
400ml double thick cream
A pinch of salt
20g of grated parmesan
Extra
Salt for boiling water
Some fresh dill to garnish
Parmesan to sprinkle on individual portions (to taste)
Method
Peel and chop the shallot very finely. Lay the slices of smoked salmon on a chopping board. I find the best way to cut it is to roll a whole slice (as though it were a thin sausage) and then chop it into slices.
In a large frying pan add the butter and the oil. On low heat cook gently until the butter is completely melted.
Add the shallot and stir well. Cook for a minute, gently. Add the chopped salmon and stir well with a spoon to coat all the pieces with the butter and oil condiment.
Pour in the white wine, stir well and on high heat let it evaporate (wait a few seconds).
Pour in the cream, add a pinch of salt (to your taste; consider that the cream is sweet but the smoked salmon can be salty) and stir well to obtain a smooth cream. Cook on low-medium heat for 5 minutes.
Stir occasionally, just to make sure the cream doesn't get stuck at the bottom of the pan.
When the cream has acquired a thicker consistency, it is ready. Let rest. Keep 4 tablespoons aside to add on top of each portion before serving.
Cooking the pasta
In a large saucepan add more than 2 litres of water. (Pasta needs plenty of water to cook properly). Bring to the boil. Add some salt (to your taste).
Pour in the farfalle and cook al dente. (Regarding salt for the pasta, it is a matter of taste but traditionally it is good practice to add a fair amount of salt. Italians like their salted pasta. Start with little and then taste the pasta while it is cooking. Add more if required.)
Drain the pasta and move it to the pan where the cream is. On low heat mix well until every single piece of pasta is covered in cream.
For the condiment
Sprinkle some parmesan. When the pasta is served on individual plates, decorate with a the extra cream you set aside, some dill and some grated parmesan.
The taste is to die for, and to think that such tastebuds heaven came from such a quick and easy recipe will me you feel totally empowered! Well, that is the type of feeling I experience, but that is mad me.
Enjoy it with a large glass of white wine. "Salute!"