La torta dei sette vasetti is a yoghurt-based cake for which the origins of the recipe are shrouded in mystery. One thing is certain, however: every single Italian family will have its own version and see it as the dream cake during the busiest times.
What would you say if I told you that there is a cake that:
1. is so tasty, full of flavour, soft and moist;
2. you can personalise as you wish (add pieces of bananas, or chocolate, nuts etc);
3. doesn't require a scale for measurements? Sounds great, eh?
But wait – there's more:
4. it takes less than one minute to prepare the mixture (I challenge you to count);
5. there's no step-by step because there is basically one step (apart from putting the tin in the oven);
6. it does not require any electrical device to mix; and
7. it will delight any person (from children to grandparents) and calm souls.
Does such a cake exist? Meet la torta dei sette vasetti!
I know you may be a bit sceptical but it is there, for you, any time you fancy some homemade goodness for your tea/coffee time or a different breakfast, or when you decide to spoil your colleagues but have no time on your hands – or at least no longer than 60 seconds…
My team at work are now very accustomed to la torta dei sette vasetti, and after I had brought it to work a few times people started asking for the recipe.
Some things are just not "too good to be true", they just are. Some others belong to the realm of magic…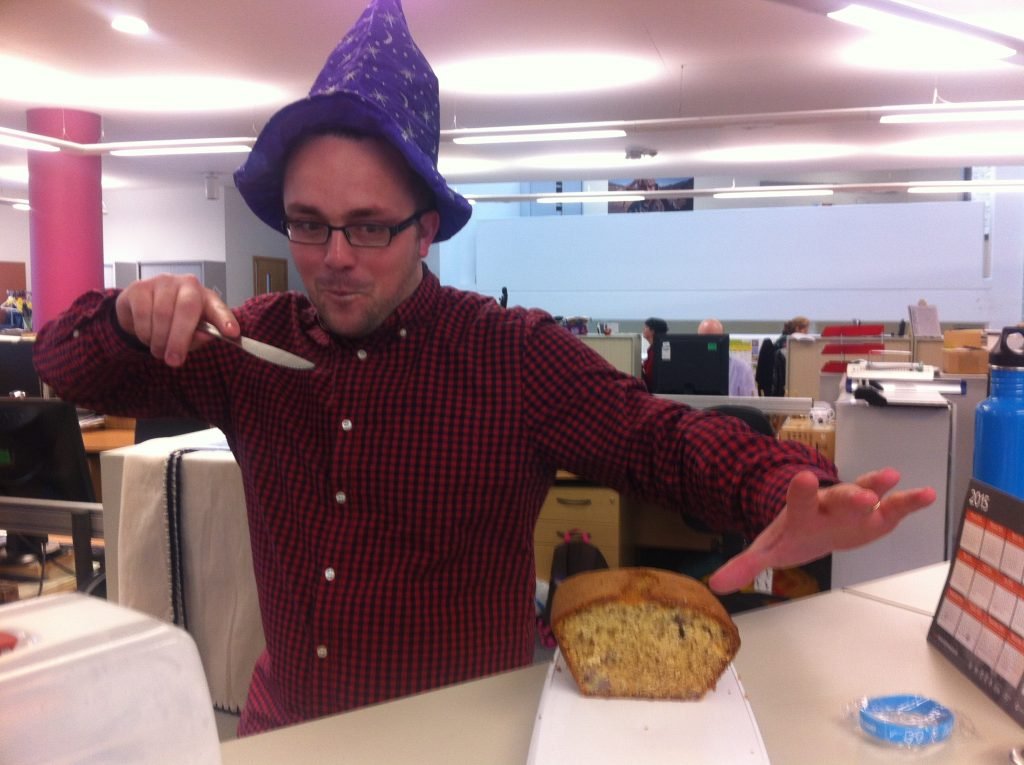 I made this cake so many times when George was recovering from his bone marrow transplant. Some days when back from work I would be pretty tired, just like anyone else, but I still wanted to make something good for him to have at tea time during the week ahead. And this torta enabled me to spoil him with something tasty that I could prepare in a matter of minutes.
It never disappointed. George keeps saying how incredibly tasty and moist it is and guess what. Now he makes it, too, on a regular basis when I am busy making another dish! I cannot recommend this cake enough.
Sometimes I add some pieces of banana for extra goodness, and on occasions I opt for little bits of dark chocolate and whole almonds.
The one thing it does not need is icing. It is meant to be a simple cake so let it be. 🙂
Ingredients for torta dei sette vasetti
Serves  6 – 8
1 small pot of strawberry yoghurt (about 120g)
2 pots of caster sugar
3 pots of all purpose flour
1 pot of sunflower oil
2 medium-sized eggs and 1 yolk
1 pinch of salt
1 sachet "lievito pane degli angeli" (or 1 teaspoon of bicarbonate of soda, 1 teaspoon of vanilla essence. These to be used with self-raising flour rather than plain flour)
Extra
butter and extra flour to line a loaf tin 22×8 cm
icing sugar for dusting
Method
Line a rectangular bread tin with some butter and dust it lightly with flour (or use a good-quality, safe silicone one for which lining won't be required).
Preheat the oven to 180°C (160°C fan)
If you have not found pane degli angeli: sift the self-raising flour and the bicarbonate of soda first into a bowl and when you add the eggs to the rest of the ingredients, add the vanilla essence, too.
If you have pane degli angeli, follow the method below:
In a large bowl add all the ingredients by following the order in the list (using the original yoghurt pot!).
Whisk the ingredients energetically with a manual whisk until they are well incorporated and you obtain a smooth mixture.
Sift the pane degli angeli, pour into the mixture and incorporate well.
Pour the mixture into a sized 22x8cm loaf tin and bake in the oven for about 45/50 minutes (depending on your oven, it might take up a bit less or longer. I start checking after 35 minutes) until well risen and firm to the touch. If the wooden stick comes out clean, turn the oven off, open the oven door and leave the cake for another 5 minutes before taking it out.
Leave it to cool in the tin. Once cool, take it out and move it to a serving plate. Dust with icing sugar and enjoy with a cup of tea or, as Italians would do, with an espresso or cappuccino for breakfast!
I know for sure that this cake will become a regular. Whenever you are thinking of baking something, this torta is so easy and quick that it will always win over against anything else you might be considering!