The Easter theme continues, as in Naples it is not Pasqua without pastiera, after all! 😋 I have been counting the days until it was the right time to share this recipe. And admittedly I am a bit late and the Easter holidays are over. But I hope you will forgive me as I was rather busy, erm, eating as much pastiera as I could fit in my belly. So now here I am, super-excited to tell you all about this marvel of Neapolitan patisserie.
First things first: pastiera is one of the three dishes that millions of Neapolitans scoff avidly during this period, together with casatiello and pizza chiena.
"So what's the big deal?" I hear you cry. Pastiera is a type of crostata (tart) made with a base of sweet crust pastry (pasta frolla) and a rich filling of wheat cooked in milk, ricotta and sugar. Is that it? Nope.
What makes pastiera so unique is its intense orange and cinnamon flavours, combined with the texture of candied lemon, orange and citron peel. A burst of flavours that somehow leads to addiction. I will admit that I have a soft spot for lemons and oranges, and when I'm back in Naples I always enjoy picking some from the trees in our garden to use to make ciambellone al limone or orange marmelade.
The fresh lemon and orange rind really gives the cake a special flavour. Yum!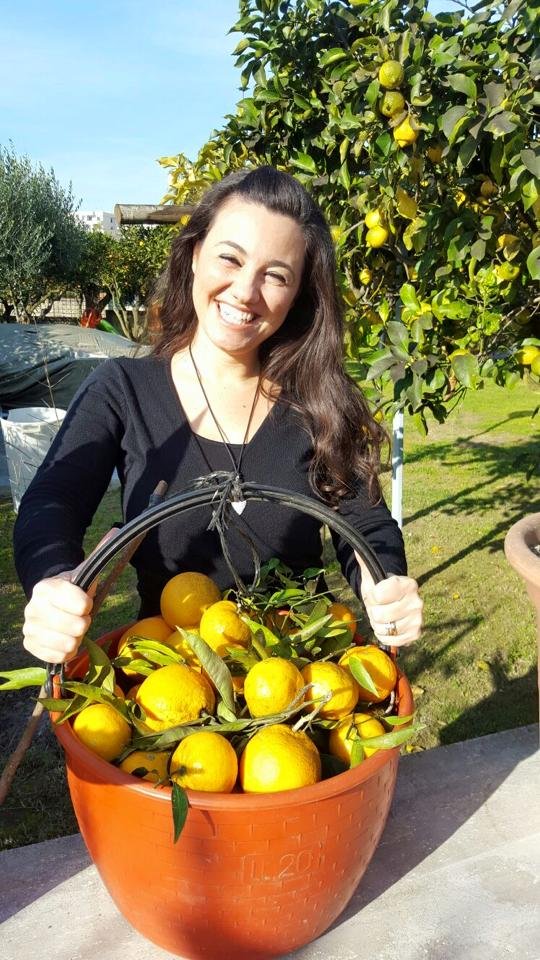 The thing about pastiera is that there are many different recipes. Each family has its own unique version: with the addition of cream; without candied peel; with more or less orange blossom water; or a stronger or weaker taste of ricotta.
I have known friends who were incapable of eating pastiera that was not made by their mother, for example. It was like a phobia. I myself went through a phase when the idea of tasting a slice of pastiera offered by a friend's mother would give me nightmares. I know… Italian drama knows no limits.
There is something peculiar about the taste of pastiera. It is a balance of flavours and possibly an acquired taste. So anything that is not quite what your tastebuds are expecting might well be rejected.
Thankfully this has changed with time and I am now able to eat my aunt Rosetta's pastiera, as well as the one made by the famous pasticceria napoletana Bellavia. 🙂 My dad used to treat me to mini pastierine every time he would come and visit us in London, or he would slip 50 euros in my pocket before we left Italy and while my mum was not looking he would say: "Go and get yourself a guantiera [box] from Bellavia" – usefully located at the airport.
Among other things, my dad and I shared a love for great food. He was a feeder and my husband George could tell you many stories about having to have not just seconds, but also thirds, as my dad would not stop topping up his plate… Sometimes I don't realise it, but I tend to do the same with him and with our friends who come over for lunch chez nous. I think it is just a way to show that we care. Good home-made food was my dad's way and is now mine to show our love.
If you happen to come over for a meal and you feel I am pushing you to have more, rest assured it is just because I want you to feel cared for and looked after. There are definitely no hidden intentions to fatten you up!
Oh dear. That was a proper deviation, going off on a tangent, as always. Back to the pastiera…
Why the wheat? Well, it is a grain that symbolises growth and has a clear reference to Jesus's resurrection. This is also why pastiera is made at Easter, though to be fair, there is no reason not to make it on other occasions, too. It really is a special treat, and although it is not complicated to make it, it has a few steps that are time-consuming. Worth it? YES YES YES.
Look at it… how could it not be worth it?!
And guess what? Do you remember when I mentioned my husband's refusal to have cake for breakfast? Well, well, well…
Pastiera is so good that not even Mr "I don't eat cake for breakfast" can resist!
Ingredients for pastiera
Serves 6 (550g weight)
250g flour (00 or all-purpose)
120g unsalted butter
120g caster sugar
2 yolks (from two medium sized eggs)
To cook the wheat
150g canned cooked wheat
250ml full fat milk
Skin of half a lemon (the outermost part of the peel)
Pinch of salt
Half a teaspoon of cinnamon
For the ricotta filling
250g ricotta
150g caster sugar
Half a lemon rind
Pinch of cinnamon
3 medium yolks
1 egg white, whisked firmly
3 pieces of candied peel, finely chopped
Half a teaspoon of orange blossom water
Extra
Method
Let's start by cooking the wheat with the milk.
In a medium-sized saucepan add the milk, lemon skin, cinnamon, a pinch of salt and the wheat. Mix well. Bring the milk to the boil on medium heat. When it is bubbling, lower the heat, stir occasionally and let it simmer until it reaches a creamy consistency. This might take up to 20 minutes.
When it is ready, take the pan off the hob and transfer the content to a glass bowl or a plate where it can cool down. Set aside.
While the wheat is cooling down, make the pastry.
Mix the flour and butter in the mixer until it reaches a crumby consistency.
In a large bowl, pour the mixture and create a well. In the middle, add the sugar and eggs and mix quickly with a fork.
Slowly incorporate the flour and butter mixture until you obtain a smooth and compact dough. Wrap in cling film and let rest in the fridge for at least 30 minutes.
Meanwhile, in another bowl add the ricotta and sugar. Mix them well with a fork initially and then with a whisk until you obtain a smooth mixture.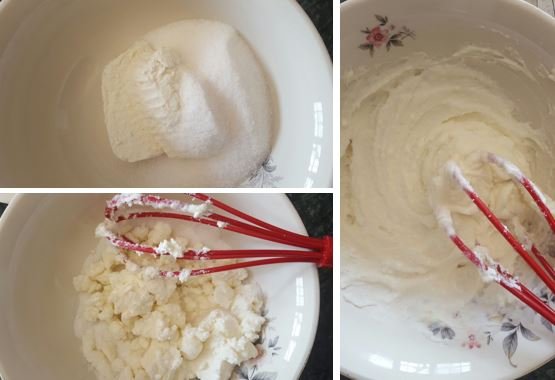 Add the lemon rind and mix well.
Add one yolk at a time and incorporate well with the ricotta mixture using a whisk.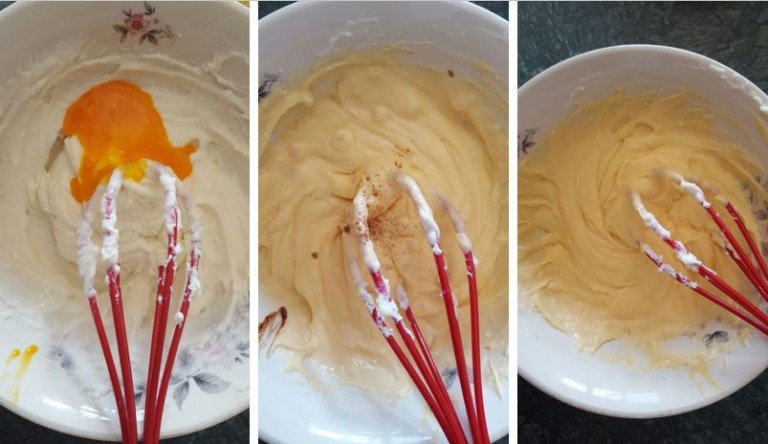 Chop the candied peel and add it. Mix well.
Add a pinch of cinnamon – not too much as this might make the mixture too dark.
Add the grain (which should no longer be warm) and mix well.
In another bowl add the egg white and a pinch of salt. With an electric mixer whip it until it is very firm.
Add it to the ricotta mixture and mix gently using a wooden spoon, with a movement that goes from the bottom to the top, without pushing.
Your filling is now ready. Set aside.
Start heating the oven to 180°C (160°C fan).
Take the pastry dough out of the fridge and remove the cling film.
On a surface lay out a large piece of baking paper and sprinkle with some flour. Roll two-thirds of the pastry out into a circle that will cover the base of a flan tin (22cm diameter), as well as the sides. Place the tin on top of the pastry to see how much more you need to roll it out to obtain the right size.
Carefully, place your hand underneath the baking paper (centre bottom picture) and lift it upwards towards the flan tin, always keeping your hand on top of the pastry. Turn it upside down so that the pastry ends up in the tin.
Press the pastry into the flan tin, covering the bottom and sides to a consistent thickness. Carefully and slowly remove the baking paper.
Pour the cream in the tin and level it evenly with a spoon.
Add some flour on a clean surface and roll out the pastry you set aside previously to half a centimetre deep. Cut about 4 strips. Add them on top diagonally. Push down the edges of the pastry to seal the borders.
Place in the centre of the oven for about 45 minutes, or until the surface becomes golden. If you see the pastiera rise as if it is about to explode, don't panic. It means it is ready, and it will flatten once out of the oven. 🙂
When it is ready, let it cool for at least 2 hours. Sprinkle the icing sugar on top just before serving.
The longer pastiera rests, the more intense the flavours will be. Some will wait for up to two days before cutting the first slice! I am unable to do that. As a result as soon as it is no longer warm, I will run towards it and have one or two slices. That said, if there is any left over, I shall admit that the next day and the day after the next, it is even nicer.
A delightful surprise for anyone who is not accustomed to its taste and a trip to heaven for those who have grown up with it!