Timballo di pasta con melanzane? Why? Well. When I think of aubergines, I think of George. Since the beginning of our relationship I have made sure he would try the most delicious dishes my mum had made for me for pretty much my entire life. So I once made involtini di melanzane for George and that was it.
Since that day he has been in love with aubergines and with any dish I make that includes them. So aubergines=George. I won't even try to describe George's face when I first presented him with the timballo di pasta con melanzane. He was in heaven and hearts appeared in his eyes.
Last time I made this we had friends over for lunch and everyone was truly amazed by the perfect combination of flavours. Hey, we are talking about serious goodness here: aubergines carefully fried in extra-virgin olive oil, scamorza affumicata or mozzarella, fresh basil, tomato sauce. You can't ask for anything more. No, not even beef. Run, Mariacristina, run: a huge crowd of shocked Brits is now running after you with fire in their eyes!
Joking apart, this pasta dish is one you will need to make when you want to say a big loud I LOVE YOU to someone. It is a labour of love and it is for special occasions. It is definitely not something you throw in the oven on a weekday evening. Not a chance. But when and if you find the time to make this timballo di pasta con melanzane, you will be amazed by how happy you will feel during and afterwards.
That said, I did have some help… Everyone had some fun and got stuck in with the prep. There is something beautiful about people cooking. Look at Shalini, so excited and happy!
I had fun making this dish. Ben, a friend of ours, came over to do some extra filming for Coochinando so everything was a bit manic, but it was a great day and sitting at our dinner table with so many close and dear friends made me feel so excited about life, cooking and people. I feel blessed to be able to spoil our friends by doing something I feel so passionate about.
That said, I did try to overfeed everyone throughout the day – but everyone seemed to be doing fine! I am a feeder, just like my daddy.
I love this timballo di pasta con melanzane because it is truly impressive and the ingredients used are all pretty awesome.
And, honestly, look at this beauty. How could you resist?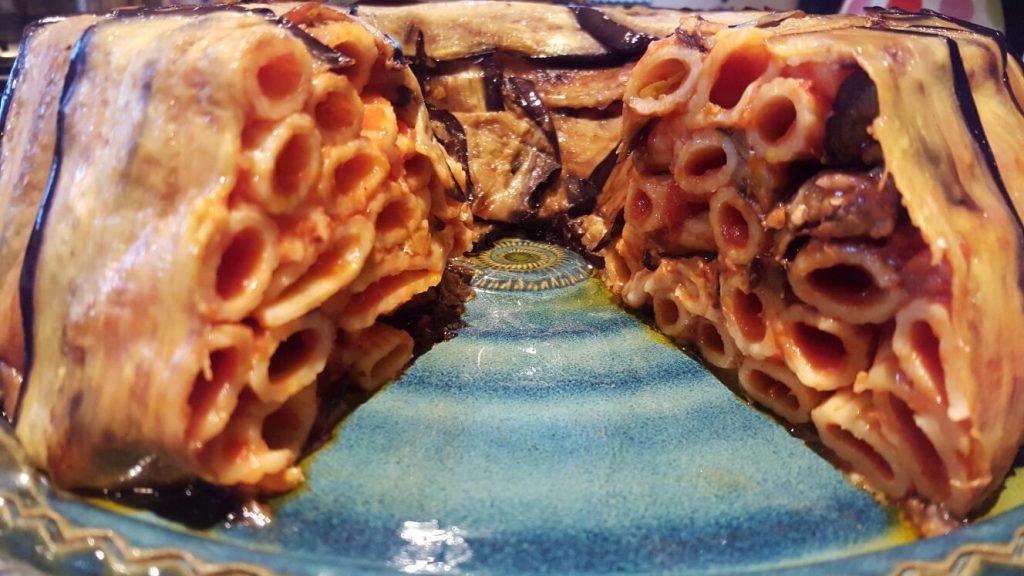 Ingredients for timballo di pasta con melanzane
Serves 6

600g bucatini pasta (alternatively rigatoni or penne)
To cook the aubergines
A total of 2.7kg of long aubergines (1.8kg to be cut lengthways, 900g to be cut into rounds)
First: 1.8kg (approximately 6 aubergines) to be sliced lengthways. About 45/50 slices, (depending on the tin you use) 7x5cm long and wide (this will depend on the aubergines you buy and is just an approximation), 5mm deep
900g sliced into rounds, 7mm thick
500ml extra-virgin olive oil, or peanut oil for a lighter texture and flavour more suitable for deep frying
For the tomato sauce
2 bottles of passata, 700g each
A small onion, chopped finely (use less for a more subtle onion taste)
4 tablespoons of extra-virgin olive oil
Salt, as required, depending on your taste
2 or 3 basil leaves
For the filling
400g scamorza affumicata, chopped into cubes (or well-drained mozzarella cheese, roughly chopped)
50g grated parmesan
Some basil leaves
Extra
Salt for boiling water
Some basil leaves to garnish, optional
Extra parmesan to sprinkle on individual portions (to taste)
Breadcrumbs to line the ring-shaped tin
Ring-shaped tin: 30cm
Method
First things first. We need to prep the aubergines. Wash them, dry and remove the stalks. Slice 1.8kg lengthways at 5mm depth, and the rest in rounds, 7mm thick.
We need to rid the aubergines of their natural bitter taste. There are two ways to do that.
First method. Fill up a bowl with water, add a tablespoon of salt. Stir well. Place the aubergines in the bowl and soak for 30 minutes-1 hour.
Dry them well with clean tea towels or kitchen paper.  Try to take as much water out as possible as this will prevent them from absorbing too much oil when deep fried.
The alternative way is to just place the slices in a colander supported by a plate underneath, cover them with some salt, put some pressure on them (like a heavy saucepan) and leave them to expel their water for an hour. When ready, rinse them under tap water and dry them very well using kitchen paper or tea towels.
Prepare the tomato sauce
In a medium-sized saucepan, add 4 tablespoons of extra-virgin olive oil and the finely chopped onion. On low heat, sauté the onion, until it is a pale golden colour.
Add the passata, an abundant pinch of salt (you will need to taste it – what is sweet for someone can be quite salty for someone else!) and a bunch of basil leaves.
Let simmer with the lid on for 30 minutes. Check every now and then and stir.
Towards the end, increase the heat until the sauce becomes thicker and you can no longer see any watery content on the surface. Taste and season with extra salt if required. And no, no other spices are needed. There will be parmesan, mozzarella and aubergines to be added to the filling, which provide plenty of flavour. 😀
Cooking the aubergines
While the tomato sauce is cooking, you can fry the aubergines. Ideally you would do this step the day before so you can leave them in a sieve to expel the excess oil.
Prepare a large plate lined with kitchen paper on the side.
In a large frying pan pour the oil and on medium heat cook until hot. Before adding the aubergines, do a test. Drop in a little piece of aubergine and if it reaches the surface immediately surrounded by plenty of bubbles, the oil is ready.
Add no more than 4 or 5 slices at a time. They need to have enough space to be cooked comfortably. Turn them often so they cook evenly and do not burn. When they are golden, but not too dark, take each of them out with two forks, shake the extra oil off and place on the plate. Carry on until exhaustion. Do the same with the round slices. This process is a bit time-consuming, but it really is worth the effort and time.
Set aside and cover with extra kitchen paper. Apply some gentle pressure to absorb as much oil as possible. The best thing to do is to place the aubergines in a large sieve, with a deep bowl underneath, for a few hours (if you have time) to let more oil drain.
Line the tin with oil and breadcrumbs. Line the bottom and the walls of the tin with the long slices of aubergines. You need to leave part of each aubergine hanging outside the tin. Each slice should slightly overlap the next. Make sure every bit of the surface is covered.
Cook the pasta
In a very large saucepan add about 2.5/3l of water. Bring to boil. Add at least a tablespoon of salt. Pour the pasta and cook very al dente, because the pasta will be cooked further in the oven for at least 20 minutes. (Regarding salt for the pasta, it is of course a matter of taste, but traditionally it is good practice to add a fair amount of salt. Start with a little and then taste the pasta while it is cooking. Add more if required.)
Drain the pasta and move back it to the pan. Pour the tomato sauce and mix well. Add half the quantity of the round aubergines and mix. Add some basil leaves, parmesan and the chopped mozzarella/cheese. Mix well.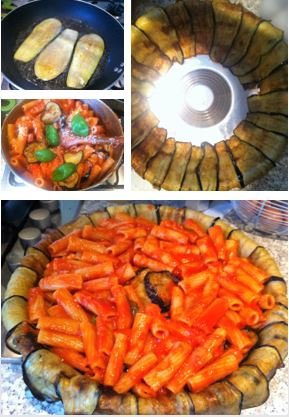 Preheat the oven to 220°C (200°C fan)
Pour half the pasta into the tin you previously lined with aubergines. Place the rest of the round aubergines on top of the pasta layer, all next to each other. Add some basil leaves.
Pour the leftover pasta on top and sprinkle some more parmesan.
Seal the top of the tin by folding the aubergine inward and add some extra slices (or whatever is left of the rounds) to cover the any gaps.
Place in the oven for at least 20 minutes – just enough to let the pasta cook for longer and the aubergine to settle.
Take out and let rest for a few minutes. Take a flat, round serving plate. Place it on top of the tin and with heavy-duty gloves turn the tin upside down, so that the large serving dish is at the bottom and the tin on top. Slowly remove the tin. And surprise! A beautiful timballo that will leave all your guests speechless: too beautiful and too good for words.