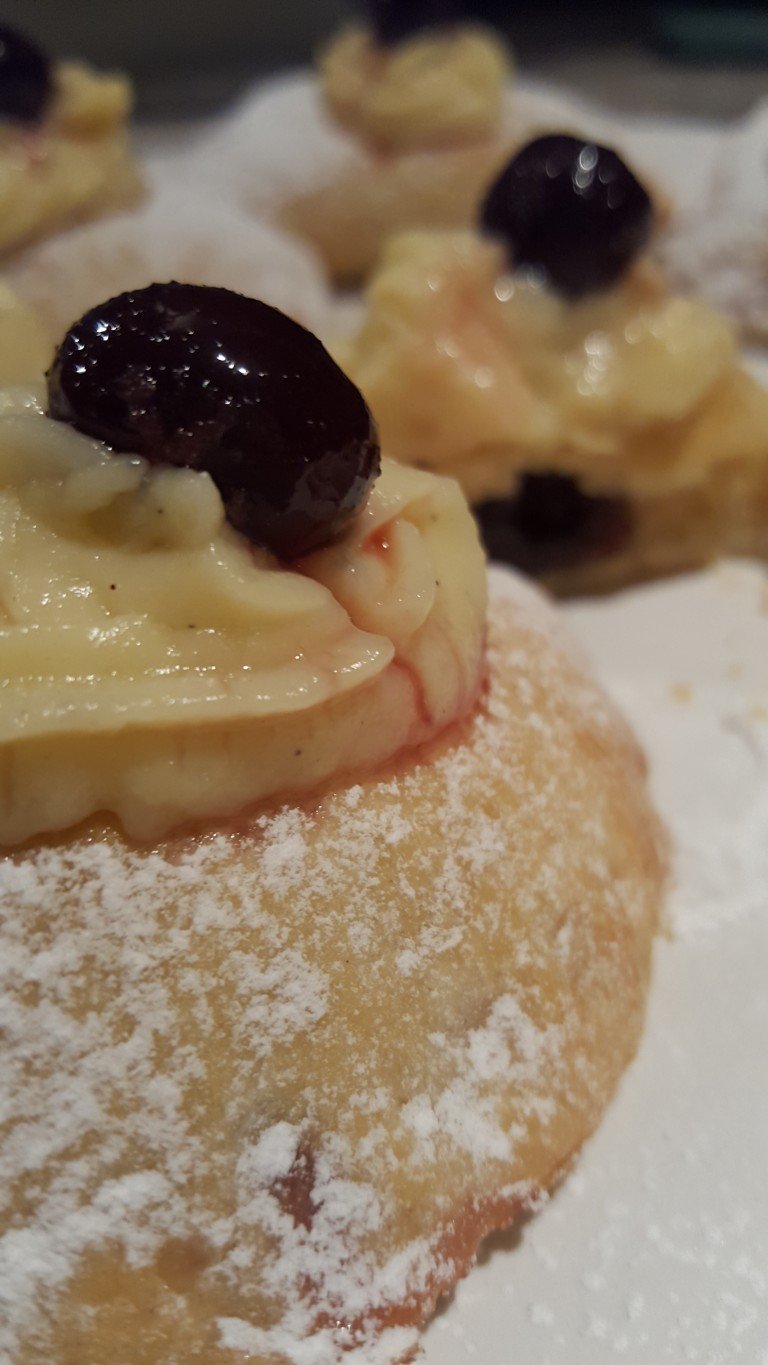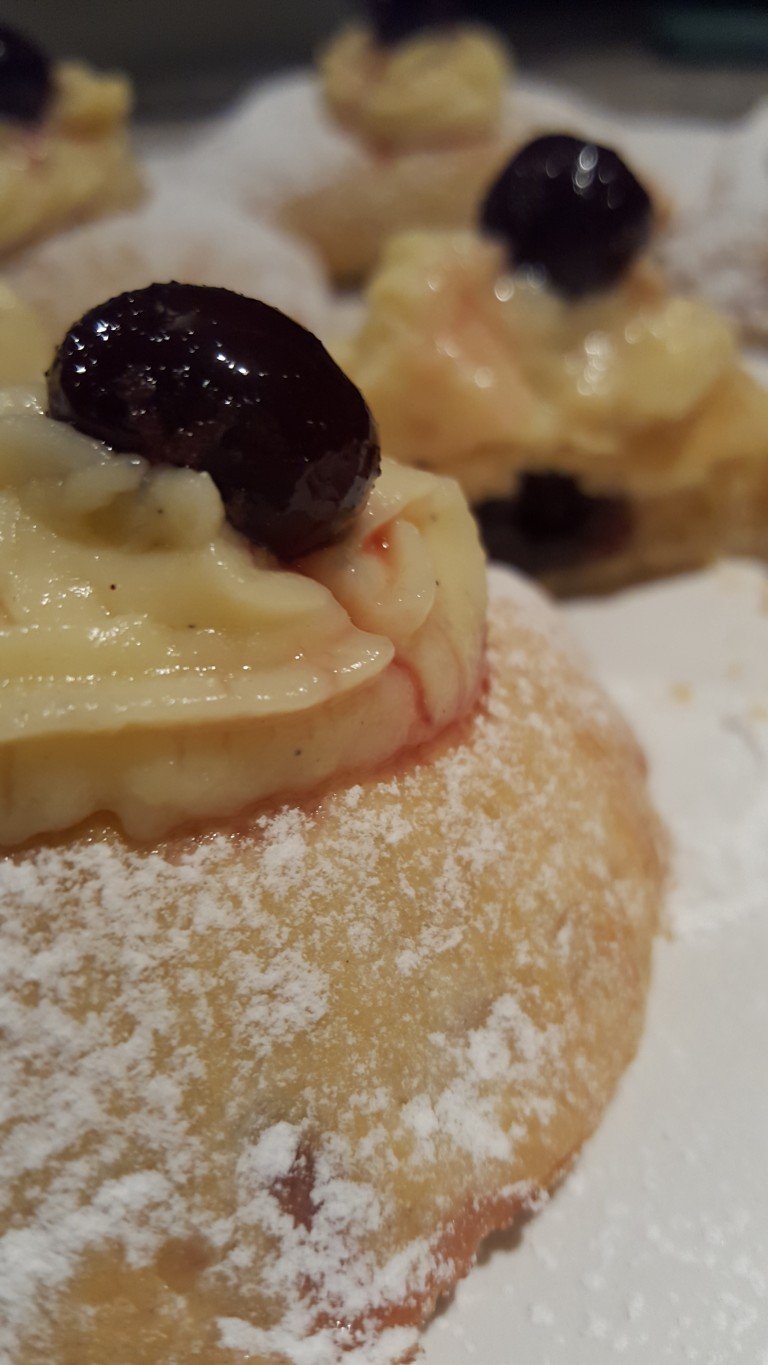 There is something fascinating about using recipes that were born centuries ago. That is the case for monachine napoletane (little nuns): delightful puff pastry cakes with a yummy filling of crema pasticcera (custard, which must be home-made) and morello cherry conserve.
Nuns and monks were renowned for their cookery skills during the Middle Ages and for creating delicious recipes for banquets and religious parties for the rich and powerful Neapolitan families. These monachine date back to 1700, when they were invented by one of the nuns who lived in the convento Trentatre, in Naples.
If you happen to go to Naples, you are likely to see them in all the bars (equivalent to cafés in the UK) – the cakes, that is, not the nuns – where some people will opt for monachine for breakfast instead of a cornetto crema e amarena (cream and morello cherry croissant).
I have a soft spot for puff pastry, and used to ask my mum to make these monachine when I was younger. They are easy to make and taste so good. You could serve them as an end-of-meal treat – or they are perfect for your tea break, when you have friends over.
I made them the other night as part of the menu for a special dinner date I organised for me and my husband. And guess what? There were some left over (not even the two of us could get through more than 15 monachine), which OBVIOUSLY we had for breakfast!
The method is pretty straightforward, but I decided to share a step-by-step recipe on this occasion because not all of you will be familiar with making your own custard. I personally see no reason for buying the ready-made one from the supermarket, as the home-made version takes just 10 minutes to make and tastes way better. And you know there are no preservatives, which is kind of a big deal when you are trying to spoil yourself with something tasty.
So I am confident that after today you will never ever buy ready-made custard, as once you taste the one you made yourself, you just cannot go back…! Ready for this life-changing step? 😛
Ingredients for monachine napoletane
Serves 8 (makes about 16 monachine)
500g fresh puff pastry (or two rolls)
250ml milk
2 yolks
50g sugar
25g all-purpose flour
half a vanilla pod (or half a teaspoon of vanilla extract)
16 teaspoons of morello cherry conserve
Extra
16 high-quality morello cherries in syrup
Icing sugar for dusting
1 egg yolk
3 tablespoons milk
Method
Start by making the crema pasticcera. If you are using the vanilla pod instead of vanilla essence, cut the pod along its length and scrap the seeds out with the knife (image below, centre).
In a medium-sized saucepan pour the milk, add the vanilla seeds and cook gently on low heat until the milk is hot but not yet simmering.
In another saucepan add the sugar and the egg yolks. Mix them well with a whisk until they are compact and smooth.
Add the flour gradually and incorporate it into the the sugar and egg mixture until it is all well blended. Pour the milk in and stir well with a whisk until the egg, flour and sugar mix is incorporated well with the milk (below, bottom left). Add the vanilla extract if you opted for it instead of the pod.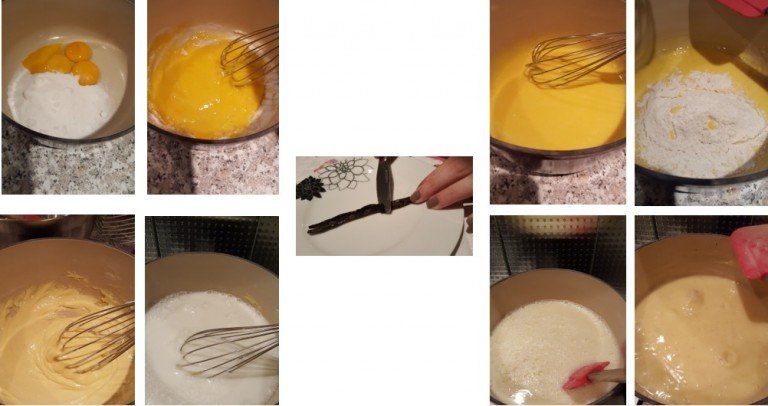 Move the pan to the hob and cook gently on a low heat, stirring constantly with a spatula, until it reaches a simmer and turns into a thickened cream. Take away from the hob, transfer to a glass jug and let cool down. We need the cream to be cold and thick.
Time to make monachine!
Preheat the oven to 200˚C (180˚C fan).
Sprinkle a surface with some flour and, if using pre-rolled puff pastry, unroll it on the surface – otherwise roll your puff pastry to a depth of about 3-4mm. Using a pastry cutter make 10cm diameter rounds.
Add a teaspoon of crema pasticcera in the middle of each round. Then add a teaspoon of conserve.
In a glass mix the egg yolk with the milk.
Dip the brush in the egg and milk mixture and brush the edges of the rounds.
Fold each disk on itself to form half a moon. Seal the edges well with your hands first by flattening them with a gentle pressure. Then use the tines of a fork to seal them further (below, top three images).
Brush the top of each half-moon.
Line an oven dish with baking paper (you could use the one that came with the pastry). Place the monachine on it and transfer to the oven.
Cook for about 10 minutes, or until they are gold on the surface (above, bottom right).
When ready, take out of the oven and let cool down.
When they are no longer warm, sprinkle some icing sugar over.
With a sac-à-poche add an extra blob of crema pasticcera and then a cherry on top.
After the final touches… tada! Enjoy monachine and switch off for a few minutes. It is "you time"!