Remember the ciambellone al limone? The soft, moist cake so many of you made and loved? Well, ciambellone marmorizzato is on the same scale of goodness – but if you are a chocolate lover, this cake is a must for you! Easy and quick to make, it is beautiful to look at with its white and brown swirls.
So if you want to surprise and impress your friends (in a world where everyone has become pretty cynical about everything, it is a tough challenge, but worth a try!) at a relaxed afternoon tea at your place, or want to spoil your children or partner with something special to have for breakfast (yes yes: for breakfast!), ciambellone marmorizzato should be added to your list of "easy, quick and fantabulous baking recipes".
I remember this cake from birthday parties I went to when I was younger. Often placed at the
centre of a busy buffet table, the ciambellone marmorizzato was always a major attraction for us children. I always wondered what kind of magic people were doing to get that bicolour cake.
And then one day, a couple of years ago, I asked my mum to share the recipe of the "magic ciambellone"… and when I made it the magic was over: it turns out there's no magic in there! Just a bit of separating and mixing and done! But although it is no longer a mysterious cake, for me it will always have a bit of magic attached to it. 🙂 How amazing it is to be children?!
And in a way it is truly magic, because it makes people smile a lot when they see it. George, for instance, looked like a child who had seen a big aeroplane or something really exciting. Eyes wide open and a smile from one ear to the other. It was a real delight to see such a surprised expression on his gorgeous face.
Ingredients for ciambellone marmorizzato
Serves  8 – 10
3 medium-sized eggs

250g caster sugar

100ml sunflower oil

250ml full fat milk (semi-skimmed is okay, too)

250g self-raising flour

1 teaspoon of baking powder
3 drops of vanilla essence

2 or 3 tablespoons cocoa powder
Extra
Butter and extra flour to line a ring-shaped cake tin of 24cm (the one I use has the base smaller than the top, so if you use a regular one you could use a slightly smaller one of 22cm)
Icing sugar for dusting
Method
Line the ciambellone tin with some butter and dust it lightly with flour. Preheat the oven to 180°C (160°C fan)
In a large bowl whip the eggs and sugar with a mixer for a few minutes until they are well incorporated and you obtain a pale and smooth mixture.
Add the milk, the oil and vanilla essence and mix well.
Sift the self-raising flour, add the baking powder and pour them into the bowl with the rest of the mixture. Mix well (using a mixer), until you obtain a smooth and compact mixture.
Out of this mixture, pour about 300ml into a bowl. Add 2 or even 3 tablespoons of cocoa powder and mix well until you obtain a lump-free mixture and the content is evenly dark/brown.
Pour the "white" mixture into the ciambellone tin. Pour the chocolate based mixture all over the top, distributing it evenly across the top. Some of it will automatically sink to the bottom. Some will stay on the surface.
With a fork twist the dark mixture as to create swirls. It doesn't have to be exact – it is just to add a twist of colour to the surface.
Place the tin in the oven for about 40 minutes (depending on your oven, it might take up to 45 or even 50 minutes) until the ciambellone has risen well and is firm to the touch.
If the wooden stick comes out clean, turn the oven off, open the door and leave the cake for another 5 minutes before taking it out. Leave it to cool in the tin.
Once cooled, take it out of the tin and move it to a serving plate.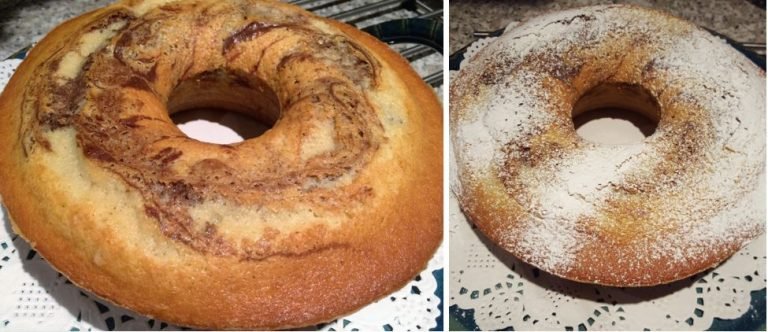 Sprinkle with icing sugar and enjoy with a cup of tea or, as Italians would do, with an espresso or cappuccino for breakfast!
This ciambellone is also perfect for children accompanied by a nice glass of milk. That's what I used to do when I was a little girl. Erm, well, clearly I am still a little girl…!
If stored well, this ciambellone marmorizzato will keep well for up to three days, but I can assure you that it won't last that long 😛