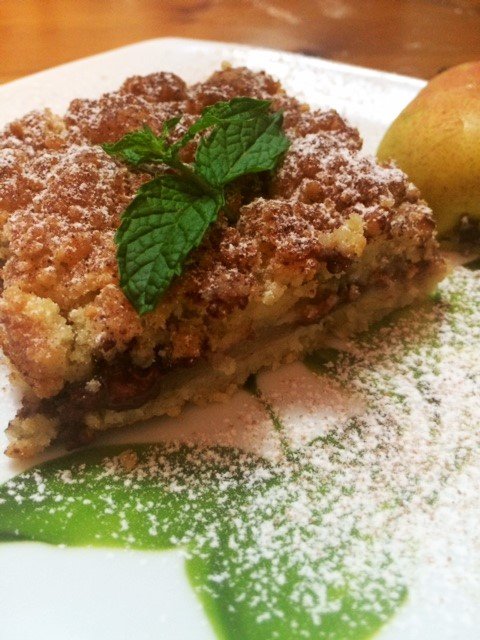 If you ever happen to stay at a Neapolitan friend's place, chances are you will be offered a slice of crostata (tart/pie) at some point.  There are hundreds of types, but if it is a sbriciolata pere e cioccolato, then it is your lucky day.
Over the years my mum made all sorts of crostate. The picture is always the same: of her standing over the green marbled surface in the kitchen rapidly working the pasta frolla (sweetcrust pastry) and then adding home-made marmellata or Nutella, chocolate, ricotta and pears, mascarpone and… much more.
I guess it all depended on my mood. She would make low-fat sweetcrust pastry during the years when I was very vain (has anything changed since then?!) and watching my weight. Or she would indulge me with a Nutella filling a few days before my uni exams, when comfort and reassurance were what I needed.
Regardless of the circumstances, deep inside, my favourite crostata was the one with confettura di albicocche (apricot conserve). Hmmmm… maybe not. Maybe it was the Nutella one. Okay: it depended on circumstances, after all. Consistency, Mariacristina!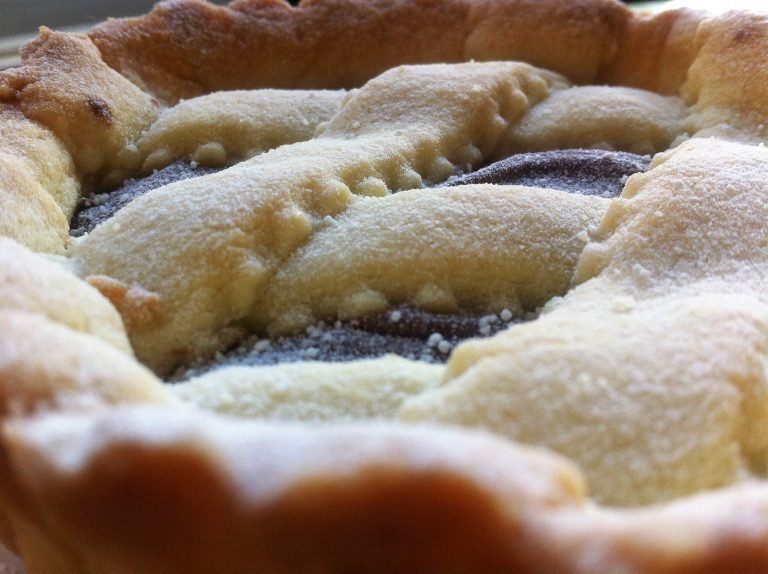 There is something comforting, secure and cuddly about a crostata. The sweet home-made pastry with a fruit filling (especially when the conserve is made with the fruit from your own garden) just make it the perfect afternoon treat or morning breakfast.
Although it is too late to cut a long story short, crostata is a big deal in Naples and elsewhere in Italy. In fact, if you happen to go and stay in a local B&B on the coast of Sorrento or Ischia, among the cakes served on the breakfast buffet table you will always see at least a couple of crostate (fruit and Nutella). Neapolitans have a soft spot for crostata and it seems we always try to find ways to make a crostata tastier and easier to prepare.
I think this is where the idea of a sbriciolata (crumble crostata) was born. The sbriciolata pere e cioccolato could be vaguely compared to your beloved fruit crumble, but it differs substantially on two levels: the sbriciolata has a bottom and not just the top; and the crumbs are made from the dough for the sweetcrust pastry (which includes eggs), as opposed to just being flour, butter and sugar.
The visual effect is brilliant and it is even quicker to make than the dough for a tart, as you don't need to obtain a smooth ball dough, which usually also needs to rest in the fridge.
I simply adore sbriciolata pere e cioccolato because it combines two of my favourite things: chocolate and pears, and it is so moist and scrumptious. Chocolate and pears were meant to be together. As always my romantic side takes over: the idea that some people or ingredients were just meant to be.
Ingredients for sbriciolata pere e cioccolato
Serves 6
For the crumble
300g flour
150g caster sugar
1 large egg
100g butter
1 sachet of 'pane degli angeli' yeast or a teaspoon of baking powder (if you use the latter make sure you add a teaspoon of vanilla powder, too, or vanilla essence)
2 tablespoons rum
For the filling
2 big ripe pears, chopped roughly
150g dark chocolate, chopped in squares
Extra
Icing sugar and cocoa powder for dusting
Method
Sift the flour (if you are using the baking powder, add it at this stage and mix it in with the flour). Chop the butter into cubes.
In a bowl mix the flour and the sugar. Create a well. Then add the butter, the egg, pane degli angeli and the rum.
Start mixing all the ingredients in the middle of the well with your fingertips. Then slowly incorporate them well with the flour and sugar to make a light breadcrumb texture.
It will feel as though it is all getting messy –but this is part of the fun. It should not take you longer than 5 minutes to get medium-sized crumbs.
To assemble the sbriciolata
Line a baking dish (I used an oval one sized 28x15cm but you can use a round/square/rectangular one) with butter and flour, or just use baking paper. Distribute half of the crumbs evenly in the lined dish. Add the slices of pears and then the pieces of chocolate.
Cover with the other half of the crumbs.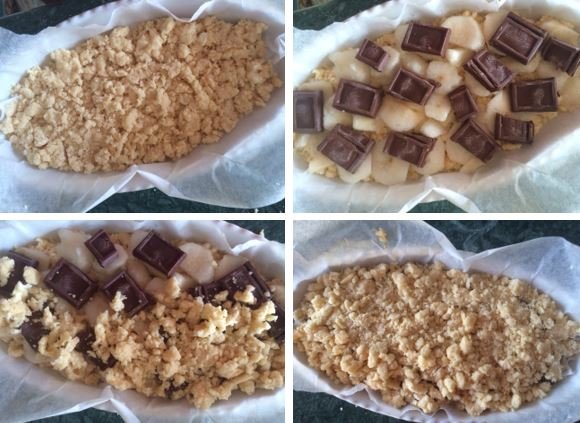 Place in the oven at 180˚C for about 30-40 minutes, until a wonderful aroma of chocolate and baked sweetcrust pastry takes over the whole kitchen and the crumbs on top look golden.
Take out of the oven and let cool for about an hour. Before serving, sprinkle some cocoa powder and icing sugar.
Devour it – my style… Or, even better: savour it.