Forget about that amazing ragù alla napoletana I used to make lasagne napoletane. You see, ragù alla genovese is on another scale: it is truly the most iconic pasta sauce in Naples – yet not many outside the city will even have heard of it.
Now I am going to share this gem, because that's what it is: a dish full of tradition and deep meaning for Neapolitan families. A simple onion-and-beef-based sauce that has the power to silence everyone for a few seconds after the first bite.
I am sure that once you try this incredibly delicious, to-go-crazy-for sauce, you will beat yourself up a little bit for not having had it before. All those years you did not spoil yourself with this outstanding onion and beef ragu, because your eyes were fixed on traditional lasagne or spag bol and all that… You know what they say: it is never too late to redeem yourself. This is your chance 🙂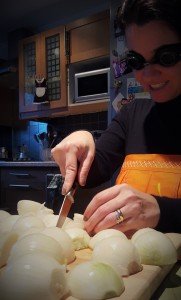 I know what you are thinking right now. "What's the catch?" There's no catch, really, apart from the onion-chopping stage, which is well known for tearing your eyes apart. But guess what? There is clearly a solution! The clue is in the picture…
Apart from that, ragù alla genovese just needs to be cooked on very low heat for a long time – about 3 hours – and requires only occasional stirring every now and then. It is a bit like making a casserole: very low maintenance.
As far back as I can remember this was the Sunday dish my grannies and then my mum would often make at the weekend.
This is a dish that deserves and demands respect – so much so that in some houses people make the sign of the cross before eating it! I know, it may be a bit over the top, but traditions are traditions, so no arguing on this.
I will never forget the expression of my granny Cristina, when at the question "nonna, what are we eating today?", she would bring out a proud smile, followed by "a ggenuvese!" in Puteolan dialect, knowing she was delivering some very good news.
Ragù alla genovese means family and tradition, both things that seem increasingly to be disappearing. Too many people are getting carried away with superfoods, healthy this and healthy that. What is going to happen to the food staples of countries and cultures?
Anyway… for me this pasta dish will always be one to be shared around the family table, and served in a big saucepan from which everyone would fill in their plate, as families would do traditionally. In Naples, eating pasta con la genovese is still a ritual, and this is why it really matters to me.
Make ragù alla genovese for those who are like family to you.
I cannot recommend it enough, so enough persuasion for now! Let's get started.
Ingredients for ragù alla genovese
Serves 4
400g ziti, broken in big pieces (paccheri or rigatoni as alternative)
For the ragù genovese
10 tablespoons extra-virgin olive oil
750g chopped stewing beef
200ml dry white wine
1 carrot
1 celery stick
1kg onions
Pepper
Salt
250ml boiling water
Extra
Method
Wash the carrots and the celery. Peel the carrots and chop them finely. Chop the celery stick, too. I used them like that, but you could use a food mixer to reduce them to finer pieces if you prefer. Set aside.
Peel all the onions. You can use a knife, or a food mandolin if it lets you chop thin slices. Set aside.
In a large saucepan add the oil and warm on medium heat. When it is hot, add the meat and a pinch of salt and cook on high heat, turning occasionally until it browns on the surface.
Take out of the pan, lower the heat and move to a plate to rest.
With a wooden spatula unstick any crumbs of meat you may find at the bottom of the pan or on the walls and mix them well with the oil.
Add the carrots and celery and a pinch of salt. Cook for a few minutes on low-medium heat until they soften.
Add the meat back to the pan, as well as the juices from the bottom of the dish in which it was resting. Mix well.
Add the wine and increase the heat to let it evaporate.
Lower the heat again, add the onions, a pinch of salt, some pepper and the boiling water.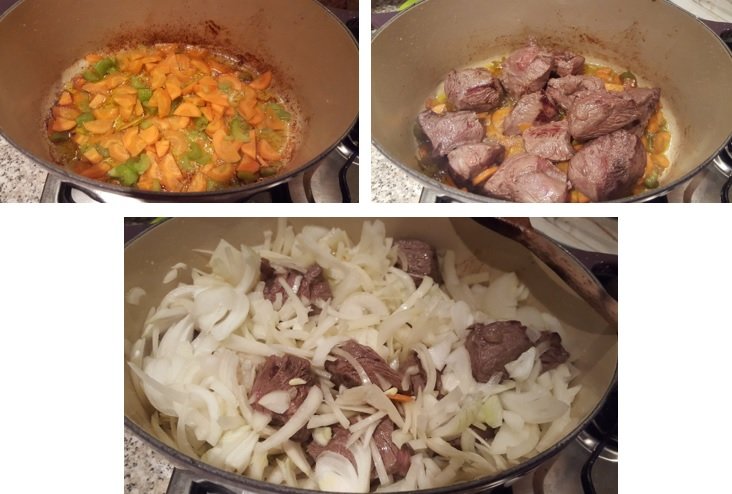 You could easily leave the meat buried underneath the onions. I mixed them.
Lower the heat to its lowest level and cover the pan with a lid, leaving just a small space for air to escape through, and cook for 3 hours, or longer. It may take you up to 5 hours. Cook until it gets creamy and dark brown.
Check every hour during the cooking, stir a bit and cover with a lid again.
During this time, you should not have to add any extra water because the onions will release their own. If it gets dry before the 3-5 hours are up, you can of course add some extra boiling water.
Below you can see the different stages. What you are aiming for is a brown onion cream.
After about 3-5 hours you will have a brown, creamy and compact sauce, with no liquids visible. And frankly the smell that comes from it is unique. You will know when the time has come.
When the ragu is ready, let it rest. Take the beef out and move it to a plate.
In a large saucepan boil the water, then add the salt and cook the pasta al dente.
Drain it in a colander and bring it back to the saucepan. Keep 4 tablespoons of ragu aside to garnish each plate.
Pour the rest over the pasta and mix well.
Transfer into a serving pasta dish, sprinkle some parmesan and serve this piece of food art.
There's no chance you are not going to like it. Even those who are not big onion fans fall for this ragu.
In Naples, when you make ragù alla genovese, it is like making two dishes at the same time. You use the sauce with the pasta, and then you serve the meat separately with a side of roast potatoes, for example.
Serve immediately and share only with those who mean the world to you.