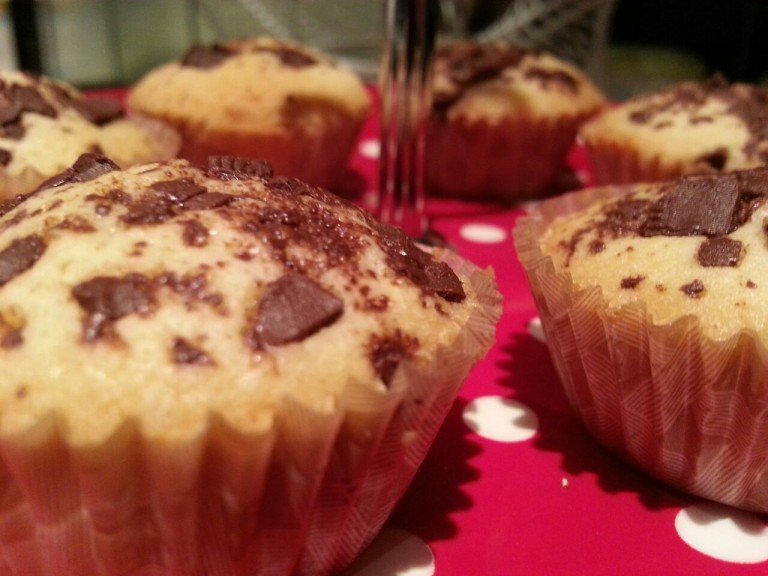 They say appearances can be deceptive, so for this recipe you should refrain from saying anything along the lines of: "Ah, mini muffins or mini cupcakes – what's the big deal?" Dolcetti in carta will surprise you. And I'll admit it, I am certainly the over-enthusiastic type when it comes to food, but these are really nice.
If you're still to be convinced that they're not mini muffins/cupcakes, you should be reassured by the knowledge that I would never post American or British recipes on Coochinando!
So what are these dolcetti in carta about? It's difficult to trace their origin: even on the internet you cannot find much about them. It's a recipe that has mostly travelled through the grapevine.
It is the typical Neapolitan choice of cakes for children's parties. And unlike their American and British lookalikes, there is no raising agent involved. So it could be something in between a cake and a biscuit. Sometimes there are just no words to describe goodness. It just is.
Dolcetti in carta were the highlight of the buffet menu at every birthday party I went to when I was much, much younger…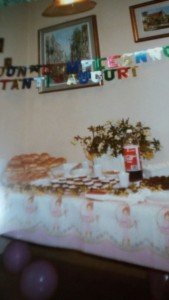 The recipe I am sharing today comes from Zia Carla, my daddy's sister. I remember many parties held at her house to celebrate my cousins Maria's and Ida's birthdays. It would usually be a gathering mainly of cousins, with some children from school and the neighbourhood.
From what I can remember, the buffet menus of these parties were all the same because my mum and my aunts – and on occasion the mothers of our schoolfriends – would exchange ideas and recipes.
Those were the days when nothing was bought, but everything was home-made, apart from crisps and fizzy drinks.
The rustici, the mini-sandwiches, the birthday cake and the other sweet treats: the result of hours of labour. And no, I won't take any "these days mothers and fathers work and there is no time for this kind of stuff" excuses. Where there's a will, there's a way!
Honestly, the love that went into those menus… It took me a while to really appreciate it, although I will never forget my mum waking up early on my birthday and preparing a real banquet, often helped by my granny Cristina, who would be the master pizza maker.
Back to dolcetti in carta. Just like all the most delicious things, they are made with simple and very few ingredients. Simple and tasty.
Although I have not made dolcetti in carta for any parties we have organised here in London, I make them on a regular basis for George, because I know he absolutes adores them. It is also a way to make sure he has something home-made – as opposed to the classic shop-bought biscuits – to go with his afternoon tea or coffee.
They are easy and quick to make and they keep well for up to 3-4 days. And, most importantly, they taste so good.
Shall we…?
Ingredients for dolcetti in carta
Makes 25 dolcetti in carta
200g caster sugar
200g unsalted butter, softened and chopped in cubes
220g all-purpose flour
2 medium-sized eggs
60g dark chocolate, chopped in small pieces
20ml amaretto or rum
Extra
Optional: icing sugar for dusting
Method
In a mixing bowl add the sugar and the softened butter. I do not have a KitchenAid and it is sometimes a struggle to use the mixer I have to mix slightly harder ingredients. Solution: I initially mix the sugar and the butter with my hands. Then I carry on with the mixer until I obtain a smooth batter. It might take 5-10 minutes.
Add the eggs, one at a time. Do not add the second one before the first one has been completely absorbed. Mix well.
Add the rum or amaretto and incorporate with the batter.
Sift the flour. Add it in two goes and mix well.
Add the chocolate bits and incorporate them into the batter with a wooden spoon.
Add the paper cases in a mini muffin (yes, I know, but they are not muffins!) baking tray.
Fill each paper case (right up to the edges) with approximately two teaspoons of batter.
Preheat the oven at 180˚C (160˚C fan) and bake for 20-30 minutes, or until the surface of each dolcetto is golden.
Let them cool down. You can sprinkle some icing sugar or just enjoy as they are. They get much tastier the next day, when they will have settled properly.
Only problem: they are small cakes so it really is hard to just have one. Dolcetti in carta are like cherries: very moreish!