There are some treats that are not only tasty and low in fat, but also so very easy to make. Meet biscotti ricotta e limone. I don't know about you, but I have a soft spot for anything that is lemony, has a lemon flavour or scent, or has been made with lemon rind or lemon juice. I am not exactly sure why. Certainly the fact that I grew up surrounded by gorgeous lemon trees and the only lemons I ever knew (before moving to London) were the ones that grew in my parents' garden must have contributed to the flourishing of this endless love.
"Do we have any lemons, mum?" I would ask while looking around in the kitchen. "Just one second," she would say while going outside to pick some, straight from the tree. "Here they are." And she would hand them to me as though she was sharing some precious goods. Which she was.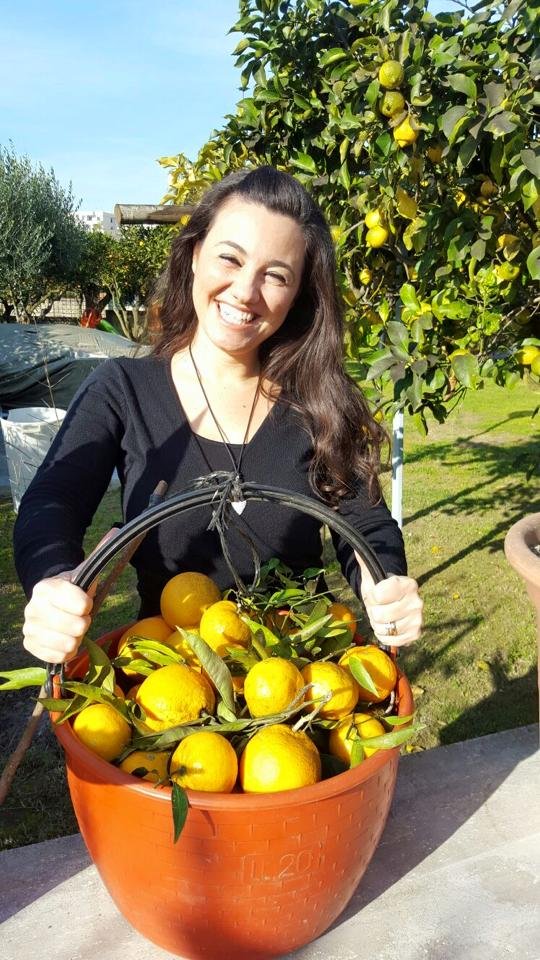 They say you don't realise how lucky you are to have something until you lose it. You know what? This resonates a lot with me. NOW: skip to the ingredients bit if you don't want to read my massive rant about how much I miss real, genuine, home-grown lemons! Those who share my views and feel the same about it, read on…:-)
It wasn't until I found myself having to buy some fake-perfectly shaped, tasteless lemons in big chains in London that I realised what I had lost: the priceless privilege of having fresh, juicy, tasty, pesticide-free lemons.
These days I find myself spending lots of money on lemons that taste of something artificial.
If you see a lost girl in a big supermarket, with an absent look in her eyes, and a slightly desperate look on her face, looking like a zombie: that will be me. A girl on a mission, on a treasure hunt that ends badly every time.
The girl who dreams about finding those imperfect, slightly stained lemons that taste like lemons.
The girl who dragged a sad green nest bag to the till and felt her heart sink at the cost of such a load of crap.
And yes, the money. Quite a lot of money as these little "treasures" are imported, and because I love lemons so much I purchase a huge quantity on a weekly basis. For example: I add lemon juice to a warm glass of water every morning. Nearly any salad I make will have lemon juice. And one of my favourite cakes – ciambellone al limone – requires lemons. It is all about lemons! Lemons are actually very good for you.
But every time I use them I feel the pain: the lack of real and genuine lemon flavours; and not knowing how they were grown and the amount of poison added to them. Sure, sure… I can read your mind. "Buy the organic ones!" – I do. But nothing can replace what is home-grown. "Grow your own lemons!" – Right, with the huge amount of sun available in London every year, I can see that happening. Not wanting to sound pessimistic; it is what it is. And that is okay. Or not. Either way I make do, as with all the other fruit and vegetables I have to buy on a weekly basis. But the nostalgia for the real stuff is always so strong.
Never mind. Where there's a will, there's a way. So guess what. Every time I go back to Pozzuoli, I bring back (let's give it its real name: smuggle) a massive bag of lemons. This might be illegal. I don't think I should be writing about it on here. Oh wait, I see a police car approaching my place… Ah! They're not here for me, probably because this post has not been published yet!:-P
I think I'm funny – but I won't quit my day job, just in case…
Anyway, drama and jokes apart, the good news is that you can still make some outstanding ricotta and lemon biscuits! Nothing is going to stop us – not even crappy lemons! That's the spirit… I guess.
These biscotti ricotta e limone are so good. What a treat. Few ingredients, low in fat (I usually don't mind, but if super-tasty biscuits are also low in fat, that can only be a very welcome bonus) and quick to make. You just mix all the ingredients (except the ricotta) first, then you add the ricotta and shape the dough into a smooth dough ball.
It is so straightforward that it nearly feels redundant to add the method!
I love making biscotti ricotta e limone because they have an amazing taste, they are soft inside and they are the perfect treat to go with your tea. If you love lemon-scented biscuits, this is your treasure.
I know that something is outstanding when even my zia Carla, after having tasted something, says: "So… what are the proportions of the ingredients?" This recipe I found in an old notebook that my mum keeps on her kitchen shelf. She did not even remember she had ever made them. It really felt back then as though I had found a hidden treasure. It's been a regular since then, even if we don't know where she got the recipe from. A friend, or my granny Maria? We will never know, but it doesn't really matter. It is now officially a family recipe.
Make them once and you will make them for the rest of your life. They are perfect as a treat to give to your friends when you go for dinner or lunch chez eux. Don't bother with the nice Waitrose and M&S ones. Biscotti ricotta e limone are to die for and they are home-made, made by you. That shows double the love and the care. And if you have children and you are too busy to bake, then get your offspring to make them because it's that easy to prepare them!
Ingredients for biscotti ricotta e limone
Makes about 16 biscotti
130g all-purpose flour
100g caster sugar
1 teaspoon of vanilla powder (can replace with vanilla essence)
rind of 2 big unwaxed lemons (you can increase or decrease according to your taste)
5g baking powder
a pinch of salt
250g ricotta, well drained in a sieve
Extra
icing sugar for dusting
a slice of lemon for decorating
Method
In a large bowl sift the flour, then add the sugar, the lemon rind, a teaspoon of vanilla powder and the baking powder. Mix well. Add the ricotta and incorporate it with the rest of the ingredients until you obtain a smooth (slightly sticky) dough. If it is too sticky, add some extra flour (a bit at a time). The amount of extra flour needed may depend on the consistency of the ricotta you are using.
Preheat the oven to 170-180˚C (160˚C fan). This will depend on your oven. The principle is that the temperature should not be too high as this might dry or burn the biscuits, which are rather delicate. Keep an eye on them while they are in the oven. I baked at 160˚ for 20 minutes and it was okay.
Line an oven tray with greaseproof baking paper. Take a tablespoon of dough and shape it into a ball. Then make a hole in it with your finger. Place it on the tray and then, if the hole is too small, make it bigger. It will be easier at this stage to get the right shape.
Repeat until you have used all the dough, making sure there is enough distance between biscuits as they will rise and expand.
Place the tray in the oven and bake for 15-20 minutes, or until slightly golden on the surface. The biscuits shouldn't get brown.
Take them out of the oven. Let them cool down for 30 minutes. Transfer to a nice tray and sprinkle some icing sugar on top. A mouthful of heaven, perfect for any much needed tea or coffee break.
I think that they keep well for  up to 3 days (a mere assumption as they have never survived the end of the day). If you manage to resist, store in an airtight tin and please let me know for how long they keep…