I have been meaning to post about paccheri con zucca, gamberi e pinoli for a very long time, but for one (happy) reason or another, I had to put it off.
It's been a few busy and exciting weeks what with meeting Super Tim, George's stem cell donor, having my article published in the HuffPost and attending Anthony Nolan's wonderful World Marrow Donor Day event to celebrate donors.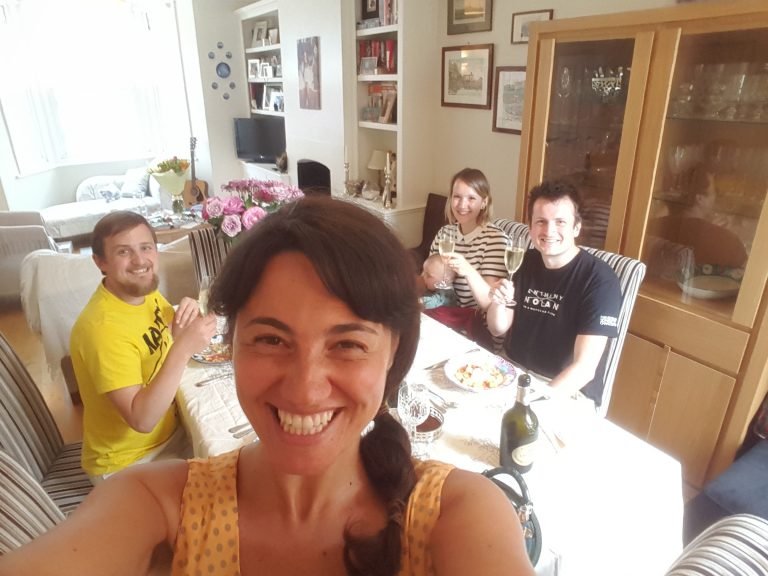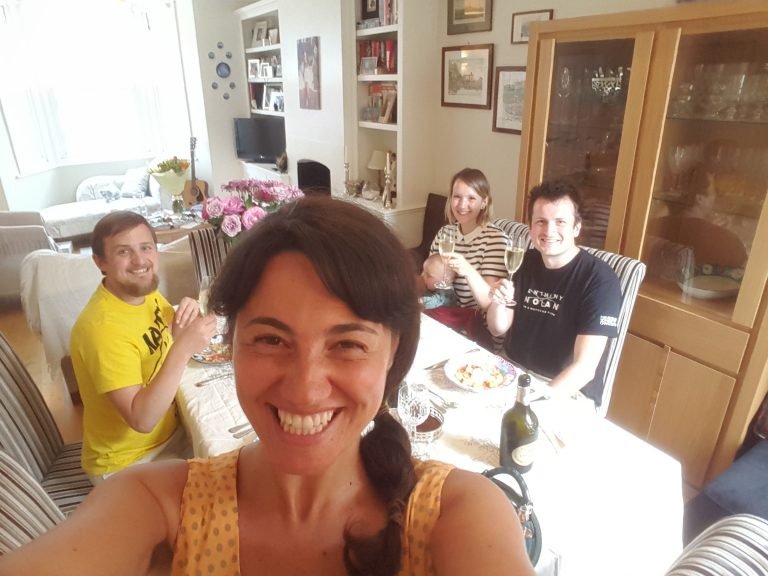 The Anthony Nolan event was particularly touching because my super amazing and wonderful husband delivered a very moving speech that had everyone laughing and crying at the same time. Tim was equally eloquent and said things that really touched me and all the crowd. What a wonderful new friend to have in our lives.
As I said, I have not been blogging for a while but all the things that happened recently gave me renewed motivation to work harder to make sure my recipe book gets published in order to raise as much money as possible for amazing charities such as Anthony Nolan and Bloodwise. I don't know where we would be without their life-saving work.
Back to food… The pumpkin season must clearly be approaching… Do you remember film character Cole Sear from The Sixth Sense and his forever famous "I see dead people"? Well, I see pumpkins!
Talking to friends, I get the impression that their first thought association for pumpkins is Hallowe'en. For me it will always be pasta e zucca or pasta e cocozza, as it is called in Neapolitan dialect.
I have lots of memories of my mum cooking it in many different ways, at least twice a week. As a child, she would prepare pasta e cocozza and when I grew up she would serve it as a side, too.
I always liked it, but only later on did I realise why she was so insistent I would eat some pumpkin on a weekly basis. Pumpkin is rich in fibre, anti-oxidants, minerals, vitamins and all that, which can only be a good thing.
Needless to say, though: that will never be the main reason for me to eat a certain type of food. It's got to be tasty first – and if it is healthy and good for me, too, that's a bonus. Luckily enough the majority of healthy products are also super tasty.
Like any other parent, my mummy wanted to ensure I would get my fair portion of vegetables. I love her persistence in doing so when, as a little child, the only vegetables I would accept to eat for a long time were potatoes!
What strikes me though is that people only talk about butternut squash, which seems to be fancier than the more humble pumpkin. Butternut squash here, there and everywhere.
And then two years ago when I posted a photo of risotto alla zucca I had made, I got an interesting comment from George's aunt Caroline, who said that in Australia pumpkins are used as cattle feed. We were then both quite surprised to find out how differently pumpkin is perceived across countries. What do you think?
Do I prefer pumpkin or butternut squash? I am not a huge fan of butternut squash, but the truth is that often the food and ingredients we grew up with will be the ones that stay with us forever.
If you think pumpkin is not fancy enough… then I strongly encourage you to try paccheri con zucca, gamberi e pinoli. The association of different flavours and textures is to die for.
"How easy is it to make paccheri con zucca, gamberi e pinoli?" I hear you ask. Well. Once you've chopped the pumpkin, it is all downhill. But overall, no longer than a total of 45 minutes from beginning to the moment you are able to use your fork to dive into a dish that can only delight you, your tastebuds and those who are lucky enough to have been treated to this simple but wonderful pasta dish.
And if you are a vegeterian or vegan, just take the prawns and double cream out and paccheri con zucca e pinoli will still rock your world.
Ingredients for paccheri con zucca, gamberi e pinoli
Serves 4

400g paccheri
7 tablespoons of oil
3 big cloves of garlic, peeled and slightly crushed
pinch of flaked chilli (to your taste)
500g pumpkin (weight without skin)
Salt
Bunch of parsley, washed and roughly chopped
About 200ml of vegetable stock
300g fresh prawns, shell removed
Splash of white wine
20g pine nuts
2 full tablespoons of double cream
Extra
Salt for boiling water
some extra parsley, finely chopped, to garnish
Method
Chop the pumpkin into small chunks. The smaller they are, the sooner they will get cooked.
In a frying pan add 5 tablespoons of extra-virgin olive oil, two cloves of garlic and the chilli.
On low heat cook the garlic. When the garlic starts "dancing" and getting some colour, add the pumpkin, some salt and some chopped parsley. Stir well and cook for a few minutes on medium/ high heat.
Add some stock and stir well. Bring to a simmer, lower the heat, cover with a lid and cook for 30-40 minutes, stirring occasionally and adding more stock when the pumpkin seems to be getting dry.
It will be ready when it has a creamy consistency but still retains some chunks of pumpkin.
Season with salt as per your taste. Set aside.
In a smaller frying pan add 1 or 2 tablespoons of extra-virgin olive oil and one clove of garlic, and on low heat sauté the garlic.
Add the prawns and a pinch of salt, stir for a few seconds (fresh prawns will need to be cooked quickly to prevent them from going chewy), add a splash of white wine and let it evaporate on high heat. Take off the hob and set aside. Remember to keep between 4 and 6 prawns for decoration.
Toast the pine nuts in a pan. It will only take a minute or two on medium/high heat. Keep an eye on them as they burn really quickly!
Add 2 tablespoons of double cream to the pumpkin sauce, stir in on low heat. Add the prawns and mix well. Set aside.
Cooking the pasta
In a large saucepan add about 2l of water. Bring to the boil. Add at least a tablespoon of salt. Pour in the pasta and cook al dente. (Regarding salt for the pasta, it is of course a matter of taste, but traditionally it is good practice to add a fair amount of salt. Start with a little, though, and then taste the pasta while it is cooking. Add more if required.)
Regarding cooking time: cook the pasta as indicated on the packet, minus a minute.
Drain the pasta and pour it into the pan containing the pumpkin sauce. On low heat, stir well until every single piece of pasta is coated with the sauce.  Now add the prawns and mix well.
Transfer the pasta to each plate and sprinkle the toasted pine nuts and chopped parsley on top to garnish.
How amazing is pumpkin?! Too amazing for words. And how delicious is paccheri con zucca, gamberi e pinoli? I look forward to hearing back from you when you make this pasta dish! Trust me: you will love it.
Vegan or vegeterian? Take out the prawns and the double cream and paccheri con zucca e pinoli will still rock your world.