After having had the guts to publish a recipe from the north of Italy – tiramisu –  on a southern Italian food blog, it feels relatively legitimate to publish one of the most popular dishes in Rome: supplì al telefono.
These are gorgeous bites of rice cooked in a ragu of passata and beef mince, served regularly as starters in Roman pizzerie and rosticcerie. They are also made elsewhere throughout Italy, but those from Rome are the originals, and Romans are understandably proud of them. They are a real treat.
A fair number of friends asked me to publish this recipe and this is especially for my brother-in-law Fred, who loves them so very much. And, as always, although I cannot make them for him as he lives far, far away, I feel that sharing this recipe is my way to tell him how much I care 🙂
Why are they al telefono (on the phone)? The moment you bite the supplì, or cut it in half, you will see a string of melted mozzarella that looks like the cord of a phone handset attaching it to its base – well, old-style phones, of course, before the cordless took over!
This is also a sign that the supplì were cooked properly. The challenge is not to burn them on the outside but still to get the mozzarella to melt properly inside. So if you happen to be in Rome and you don't see the cord, it means that they did not warm up/cook the supplì properly…
I spent a fair bit of time in Rome a few years ago. I used to go there twice a month to visit various friends and I had the chance to taste so much great food – but the one thing I always crave when I'm there are the supplì al telefono. They are simply good, as so many of the simplest dishes are.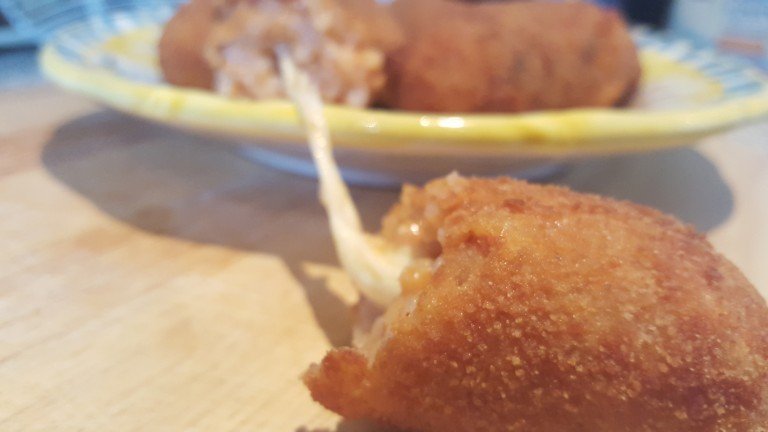 I must add that, not being from Rome, I approach this recipe with humility. I got it from a dear friend of mine who is 150% Roman and well aware that, as is often the case, this is only one of the versions available. Every family makes supplì al telefono in a slightly different way, so I am not claiming this is the ultimate recipe.
The last time I had supplì al telefono was when George and I flew to Rome to get a train to Naples. And I remember clearly that the ones we had did not have the telephone cord. Ouch. So the other day I was very pleased when I made them for the first time and saw this big grin on George's face. He lived in Rome for a year a while ago, so he misses some of the dishes he used to have when there. I felt so happy when he told me that these were the best supplì ever. Sweet, eh? A bit biased – but love is blind, isn't it?!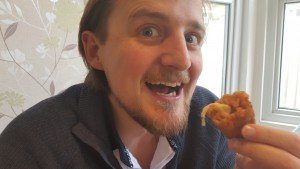 Ingredients for supplì al telefono
Makes about 40 croquettes (weight 50-60g)
500g arborio (risotto) rice

4 tablespoons of extra-virgin olive oil

Half a small onion, finely chopped

150g beef mince
50ml red wine
400g passata
Salt, as required
Pepper, as required
1.2l boiling water (or beef stock)
40g butter
60g parmesan
2 medium-sized eggs
200g mozzarella
Extra
1l peanut oil to deep fry (or sunflower oil)
5 egg whites
200g fine breadcrumbs
Method
Chop the mozzarella into strips and place them in a sieve with a plate underneath to drain any excess of water.
In a large saucepan add the oil and onions. On low heat let them cook slowly, add a pinch of salt and stir. Cook for a few minutes until they soften.
Add the beef mince and a pinch of salt. On medium-high heat brown the meat, add the wine and let it evaporate.
Lower the heat, add the passata and the salt and pepper, stir and bring to a simmer. Put a lid on and cook on low heat until the passata thickens and reduces in size. Taste and adjust with more salt and pepper, according to your taste.
Increase the heat, add the rice and mix it well with the sauce.
Add enough boiling water to cover the rice. Cook slowly and stir, keeping an eye on the rice, never letting it dry out and adding extra boiling water when required. Add some salt during the cooking, and taste often to see how much more is required (this depends on your personal taste).
It will take you up to 20 minutes to cook the rice al dente. When the rice has doubled in size and is all compacted, keep it on a low heat, add some pepper and stir well.
Add the butter and stir to incorporate it with the rice.
Take the pan off the hob. Add the grated parmesan and stir well. Add the eggs and mix well with a wooden spoon until the eggs are well incorporated with the rice.
Transfer the rice to a baking dish (a pyrex or lasagne dish, for example) and even it out. Let rest for a couple of hours, or until it gets cold and sticky.
When the rice is ready (the stickier, the better) you can start putting the croquettes together. Each supplì will weigh between 50g and 60g (after the wrapping in egg and breadcrumbs).
Prepare 3 different plates. On the first, place the mozzarella. On the second, beat the egg whites lightly with a fork.
On the third plate, add some breadcrumbs (you will add a bit more for each supplì al telefono). A fourth plate will be at the end of the chain, where you can place each finished supplì.
Take a tablespoon of rice and place it in your hand. Add a strip of mozzarella across it. Take another tablespoon of rice and add it on top. Shape the content in your hand into a ball, making sure that the mozzarella is covered properly by a layer of rice.
Squash the ball and give it an oval shape. This requires a bit of patience, but by the 10th supplì you will have worked out your technique!
Coat the supplì in the egg whites first, making sure that every inch of the surface is covered in the whites. Then move it to the plate with the breadcrumbs and coat it very well, so that all the surfaces are completely coated. This is important to make sure that the supplì won't break apart during the cooking.
Carry on until all the rice is used up. What I usually do is to fry 20 supplì and freeze the rest.
Prepare a big plate and line it with kitchen paper. Set it next to the hobs.
In a small and deep saucepan add 500ml of oil and heat it up (ideal temperature is 180˚C). To test that the oil is ready, drop in some breadcrumbs. If they start making little bubbles and come to the surface immediately, the oil is ready.
Cook a maximum of 3 supplì in the saucepan at the same time. When you add them, let them cook for a few seconds first without moving them. Then keep stirring them very gently, turning them often until they get golden and crispy (this will ensure they do not get too cooked just on one side, and that the mozzarella melts properly).
Take them out and transfer to a plate lined with kitchen paper. After the first 10-15 supplì, you might need to change the oil. Although I appreciate this may seem a waste, it is the right move for your health. And because frying food is only an occasional activity, it is acceptable.
Serve the supplì hot, sprinkle a bit of salt on top and share with your favourite person.
And no. No sauce is required as an accompaniment. This is a wild practice found in the UK: to serve croquettes, rice balls and the like with mayonnaise, garlic sauce or ketchup. This is not how suppli are eaten! It would mean destroying and covering up their amazing taste. You really do not need any sauce. They are beautiful and amazing as they are.