Let's set things straight. I am Italian, and although I have been living in the UK for over 6 years now, I still have an Italian accent and I sometimes mispronounce or make up words. So I am equally okay when Italian words are not pronounced correctly. BUT why on earth do British people insist on going for brushetta as opposed to brusketta? Bruschette al pomodoro – it's easy!
Anyway, I like to think that after you thousands of faithful readers read this blog post about bruschette al pomodoro, you will join my battle to train the rest of the population to pronounce the name of this amazing food correctly. And no, there is no charm in hearing its alternative pronunciation…
Back to bruschette al pomodoro. I am not sure how you feel about this, but I would understand if you thought it a bit over the top to share a recipe about how to make bruschette. After all, it is just toasted bread with some chopped tomatoes and basil on top… Right? Well, I always felt this way until the time I had a friend over for lunch back in 2007 while I was completing my internship at the Italian embassy.
It was an informal lunch and I thought that bruschette al pomodoro and a bowl of pennette would be a simple and tasty menu for the occasion: nothing fancy. And then I was very surprised when my friend complimented me on the goodness of bruschette and was keen to know how I had made them. How do you mean, I asked? Well, what ingredients did you use, how did you put it together, he asked? That was when I realised that making tasty and delicious bruschette is not necessarily so obvious. So here it is, in case you feel you want to give this version a go.
Ingredients for bruschette al pomodoro
Serves 6
6 slices of sourdough bread (better if a day old)
150g of cherry tomatoes
6 leaves of basil to garnish
4 leaves of basil, washed, dried and chopped
2 cloves of garlic
Salt and pepper
5 tablespoons of extra virgin oil
Method
Wash, dry and chop tomatoes in small bits. An average-sized cherry tomato can be chopped into quarters. Place in a bowl.
Peel the garlic cloves and add to the bowl. Add the chopped basil leaves, oil and pepper.  Don't add the salt until just before you assemble the bruschette later on, as otherwise the tomatoes will soften. Mix well and let rest.
Slice the bread and toast under the grill for a couple of minutes. Then, if you are a garlic lover, before adding the tomatoes on the toasted bread, press a garlic clove all over the slices of bread. It will give the bruschette a more decisive taste and flavour.
Place the bruschette on a plate (not the one you are going to serve them on), take the garlic out of the mix, add the salt and mix again. Spread tomatoes evenly on each bruschetta, making sure there are no gaps. Some tomatoes will fall off. Let them be. Add a drizzle of oil and decorate with basil leaves. Depending on taste, sprinkle some more pepper.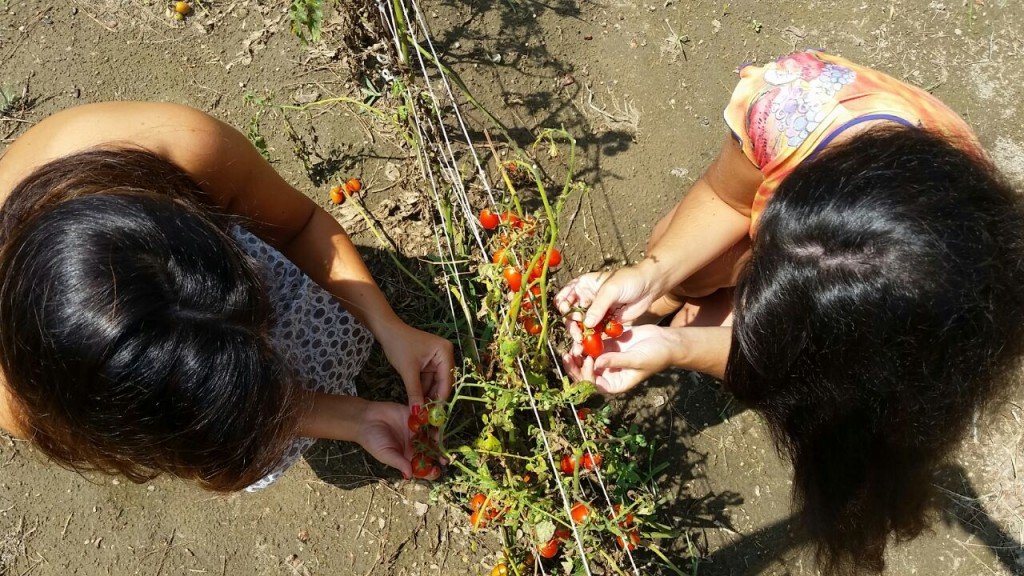 Serve immediately, ensuring your guests know how to pronounce their name!