The polpettone ripieno of mamma Mariolina used to be my favourite meal when I was a child. I remember developing an obsession for it and, stubborn as I am, I would often argue with my mum, who refused to make it as often as I wanted…
At the time I did not understand, but years later I appreciate why my mum was concerned about not feeding me too much meat. I do believe in a balanced diet and in eating a bit of everything, in moderation. This may sound like common sense, but being naturally extreme in my everyday life actions and behaviours, it is actually very hard for me to stop and do the sensible thing. Aya… back to this amazing polpettone ripieno, made with some of my favourite ingredients and offering a hearty meal, accompanied by roast potatoes or zucchine ascapece (marinated courgettes) – as seen in the image above.
This recipe for polpettone ripieno is easy and relatively quick to make. You could prepare the meat mix the day before and store it carefully in the fridge and make the roll the next day.
Ingredients for polpettone ripieno
Serves 6-8
For the meat mix
500g lean beef meat
2 eggs
Salt and pepper
2 slices of bread with crusts removed, soaked in a little milk
2 tablespoons of fine breadcrumbs
1 clove of garlic, chopped finely
30g grated parmesan
A bunch of parsley
For the filling
80g sliced ham
100g provolone cheese sliced or cheddar, gouda
2 hard-boiled eggs, sliced
Method
Get ahead and start hard boiling two eggs for the filling. When ready, set aside, take shells off and slice them. Let them cool.
Soak the sliced bread in 100ml of milk. Drain the excess milk. In a bowl, combine the meat with the eggs, the milk-softened sliced bread, breadcrumbs, finely sliced garlic clove, abundant pinch of salt, pepper, chopped parsley and grated parmesan. Mix the ingredients well with a fork.
Preheat the oven at 220˚C (200˚C fan).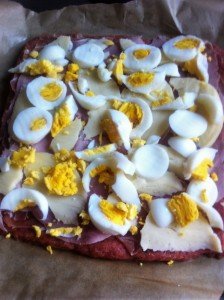 In a large oven pan (dish) lined with oiled oven paper (parchment sheets), press the meat mixture with your hands into a square of 25x25cm. Leaving a small gap at the edges, add a layer of ham, then one of cheese and finally the sliced eggs.
With the help of the oven paper, roll the square up into the shape of a Swiss roll. Ensure the polpettone has an even, regular shape, and that the extremities are well sealed. Sprinkle some extra virgin olive oil and pepper on top. Place in the preheated oven at 220˚C (200˚C fan) for 30-40 minutes. When you take it out of the oven, let rest for a few minutes before serving.
Serve with roast potatoes, zucchini ascapace (marinated courgettes), roasted peppers or a nice salad.