"How the hell do I explain what a babà rustico is?" I asked myself before deciding to share the recipe of babà rustico. The babà rustico is, quite simply, a pillar of Neapolitan cuisine. The original version is the sweet one sunk in rum and served with cream and fruit or with chocolate. This version is savoury and it is made with the most delicious ingredients.
It plays the part of the king on any buffet menu at parties. You get to the party, you take a look at the table and there it is, triumphant. And then the only thing you can think about is how on earth you are going to get away with having more than one slice without being beaten up by the rest of your family or friends. Okay… Italians are passionate people, but even they wouldn't really physically hurt someone for that sort of thing! But you would certainly get either bad looks or some kind of comment on the level of your greediness.
Speaking of which… I'll admit that there was a little friction between me and my husband George when I made babà rustico a couple of weeks ago. We couldn't stop eating it, and the next day I took some to work for my lunch break – so when I came back, he clearly expected to have the right to what was left… but nope. I went ahead and had that, too. Oh dear. Not a happy look on his face! I only earned his forgiveness by making another one last weekend.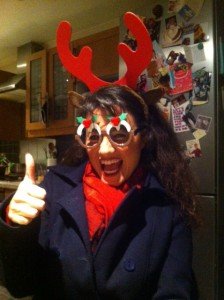 The other night I made it again and decided to take it to my friend Becca's Christmas party. I was a bit hesitant as it's not something people are usually familiar with, either in terms of the name or the taste. I knew they would look at it and ask questions, but that's something I always enjoy as it gives me a chance to talk about the goodness of Neapolitan food. So, hell yeah, I thought. And when the plate went around, it went down pretty well!
The flavours and tastes of the babà rustico take me back to all the family parties I went to during my childhood. So every time I make it, it brings back so many happy memories. So here is how you can make this soft sweet/savoury bread with delicious melted cheese and tasty pieces of pancetta and salami. Once you have a bite, you cannot stop!
Ingredients for babà rustico
Serves 8-10
For the mixture
500g flour 00
300g potatoes
200g salted butter, melted and then cooled
4 eggs
1 teaspoon fine salt
4 tablespoons sugar
30g grated pecorino or parmesan
To activate the yeast
15g dried active yeast
1 teaspoon sugar
100ml milk
For the filling
100g pancetta
200g auricchio provolone piccante, chopped in small cubes, alternatively Gouda or cheddar
100g salame napoletano, chopped in small cubes (could replace it with ham, or add both, 50g each)
To line the ring cake tin
20g butter
2 table spoons flour
Method
Start by washing and cleaning the potatoes. In a medium-sized saucepan add the potatoes and pour over boiling water until completely covered. Bring back to boil and add some salt. It might take up to 20 minutes for them to be completely cooked – passing a skewer through shouldn't meet any resistance. Drain them in a colander. Make sure you peel them while they are still quite hot so it is easier to crush them. With the aid of a potato ricer, mash and set aside to cool.
Melt the butter (either in a saucepan on the hob or in the microwave) and set aside.
Chop all the ingredients for the filling and set aside.
Warm up the milk slightly (not hot, more on the lukewarm side). Pour in a bowl, add the yeast and the sugar, mix well with a fork and let it rest for about 10 minutes, or until the mixture gets bubbly and doubles in size.
In a separate bowl, whisk the eggs, the sugar and the salt just enough to have a smooth mix.
In a large bowl add the flour and create a well. In the middle add the yeast mixture and incorporate it with some of the flour with a fork until you obtain a sticky texture.
Now add the potatoes, the butter and the egg mixture, and start incorporating all the ingredients with a whisk. When it starts to get more difficult, start working the mixture with your hands. The mixture is going to be a bit sticky, but it is meant to be! When you obtain a lump-free and smooth, but sticky, dough, you can add the cheese, salami and pancetta and make sure they are well incorporated in the dough. This might take between 5 and 10 minutes. Make a ball shape and cover the bowl with a tea towel. I wrap it up like a baby with more tea towels to make sure no air gets through. The dough will need to rest for at least 2 hours, until it nearly (but not quite) doubles in size.
While waiting, line a ring cake tin of 27cm diameter by evenly spreading a layer of butter on all internal surfaces before adding 2 tablespoons of flour and distributing it evenly across all surfaces by shaking the tin. Get rid of any excess flour that hasn't stuck to the tin.
When the dough has completed its first stage of rising, move it to the lined tin. I just place it on top of the tin and let the ring create a hole in the dough. Then make sure the dough is evenly placed in the tin by moving it around as required. Cover with a tea towel again and let rest for an extra hour, or until the dough has nearly reached the top edge of the tin.
Meanwhile, preheat the oven. When the dough is ready, place the tin on the middle shelf at 200˚C (180˚C fan) for 45 minutes, or until a skewer inserted in the the babà will come out dry and the surface is well browned.
When ready, take it out of the oven and let it cool for at least an hour before even attempting to take it out of the tin. The smell will be irresistible and you will be tempted to take it out the tin and cut a slice, but no! Resist the temptation. Babà can be eaten at room temperature or can be warmed up a bit before eating. Either way, it is truly delicious.
Buon appetito!