There are many things I don't particularly go crazy for about winter, including the rainy season and constant cold feet, but when the summer comes to an end, I always look forward to being able to eat oranges. Freshly squeezed orange juice, fruit salads with 90% oranges, marmellata di arance and torta all'arancia, among other things.
Have you ever wondered why lemon drizzles, for example, are more popular than orange drizzles and loaves? Personally, by default, I always think of lemons when I want to make a light and zesty cake. Not quite sure why. In fact, one recipe really close to my heart is ciambellone al limone, which I blogged about right at the beginning of the Coochinando adventure.
But my heart, deep inside, really belongs to oranges… er, I mean to George, obviously.
I grew up surrounded by beautiful orange trees. I was spoilt rotten with freshly squeezed orange juice pretty much every morning, when my mum would make a big jug my brother and I could share for breakfast. Sometimes, when the oranges were a bit too bitter, she would squeeze in a couple of mandarini.
At the weekend it was my dad who would prepare it for us. I always felt very lucky to be able to drink something made from fruit grown in our home garden. My mum always went on about how blessed we were to have access to our own fruit, free from pesticides and all that… Part of the fun was to go and pick the oranges straight from the tree. The fresher, the better, my mum would say. She still says the same these days…
If you happened to come over to my mum's place you would hardly see any lemons or oranges in the kitchen, as she always prefers to pick them on the spot. This is something I will miss forever, I guess.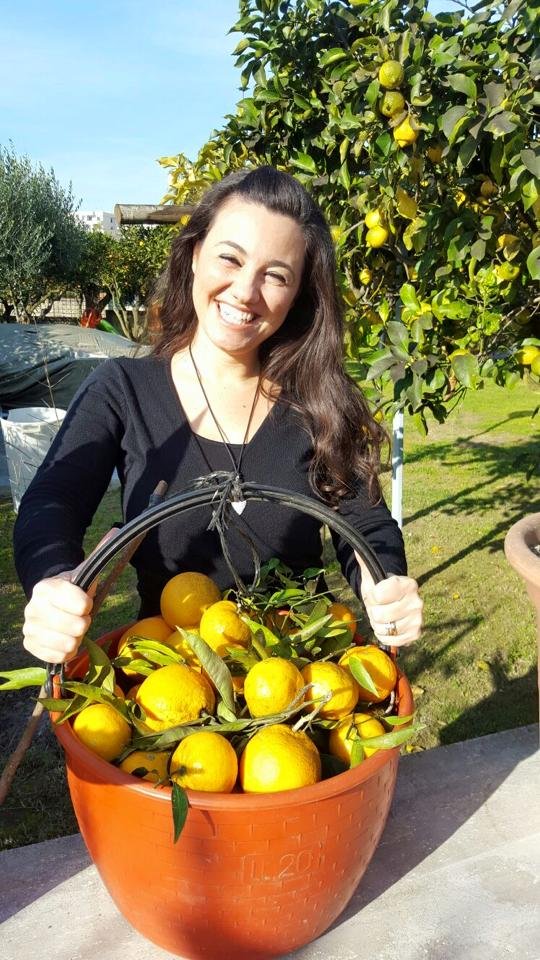 And it's with these same oranges that I made torta all'arancia for the first time a few years back. There was a massive bag of oranges outside on the terrace, which was meant to be given as a gift to some family friends. They had failed to come and collect it and I thought: this is a shame, but an orange cake could be a good way to get some much needed vitamin C, after all…
As always I took a look at The Bible (my mum's recipe book) and found this super-easy recipe – and a pretty intensely orange-flavoured cake came out. This is quite a moist and dense cake, so do not expect a fluffy, super-soft texture. It also becomes slightly wet as a result of the syrup you pour all over the top.
I find it delightful and it is the cake most regularly present in our glass cake dome in our kitchen.
A couple of weeks ago I baked torta all'arancia for George's colleagues at Raising IT and we got many thumbs up! Yay!
NOTE! (a long one about baking powder)
I really want to take the chance to highlight the fact that any cake I have ever made in Italy included a special vanilla-flavoured baking powder called lievito pane degli angeli.
This is the ingredient used in Italian baking. I have tried to provide an alternative with self-raising flour and baking powder or bicarbonate of soda, but it is not the same thing.
On top of that it is not how I learnt to bake, so I apologise if the cake does not come out as nicely as I describe it – but there are certain things that cannot really be replaced. I feel that way about lievito pane degli angeli.
I know that my family recipes work well with this raising agent and they come out okay with the alternative option but it is just not the same.
So if you really want to get the same result, I encourage anyone to get hold of lievito pane degli angeli. It is 2016 and it takes nothing (apart from some buona volonta – willingness) to use the right ingredients:-)
Ingredients for torta all'arancia
Serves  8-10
250g sugar
3 medium-sized eggs
200ml freshly squeezed orange juice (about 4 medium-sized oranges)
170g unsalted butter, melted
Rind of 1 orange
250g plain flour
1 sachet "lievito pane degli angeli", sifted (or 1 teaspoon of baking powder, 3 drops of vanilla essence. These need to be used with self-raising flour rather than plain flour)
Extra
Freshly squeezed orange juice from two medium-sized oranges
5 tablespoons of icing sugar
More icing sugar, for dusting
Method
Line a round cake tin (20cm diameter) with some butter and dust it lightly with flour. Preheat the oven to 180°C (160°C fan)
Chop the butter and place in a microwave-safe dish. Melt the butter in the microwave 30 seconds at a time so as to not burn it. When it is all melted, let it cool. Do not add it to the rest of the mixture until it is at room temperature.
In a large bowl whip the eggs and sugar with a mixer for a few minutes until they are well incorporated and you obtain a pale, smooth mixture.
Add the orange juice, the rind and mix well.
Add the melted butter (and vanilla essence, if you are using the self raising flour) and mix well.
If you are using self-raising flour…
Sift the self-raising flour, add the baking powder and pour them into the bowl with the rest of the mixture. Mix well (using a mixer), until you obtain a smooth and compact mixture.
If you are using pane degli angeli, this will be the last ingredient you will add, straight after the flour.
Pour the mixture into the cake tin and even the top with a spatula.
Place in the pre-heated oven and bake for at least 40 minutes. It might take 50 minutes, or longer. I won't stress enough how timings vary from one oven to another. The cake will be ready when a stick comes out clean.
When ready, take out of the oven and let cool for an hour.
15 minutes before the cake is ready, start making the orange syrup.
To make the orange syrup
Cut the oranges into halves, squeeze the juice and sieve it. In a small saucepan add the juice and the icing sugar. Mix well. Cook gently on low heat until it starts simmering. Stir constantly with a wooden spoon. This process may take up to 10 minutes, every now and then take the pan off the hob and check its consistency: it should not be too sticky or too liquid.
Let it cool for a few minutes, sprinkle the icing sugar and pour the syrup over the cake
Let the cake cool for an hour or so.
You could skip adding the syrup and just use the icing sugar or vice versa.
The next day torta all'arancia will be even nicer because the orange syrup will have sunk in properly and the orange flavour will be even stronger.
Serve it with a good cup of floral tea and you will feel in heaven.